This is an archived article and the information in the article may be outdated. Please look at the time stamp on the story to see when it was last updated.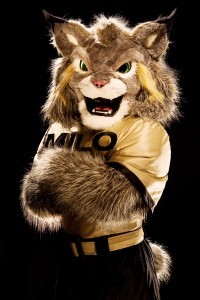 DENVER — CU Denver announced its new mascot Thursday morning: a Canada lynx named Milo.
Milo (the name is a combination of the terms "Mile High City" and "LoDo," the locations of CU Denver's campuses) was selected by students, alumni, faculty and staff through a series of surveys, the university stated in a media release.
"Chances are, if you were a CU Denver student, alumnus, faculty member or staff member during the 2011-12 or 2012-13 academic years, then you were part of the mascot development process," the release read.
Many surveyed also expressed interest in a beer-related mascot recalling the Auraria campus's history as a brewery. But school officials opted to avoid any alcohol references over concerns that they could raise questions about campus culture.
"As an educator of young people and in accord with federal law, the university is committed to providing an environment that takes responsibility for the appropriate and legal use of alcohol in our community," former chancellor Jerry Wartgow wrote in an open letter. "I believe that using a Brewer or alcoholic beverage to be our mascot would create questions regarding the use of alcohol on our campus and is inappropriate."
Milo will represent the school at various events, including hockey, soccer and volleyball games. The costume version of the character was designed by Utah company Alinco Costumes, which has also created mascots for the Chicago Blackhawks, Seattle Seahawks and dozens of other professional and college teams.
A logo version of the mascot, along with branded merchandise, is in the works, school officials said.