This is an archived article and the information in the article may be outdated. Please look at the time stamp on the story to see when it was last updated.
July 30, 6:45 p.m. Von Miller's choice of socks color was neon orange Monday. He says he hasn't received a letter from the commissioner's office about the departure from standard uniform, so he'll keep wearing his wildly colored socks for now.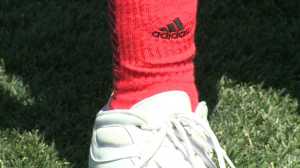 Those 'in the know' share notable observations about Broncos training camp
July 30, 2:00 p.m. Notebook: Moreno returns, Manning throws deep, Hanie throws poorly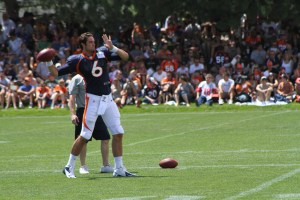 July 30, 11:30 a.m. How Peyton Manning is winning over fans away from the field
July 29, 8:16 p.m. Former Broncos take in practice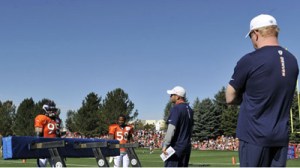 July 29, 7:30 p.m.  Should Terrell Davis be in the NFL Hall of Fame?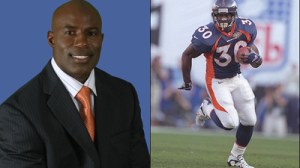 July 29, 6:30 p.m.  Video originally aired on FOX31 Denver
July 29, 3:06 p.m. D-line drill. Happy to be a spectator!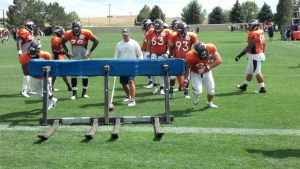 July 29, 2:34 p.m. LB Von Miller sports the lime green socks.... Superstition or fashion statement?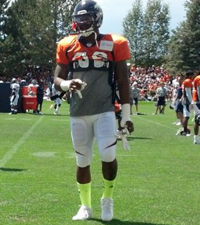 July 29, 2:25 p.m. Broncos put on the full pads for today's practice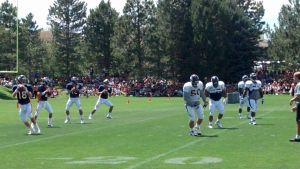 July 28, 8:20 p.m.
Fans set another record Saturday when 4,443 people descended on Dove Valley to watch the Denver Broncos practice.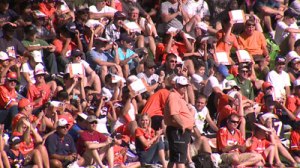 July  28 10:00 a.m.
Dove Valley has been the epicenter for NFL training camp attention this week. Media from all over the country have been there to see Peyton Manning and his teammates start the season. The crowds have been crazy. Expectations for success are higher right now for the Broncos than they've been in a long time. So, what have we learned so far? Click here for some ideas.
July 28 9:15 a.m.
Great morning for fans and players at Day 3 of Broncos training camp. Practice started at 8:50 a.m. The team has an early evening walkthrough that isn't open to the public. Sunday's practice starts at 2 p.m. Click here for a complete schedule.
Preseason schedule:
Thu. Aug. 9: at Chicago
Sat. Aug. 18 Seattle
Sun. Aug. 26 San Francisco... 2 p.m. on FOX31 Denver
Thu. Aug. 30 at Arizona