What's the difference between adult and youth football helmets?
When it comes to deciding between a youth and an adult football helmet, it's important to factor in your age and skill level along with the impact performance of the helmet itself. After all, even though football is an exciting sport, it can also be dangerous to those who aren't properly equipped.
Adult and youth football helmets are very similar in many ways, but they have a few key differences, such as in the material of the shell and their size.
Adult football helmets
For the most part, football helmets made for adults are suitable for players ages 14 and up. Some kids switch from a youth helmet to an adult helmet as early as middle school. This is because adult helmets are designed for greater protection against the high-impact sport. Plus, they may fit the wearer's head better.
Although younger players may be able to wear an adult helmet, not all youth football leagues allow adult helmets because of their material. Adult helmets are typically much stronger and more durable than football helmets for kids, so head-to-head contact between the two may lead to injuries in the player wearing the youth helmet.
In general, high school and professional football players should wear an adult helmet when playing the sport.
Adult football helmet pros
Shell material: Varsity (adult) helmets are constructed from polycarbonate, which is a high-impact, durable material that doesn't collapse on impact. This material is designed to hold up against direct helmet-to-helmet contact, making it ideal for older, stronger players.
Liner and cushioning: Adult helmets usually incorporate advanced technology to protect the player from injury. Some helmet manufacturers, such as Schutt Sports, use thermoplastic urethane (TPU) to help absorb sudden impact and prevent concussions. TPU is one of the best cushioning materials today because it is nearly indestructible, more hygienic and allows air to circulate during use. Adult helmets also often have a thicker chin strap and a more durable facemask or visor.
Weight: Polycarbonate helmets are lightweight in comparison to other materials, such as the acrylonitrile butadiene styrene (ABS) plastic of football helmets for kids.
Impact performance: For varsity players, an adult football helmet can decrease the risk of injury during gameplay because of its high-impact performance and cushioning. Whether the helmet is made for kids or for adults, it should comply with NOCSAE standards when it comes to safety.
League use: Although youth helmets may be effective at keeping the wearer safe from injury, high school and adult leagues require players to wear an adult football helmet for maximum protection.
Customization: It's possible to get a custom adult helmet with the design and colors of choice.
Adult football helmet cons
Weight: Adult football helmets are typically heavier than youth helmets. The extra weight could cause minor or even major injuries to the player's neck.
Age range: Since they're designed for older players, adult helmets are not usually suitable for individuals younger than 14.
Price: Adult football helmets range in price from around $250 to upwards of $700, depending on the brand and quality of materials. A separate facemask could easily add another $20-$100 to the overall cost of the helmet, depending on the material.
Best adult football helmets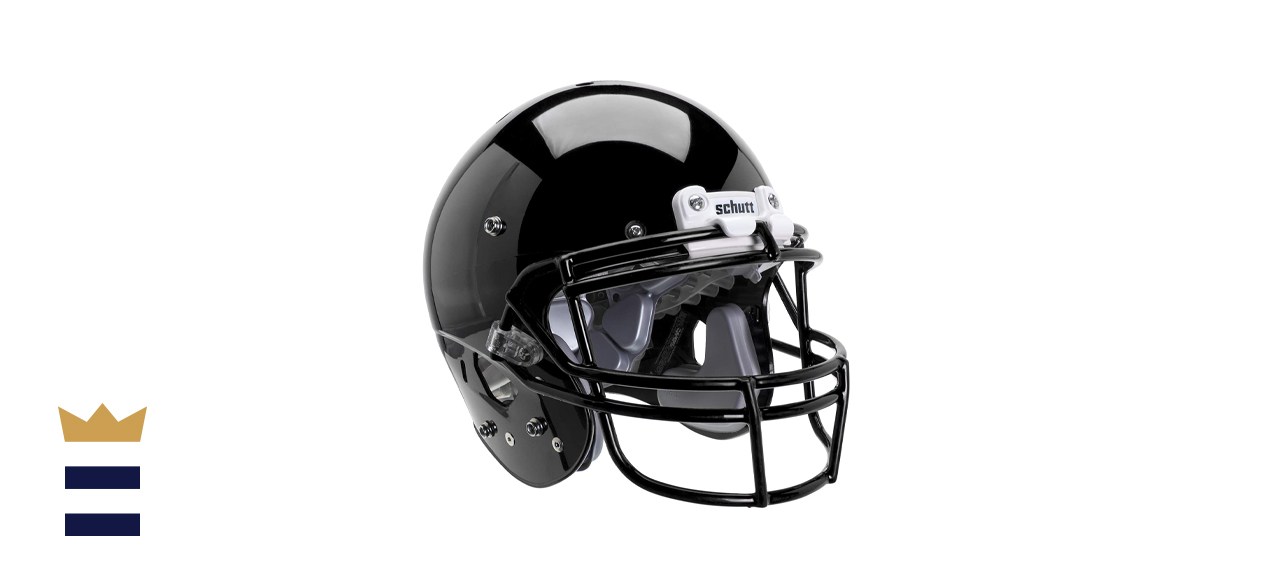 Schutt Sports Varsity Air XP Pro VTD II Football Helmet
A small, durable helmet that offers optimal protection when playing the high-impact sport. Made with a polycarbonate shell, it's surprisingly lightweight and comfortable. It comes with a chinstrap, but not a faceguard.
Sold by Amazon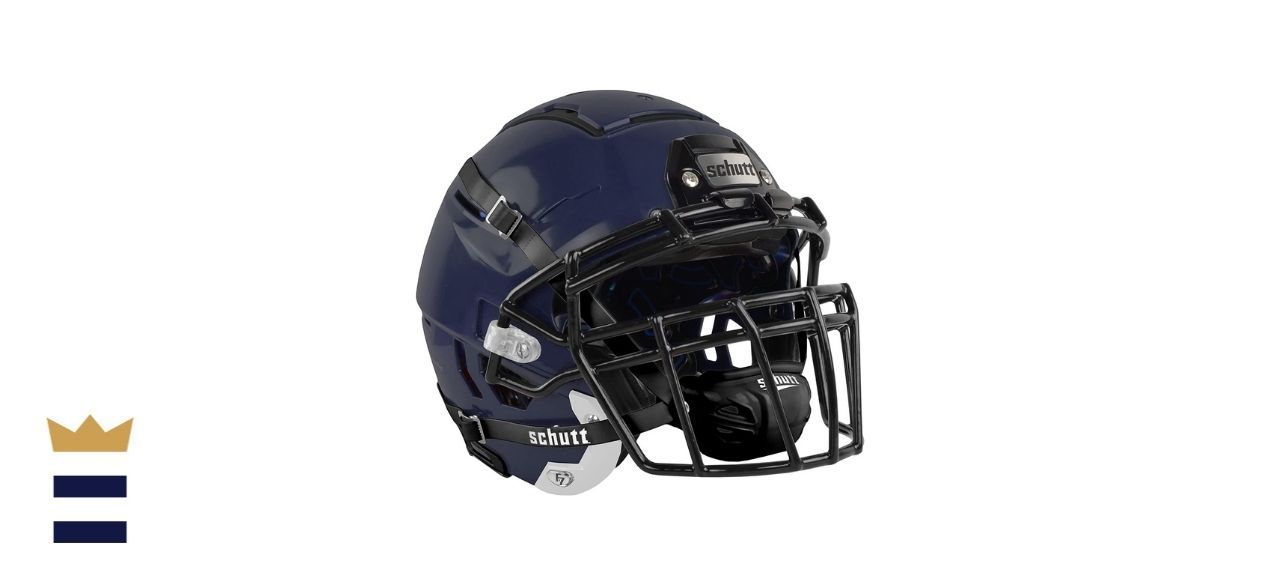 Schutt F7 VTD Adult Football Helmet with Facemask
With several colors to choose from, this adult football helmet uses an inflatable lateral liner and TPU protection for a lightweight feel. It comes with a facemask and hard cup chin strap for added protection.
Sold by Amazon
Youth football helmets
For the most part, anyone under the age of 15 should wear a youth football helmet. There are some exceptions, depending on the player's head size, skill level and league rules. Youth helmets are typically less expensive than adult helmets, which makes them a great option for newer players as well.
Youth football helmet pros
Weight: Football helmets for kids usually weigh less than adult helmets at around 2 pounds. On average, a football helmet with a chin strap and facemask weighs anywhere from 3 to 5 pounds. The lighter the weight, the easier it is to wear without unnecessary damage to the player's neck.
Material: Most youth helmets have a shell made from ABS plastic, which is often lightweight and impact resistant.
Adjustability: Some helmets – adult and youth – come with adjustable padding for a more custom fit.
Size: Youth helmets follow the same size chart as their adult counterparts, but they are generally smaller in size since younger players usually wear them. For players with a smaller head who don't play with a massive amount of force, a youth helmet is a good choice.
Price: The average cost of a football helmet for kids is $100-$200. This makes them a good option for those on a budget or more casual players.
Youth league use: Youth leagues may require a youth helmet as opposed to an adult helmet.
Youth football helmet cons
Performance and durability: While adult helmets often have a polycarbonate shell, youth helmets are usually made from ABS, which is a durable, hard plastic. ABS cannot withstand frequent or direct impact as well as polycarbonate.
Other limitations: Helmets made from ABS rarely provide sufficient protection to players when faced with adult helmets. This is because adult helmets, or those made with polycarbonate, are stronger and more likely to cause damage to the youth helmet and the player themselves.
Best youth football helmets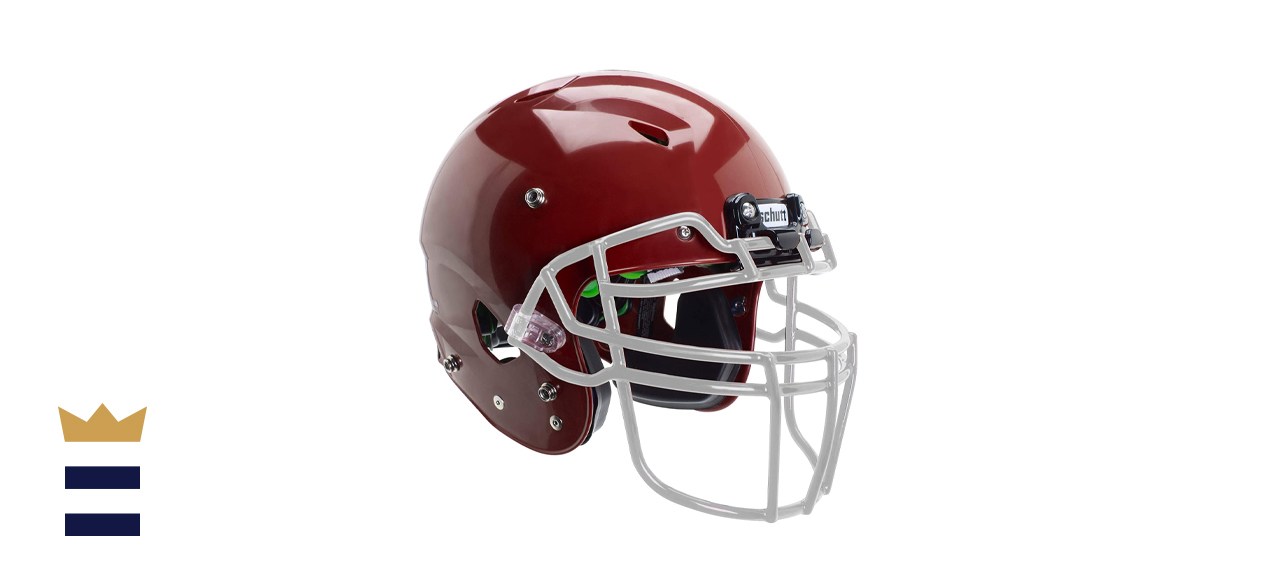 Schutt Sports Vengeance A3 Youth Football Helmet
From a popular sports brand that has a reputation for producing safe, durable and comfortable helmets comes this football helmet for kids. It has a polycarbonate shell and thick inner padding to protect young players from injury. It also has a 5-star safety rating from Virginia Tech. The facemask is not included.
Sold by Amazon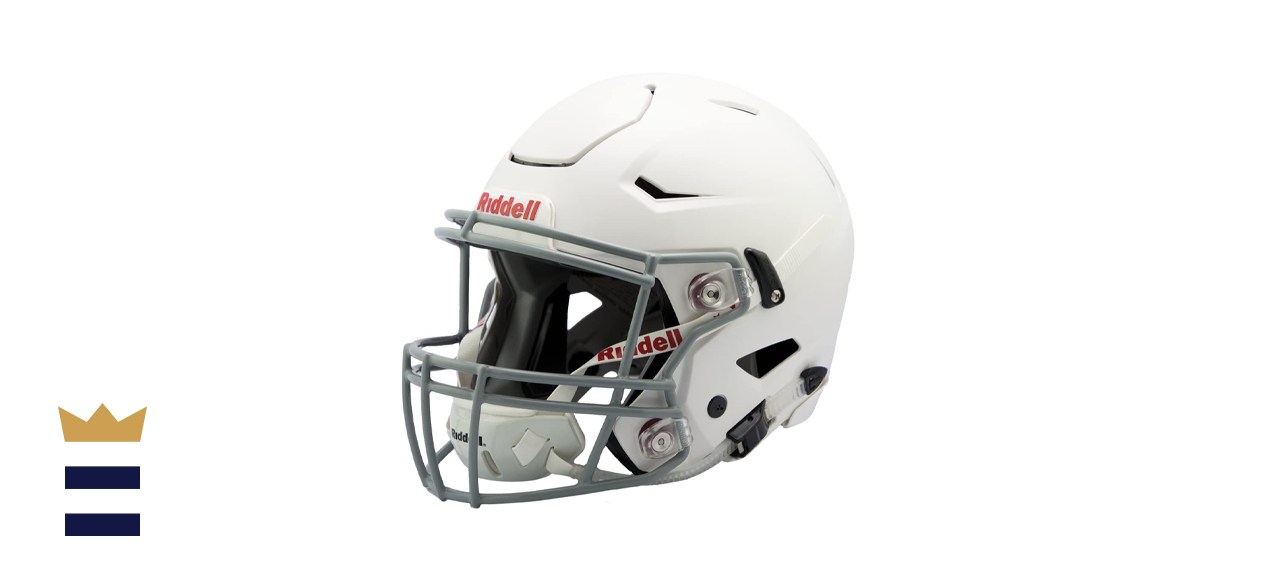 Riddell SpeedFlex Youth Helmet
Simple and lightweight, this youth helmet has a durable ABS shell and adjustable padding for the perfect fit. It comes in white, so it's perfect for players who want a custom football helmet with their team's colors or logo.
Sold by Amazon
Should you get an adult or a youth football helmet?
Novices or players under the age of 15 should choose a youth football helmet. These helmets provide a decent level of protection at an affordable price. They're also great for those who play in youth leagues.
For older, more skilled players an adult helmet is usually the better choice. This is because they are designed to withstand heavy impact without collapsing or causing injury to the wearer. For more information on choosing the right football helmet, check out this article.
Sign up here to receive the BestReviews weekly newsletter for useful advice on new products and noteworthy deals.
Angela Watson writes for BestReviews. BestReviews has helped millions of consumers simplify their purchasing decisions, saving them time and money.
Copyright 2021 BestReviews, a Nexstar company. All rights reserved.