This is an archived article and the information in the article may be outdated. Please look at the time stamp on the story to see when it was last updated.
Which aquarium air pump is best?
Although they live underwater and have gills rather than lungs, fish still breathe oxygen. Aquarium air pumps oxygenate water so it contains a decent concentration of O2, letting your fish thrive.
The main factor to consider when buying an air pump is whether it has the right flow rate for the size of your tank. The Eheim Air Pump 200 Aquarium Aerator is the top choice for midsized tanks of around 30 to 60 gallons.
What to know before you buy an aquarium air pump
Tank size
Aquarium air pumps aren't one-size-fits-all — rather, you need to choose one of an appropriate size for your fish tank. The flow rate of a pump tells you how much air flows from them within a set period of time and can be measured in gallons per minute or gallons per hour. However, you don't need to understand flow rate to find the right pump because manufacturers list what size tank a pump is suitable for.
Noise level
There's no getting around it — all air pumps make some noise. However, some are louder than others. Some pumps are explicitly advertised as quiet, but you can't necessarily trust that. Besides, it's usually not the standard decibel measurement that makes a pump sound loud or quiet. Rather, it's the type of noise it makes and whether it produces any annoying whining or buzzing sounds.
What to look for in a quality aquarium air pump
Power source
Most pumps run on AC power, but a few have battery backup in case of a power outage. You can also find a handful that run exclusively on battery power, but these are best used in emergencies rather than full-time because their batteries run down quickly.
Dual output
Powerful pumps designed for large tanks usually have dual output. This means there are two air nozzles rather than one. This lets you place two bubblers or air stones at either end of a large tank to oxygenate the water more evenly. You can also use one pump to oxygenate two tanks.
Adjustable flow
Pumps with adjustable flow let you dial up or down how much air they produce, so you can cater to the needs of your tank's inhabitants. Ideally, dual output pumps should let you adjust the flow of each output independently.
Rubber feet
Many air pumps have rubber feet to absorb vibrations and dampen sound. Some also have rubberized corners and other parts for the same reason.
How much you can expect to spend on an aquarium air pump
You can find decent pumps for small tanks for around $5-$15, while those for large tanks can cost as much as $50-$100.
Aquarium air pump FAQ
Are aquarium air pumps necessary?
A. While they aren't 100% necessary in all tanks, they're beneficial in most cases. Adding extra oxygen to the water for fish to breathe through their gills improves their health and well-being. That said, you may not need an air pump if you have a power filter that provides surface agitation adequate to oxygenate the water or if your aquarium is heavily planted.
How long should you run an air pump in a fish tank?
A. Fish tank air pumps should run constantly. Unlike aquarium lighting, it doesn't need to be switched on and off in cycles, so you should keep it running 24/7. In fact, turning it off can stress fish as it changes their water conditions.
Do I need an aquarium filter if I have an air pump?
A. Air pumps and filters are two separate items with different uses. Although you can use air pumps to draw water through sponge filters, if you're using your pump with an air stone or bubbler, you'll still need a separate filter.
Air stones and bubblers oxygenate the water. Filters remove solid debris as well as bacteria and chemicals that can be harmful to fish. All aquariums need filters to keep the water quality at an acceptable level for their residents. This need doesn't change just because you're running an air pump.
What's the best aquarium air pump to buy?
Top aquarium air pump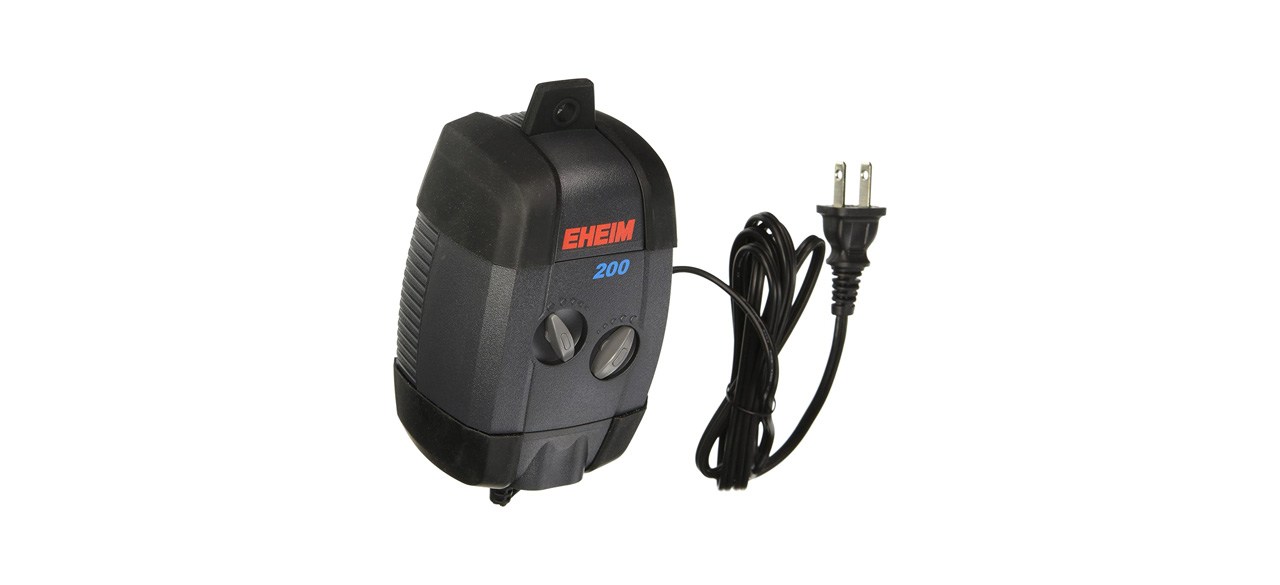 Eheim Air Pump 200 Aquarium Aerator
What you need to know: This dual-output air pump is suitable for tanks up to 60 gallons.
What you'll love: Both outputs are independently adjustable, so you can have more movement on one side of a tank than the other. The rubber suction pads and corners dampen vibrations and reduce noise.
What you should consider: Some users don't find it powerful enough for tanks approaching 60 gallons, but this depends on your needs.
Where to buy: Sold by Amazon
Top aquarium air pump for the money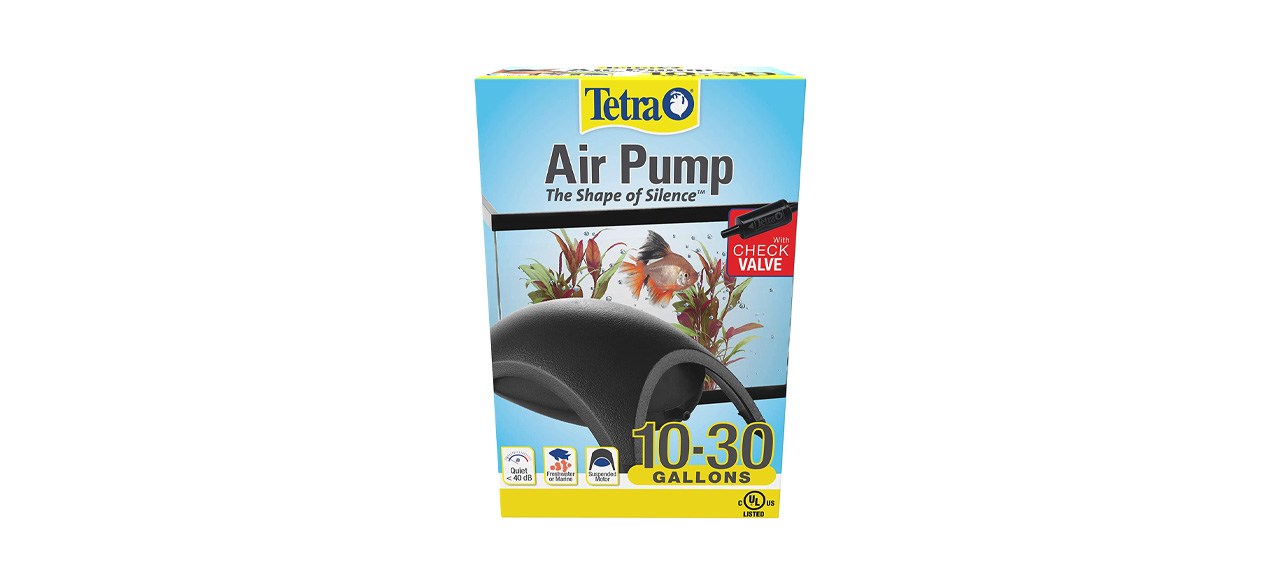 What you need to know: You can choose from four versions to suit aquariums from 10 to 100 gallons.
What you'll love: The dome shape, suspended motor and rubber feet help dampen sound so it runs at a reasonable volume. The two larger versions have dual outlets, while the three smaller ones have single outlets.
What you should consider: Despite being advertised as "whisper quiet," it isn't significantly quieter than other models.
Where to buy: Sold by Amazon
Worth checking out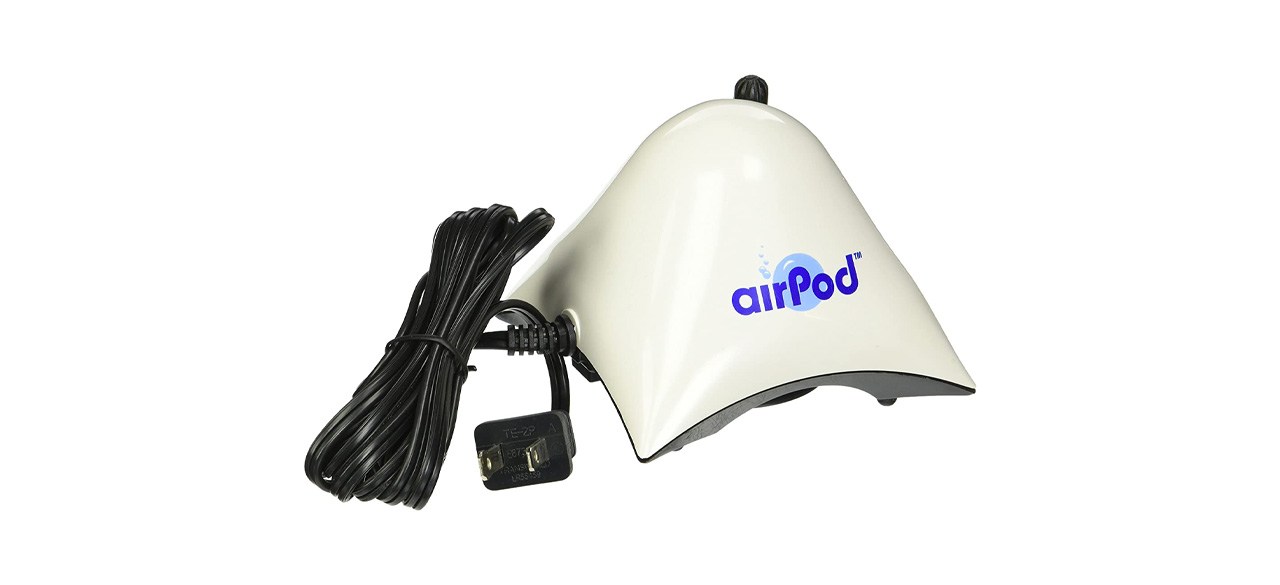 Penn Plax Air Pod Aquarium Air Pump
What you need to know: With five sizes available, there's a model to suit tanks between 10 and 75 gallons.
What you'll love: The compact design means it fits easily in most spaces. It has a dome shape and rubber vibration-reducing feet to limit noise levels. It has either single or dual outputs, depending on the chosen size.
What you should consider: Some reports of pumps failing within a few months, though this is an occasional fault rather than the standard life span.
Where to buy: Sold by Amazon
Want to shop the best products at the best prices? Check out Daily Deals from BestReviews.
Sign up here to receive the BestReviews weekly newsletter for useful advice on new products and noteworthy deals.
Lauren Corona writes for BestReviews. BestReviews has helped millions of consumers simplify their purchasing decisions, saving them time and money.
Copyright 2023 BestReviews, a Nexstar company. All rights reserved.