Which hair clips are best?
If you've ever had long hair, you know how unruly it can be. Shampooing, conditioning and brushing can be a time-consuming hassle, and some days trying to style it is even worse. With hair clips, you can easily keep hair out of your way without as much breakage. There are multiple types of hair clips, and each has its own uses, style, colors and finishes.
What to know before you buy a hair clip
Hair clip types
There are several types of hair clips but six of the most common are:
Banana clips have two sides that pull apart to open up teeth in the center, then close around your hair. They're best for pulling large amounts of hair back while still leaving it down.
Claw clips have two sets of teeth that close by way of a hinge. They're also good for gathering hair, but more in a bun than left down.
Comb clips are mostly for aesthetics as they aren't great at holding hair back in situations other than sedentary.
Hinged barrette clips close over a small amount of hair and have a flat back that faces outward. They're similar to claws, but with more emphasis on fashion.
Mini clips are essentially claw clips on an ultra-small scale. The size makes them mostly meant for decoration rather than function. They're excellent for children.
Snap clips keep hair as close to the head as possible while holding it back. They're usually small and simple and are particularly good for children.
What are the best banana hair clips to buy?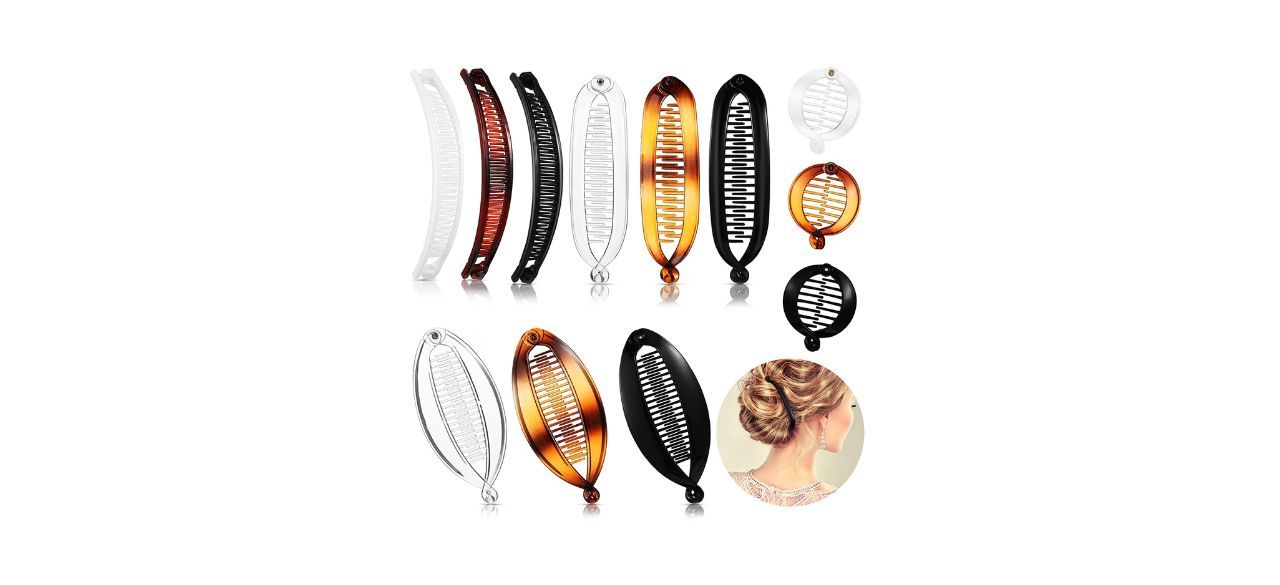 This 12-pack includes four designs of banana clip with three each per design so you have plenty of style options. There are also four color sets to choose from.
Sold by Amazon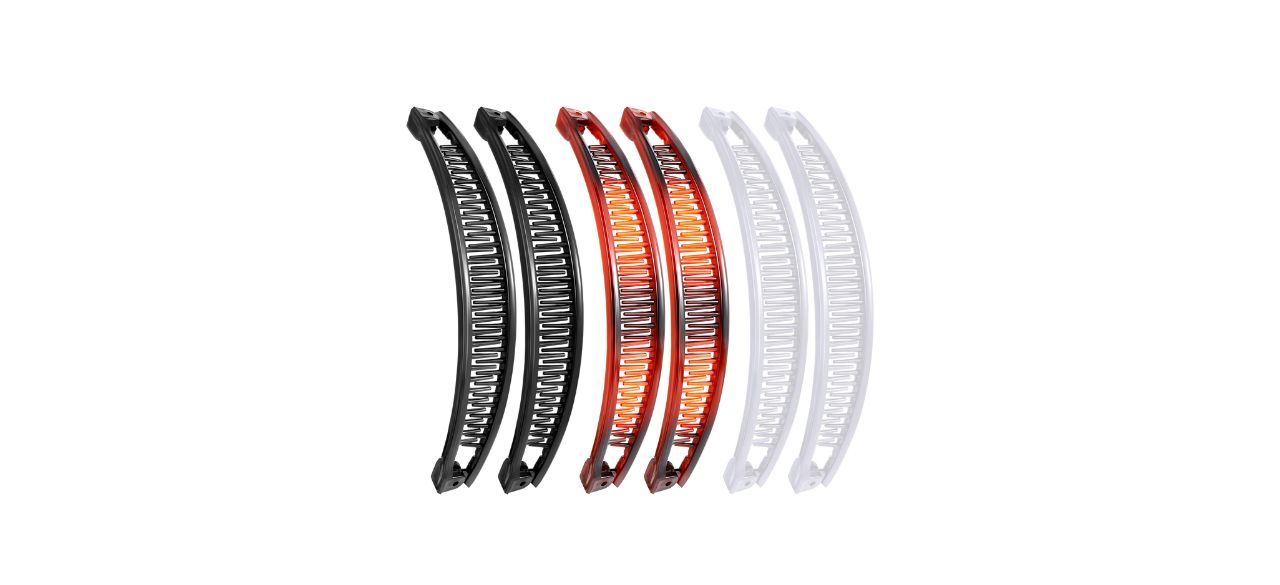 If you only need a few basic banana clips, these are ideal. They're easy to use and come in five color sets from blend-in colors, such as black and brown, to fun colors like neon pink, green and yellow.
Sold by Amazon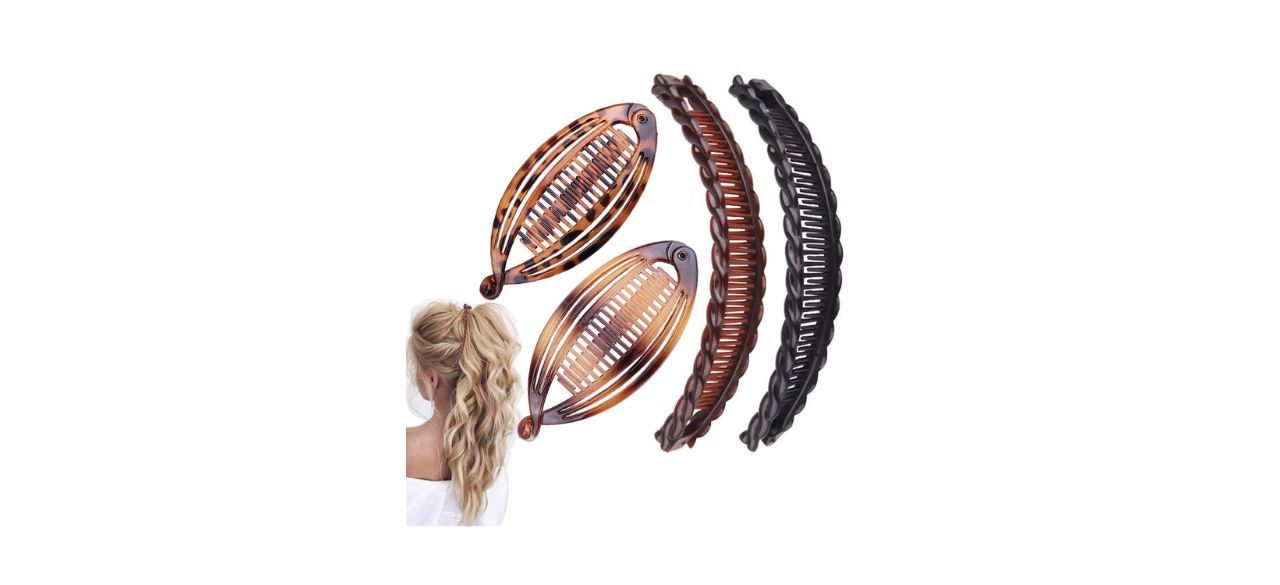 This is another excellent basic set of hair clips, but it comes with two of every different clip style. They're sturdy without being difficult to open, and the black and brown colors mesh well with most hair colors.
Sold by Amazon
What are the best claw hair clips to buy?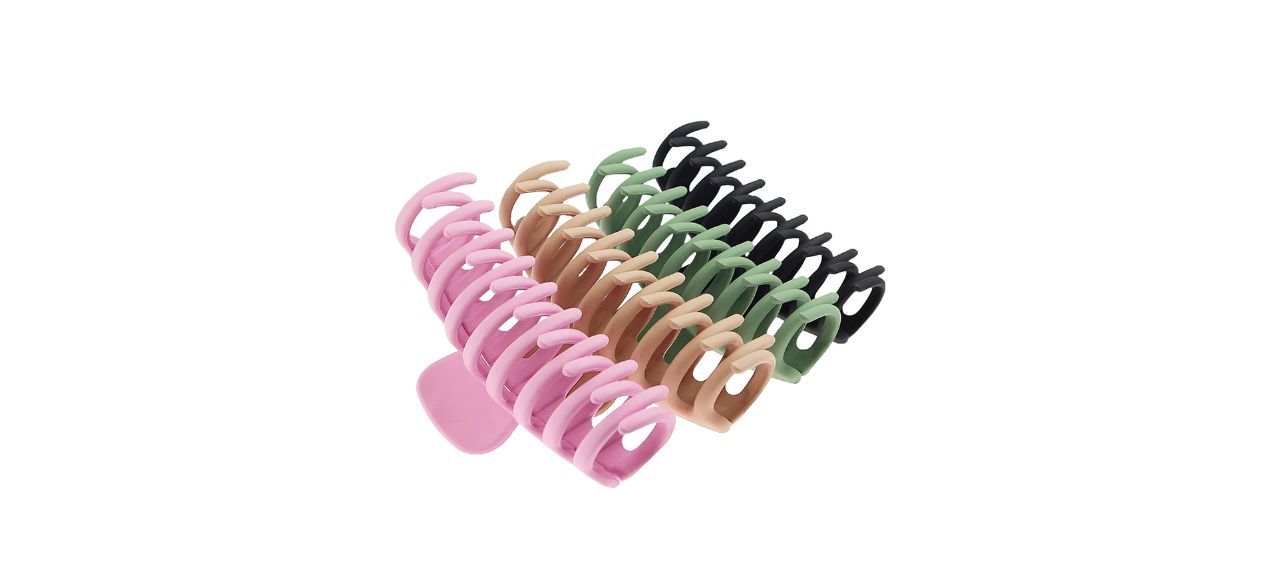 These large claw clips are the perfect throwback to the '90s, thanks to the overall style and wide range of matte or shiny colors. The spring is tight enough to hold hair without pulling it.
Sold by Amazon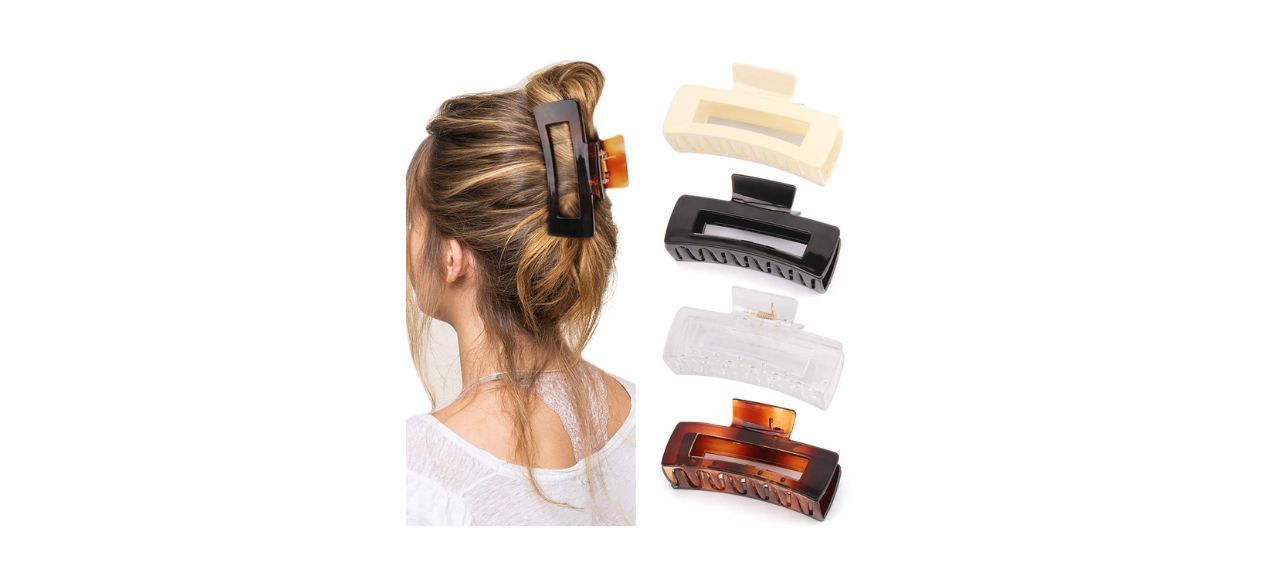 If you'd prefer something more modern, go with these. The flat sides, solids colors and overall square-ish appearance go great with both casual and professional wear. There are 17 sets of colors.
Sold by Amazon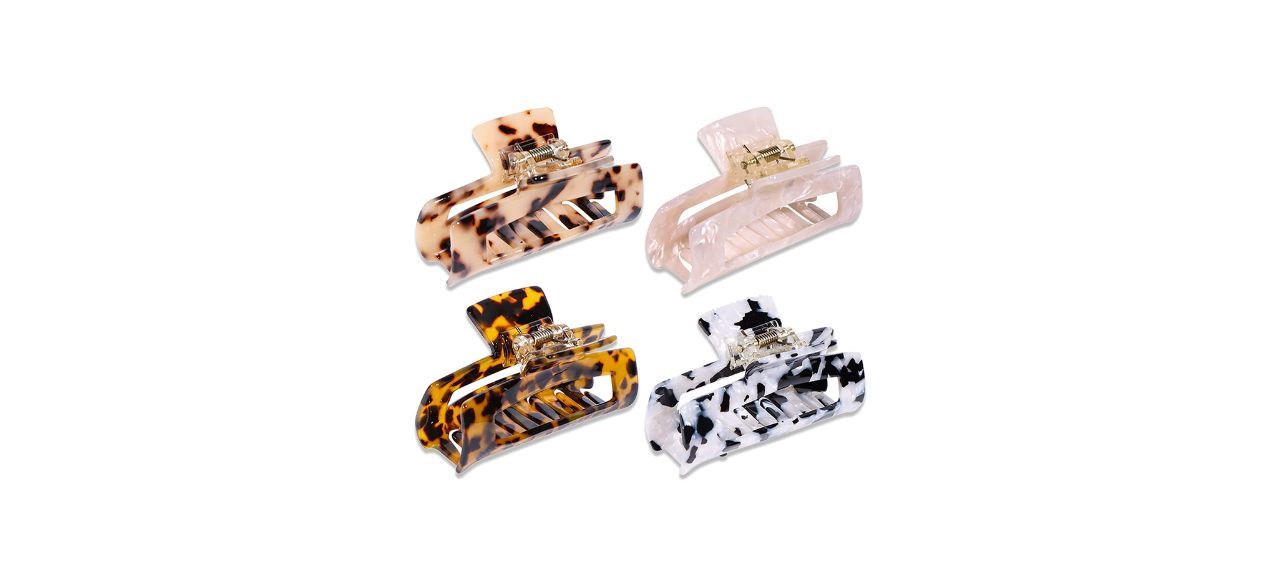 Most of these design bundle packs come in statement-making patterns, such as spotted animal prints or checkerboard. Order these if you like to make a splash.
Sold by Amazon
What are the best comb hair clips to buy?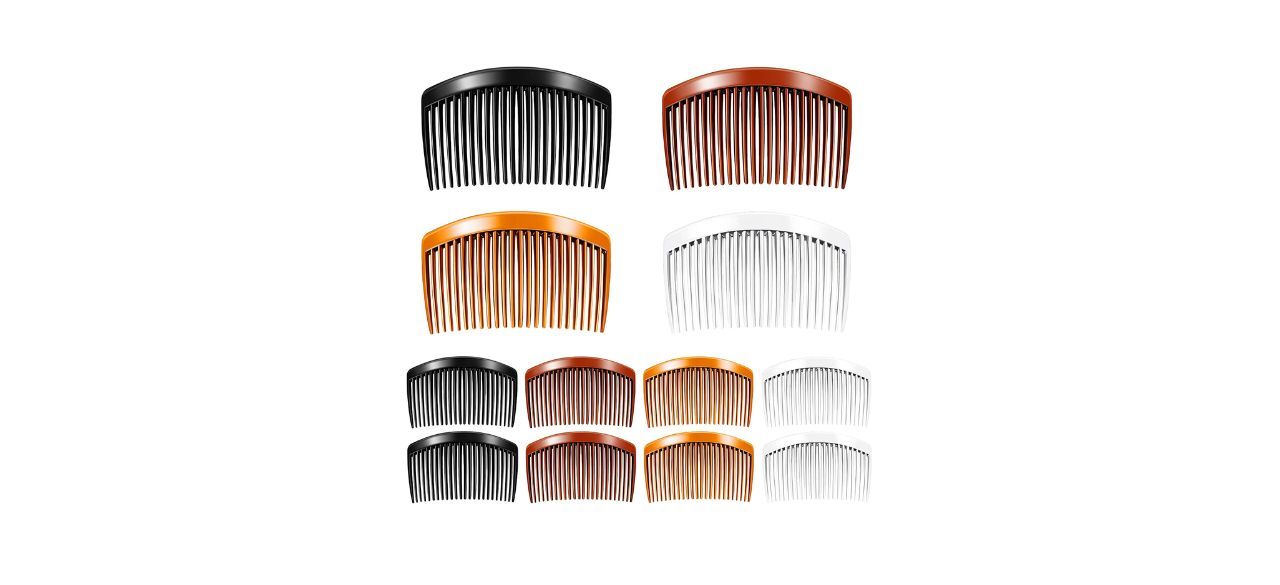 Try one of the four sets of clips, each one containing different shapes, colors and numbers of teeth. They all achieve the same result: a simple, affordable and good-quality decoration for your hair.
Sold by Amazon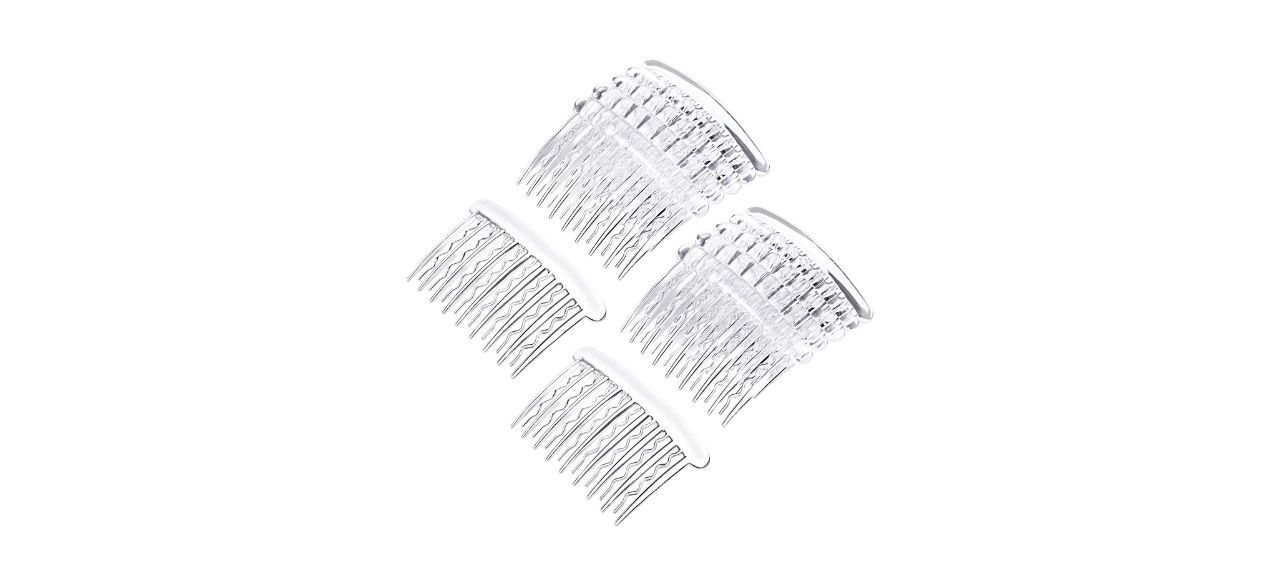 These clear comb clips are perfect for days when you just need to put your hair back without having to worry about matching or clashing with your outfit. They still come in back, brown and gold, if you prefer.
Sold by Amazon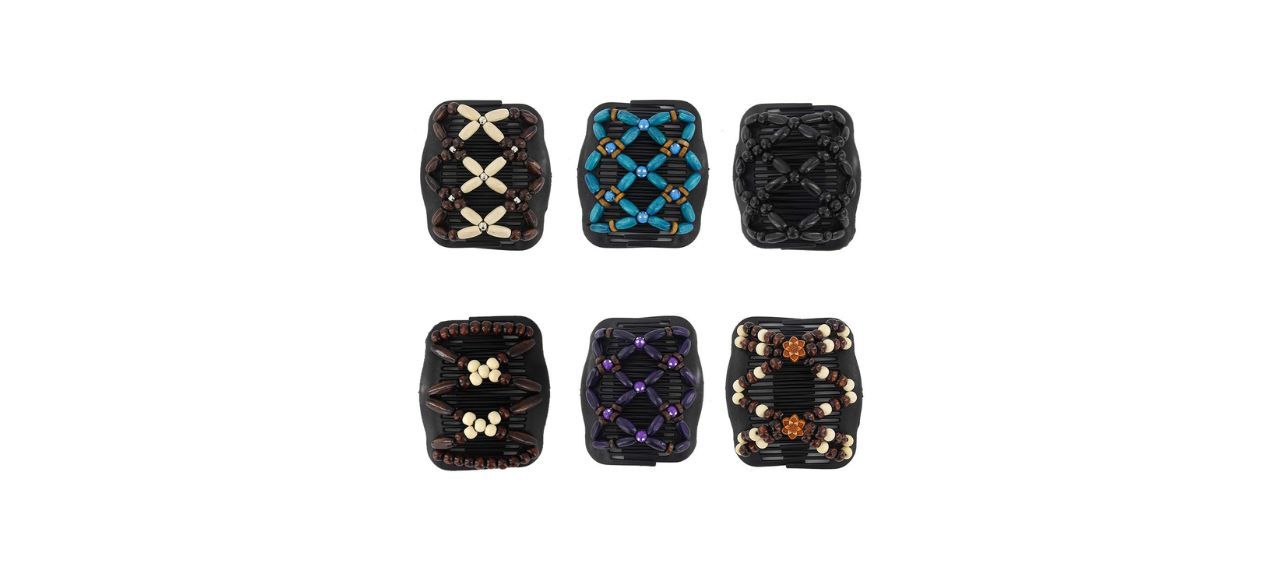 These clips use two combs attached by beaded elastic strings to make a fashion statement and hold more hair. There are two sets of six designs.
Sold by Amazon
What are the best hinged barrette hair clips to buy?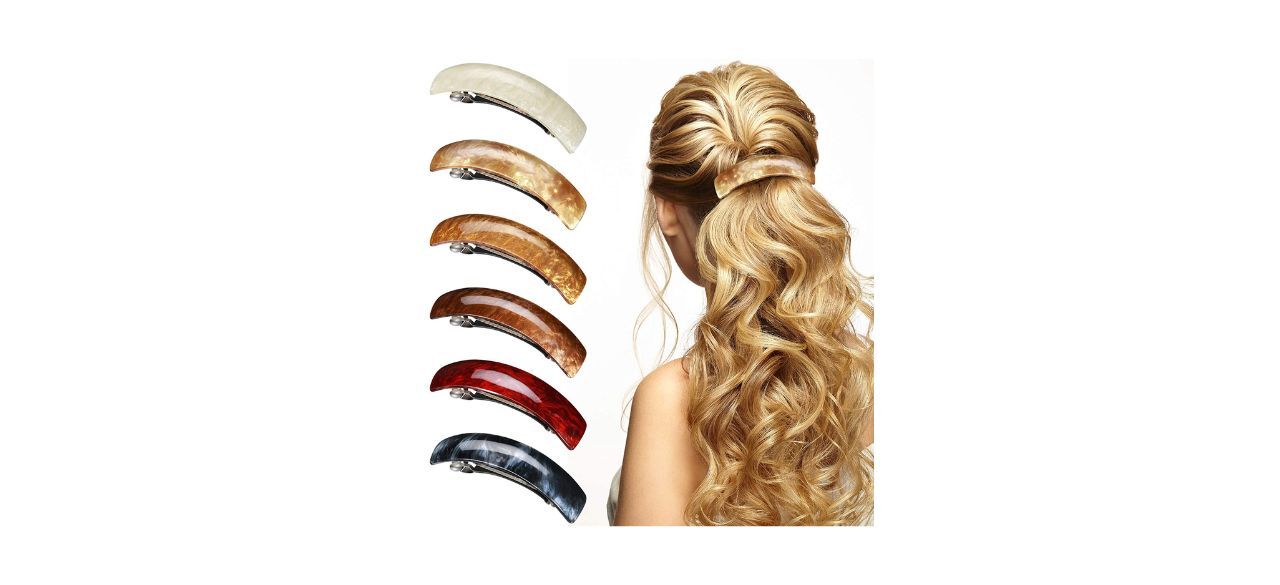 Willbond Hinged Barrette Hair Clips
These hinged barrette collections show a little personality without making too strong of an impression, plus they're durable and easy to use. There are seven sets to choose from.
Sold by Amazon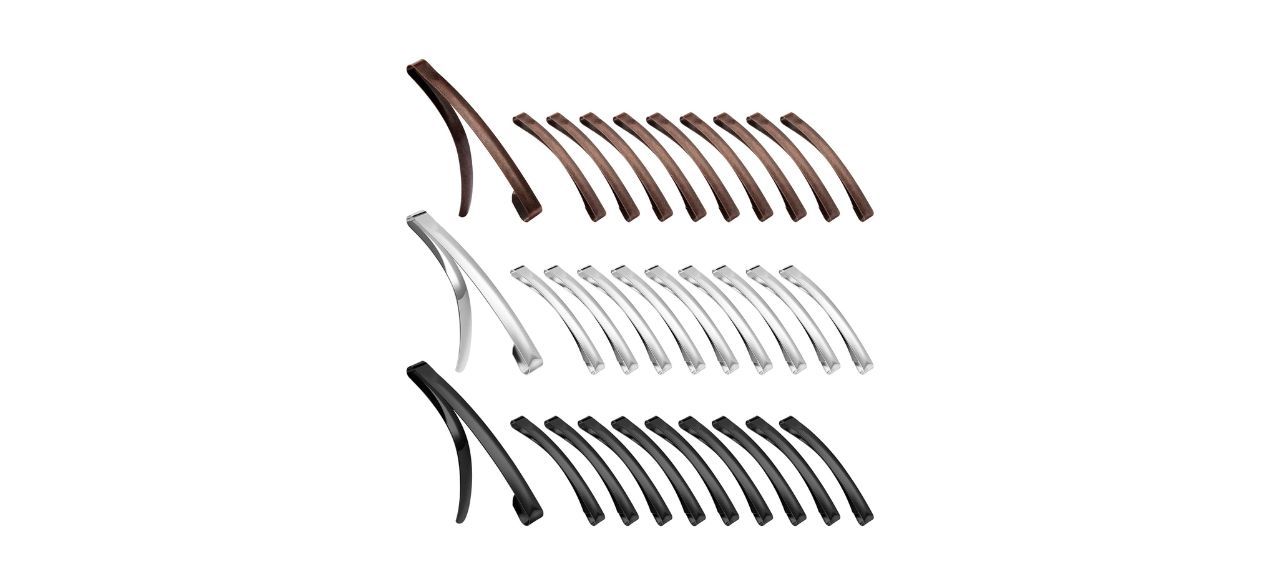 Hotop Hinged Barrette Hair Clips
This extra-large collection is great for those who like the style of using several clips and for those who have a problem losing them. They come solid or with a thin hollow through the center.
Sold by Amazon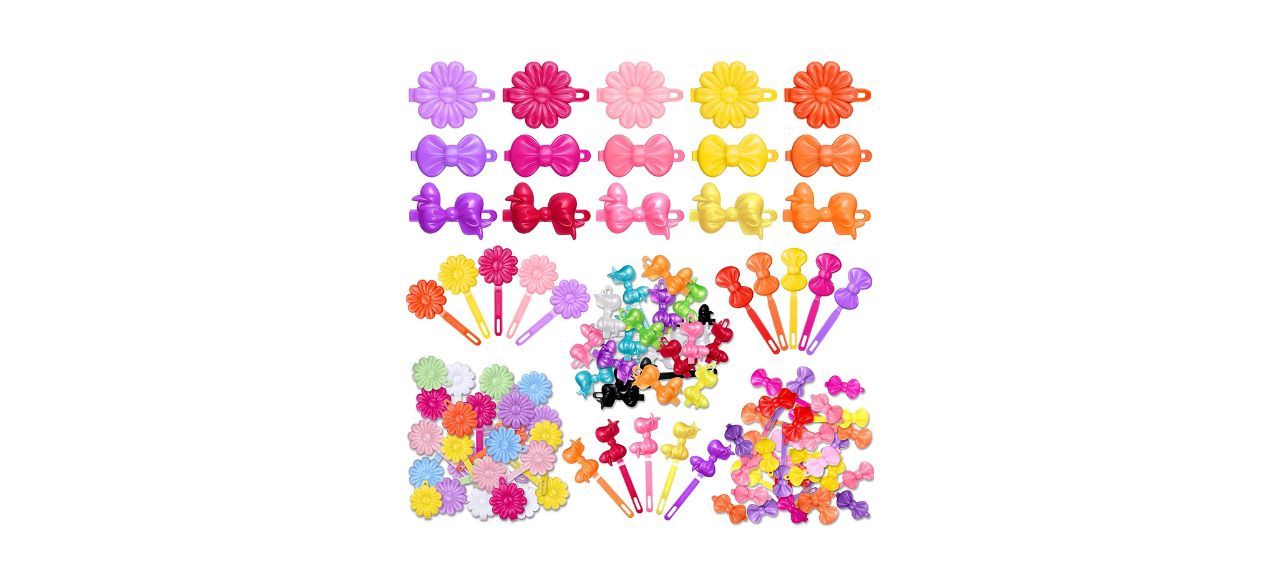 Janinka Hinged Barrette Hair Clips
This massive 72-piece set is the perfect starter kit for younger children. They're also easy to get on and off, so your children can style themselves without help.
Sold by Amazon
What are the best mini hair clips to buy?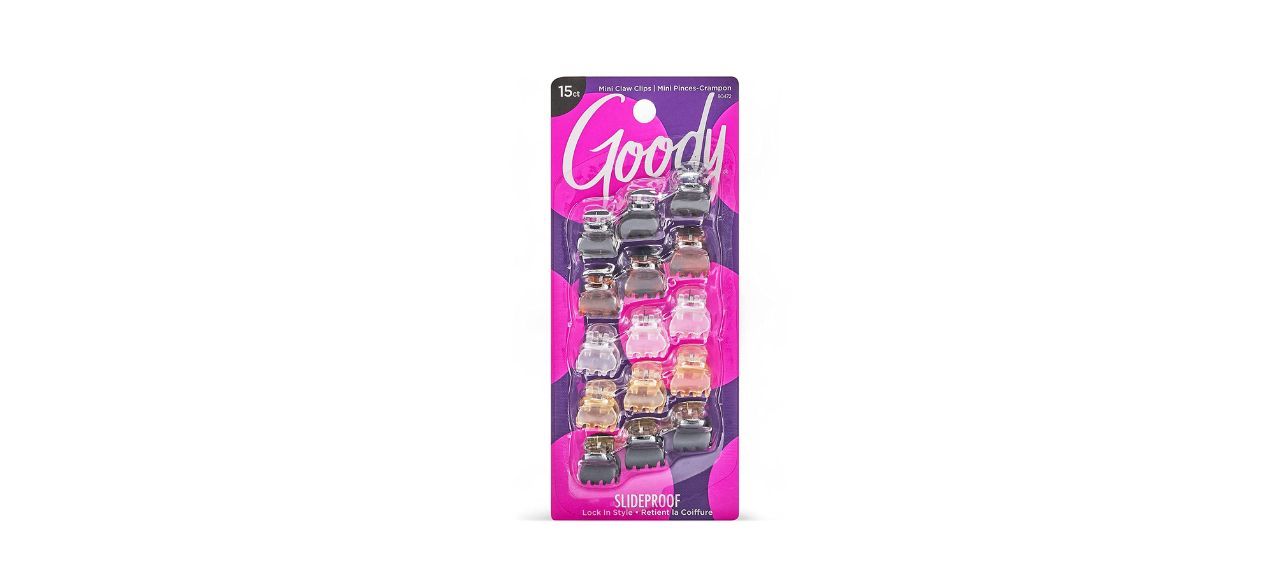 Goody Classics Mini Claw Clips
These are roughly the size of a quarter and feature a slide-proof grip to help them stay in place. They come in an all-black pack of 12 or a multicolor pack of 15.
Sold by Amazon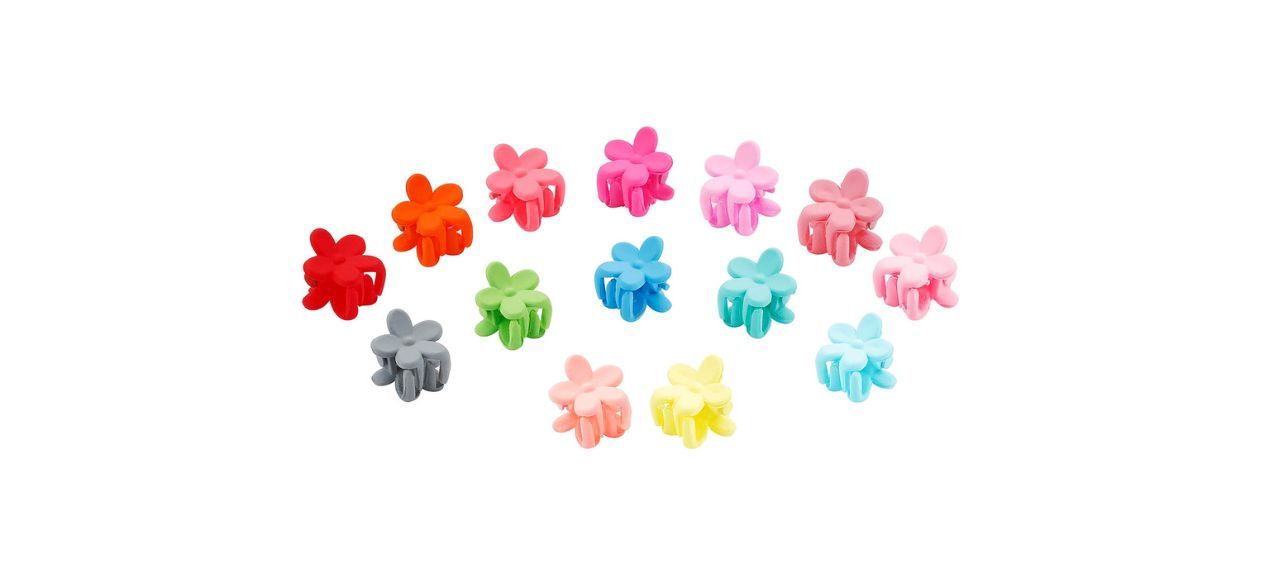 These come in a pack of 50, perfect for children who always seem to lose a few clips each day. They come in flower, crown, butterfly and star shapes.
Sold by Amazon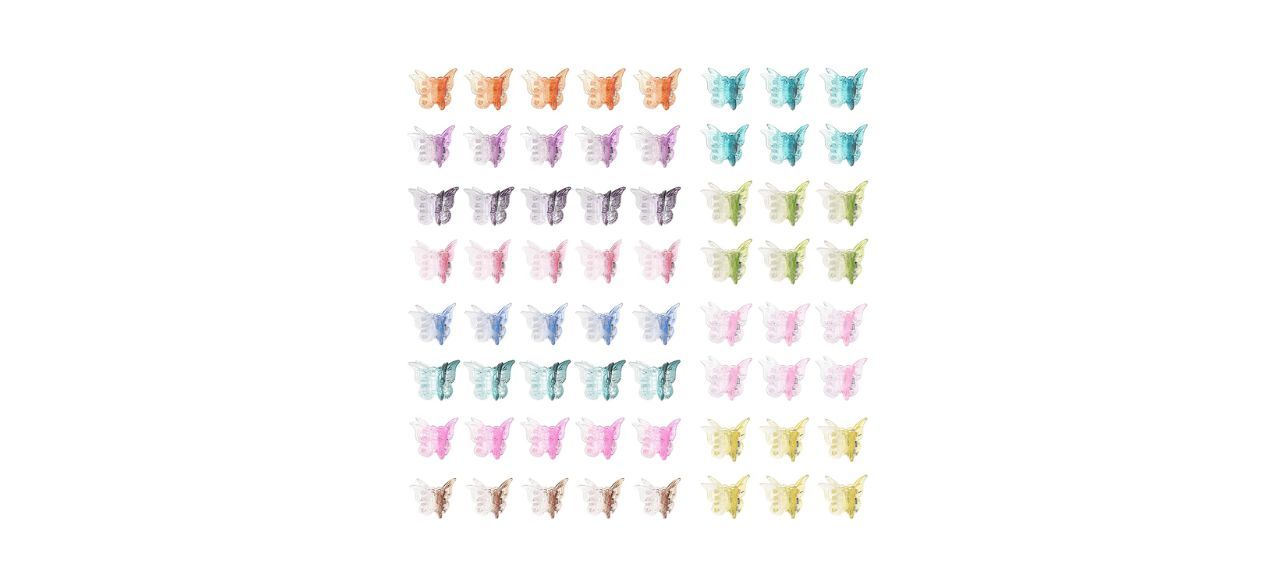 These butterfly clips come in five color sets, some one color and some a mix, some opaque and some translucent. Some sets include 50, others include 100.
Sold by Amazon
What are the best snap hair clips to buy?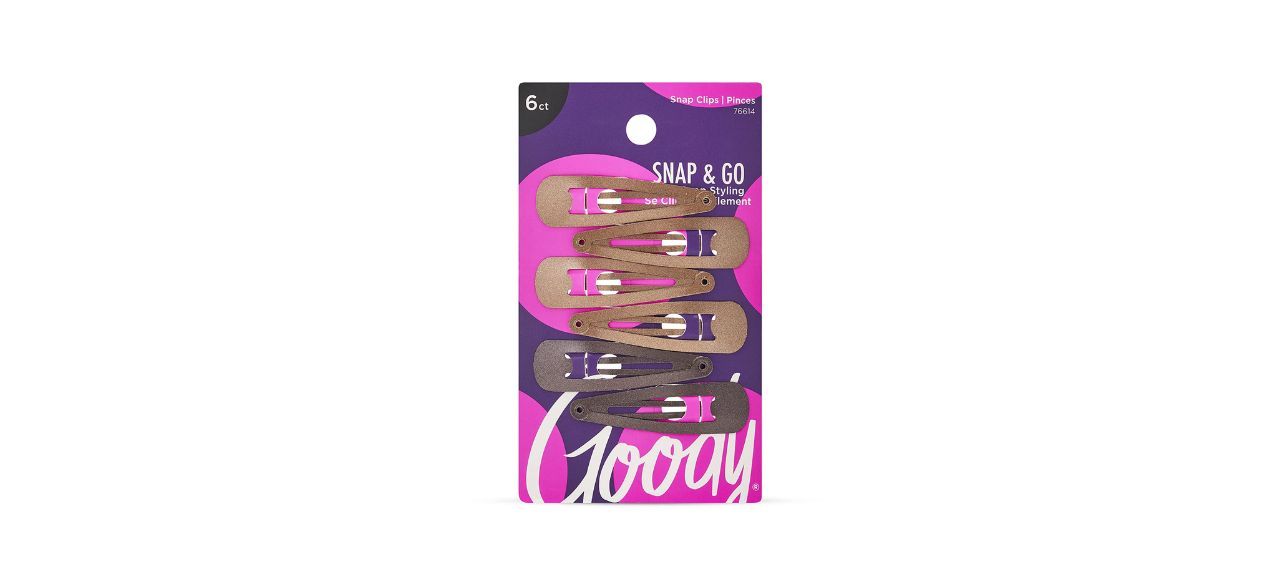 This six-pack of basic snap clips is good for many hairstyles, and the metallic finish has just enough of a glimmer to stand out without being too strong.
Sold by Amazon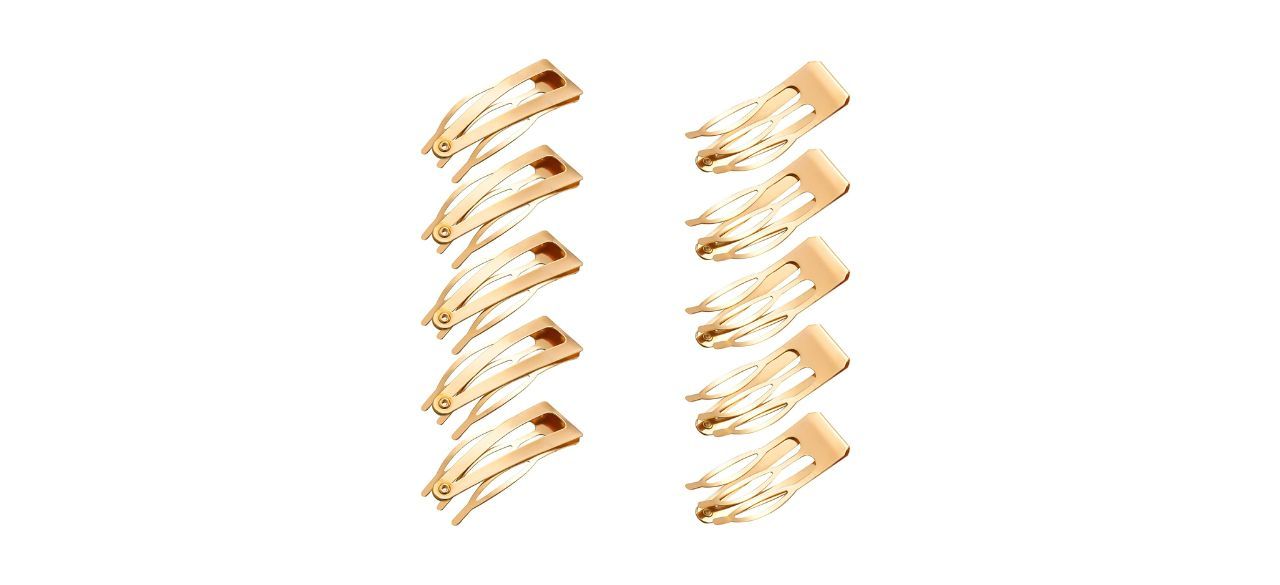 If you do want a snap clip that stands out but is still somewhat refined, these golden snaps are perfect. They come in 11 other colors, too.
Sold by Amazon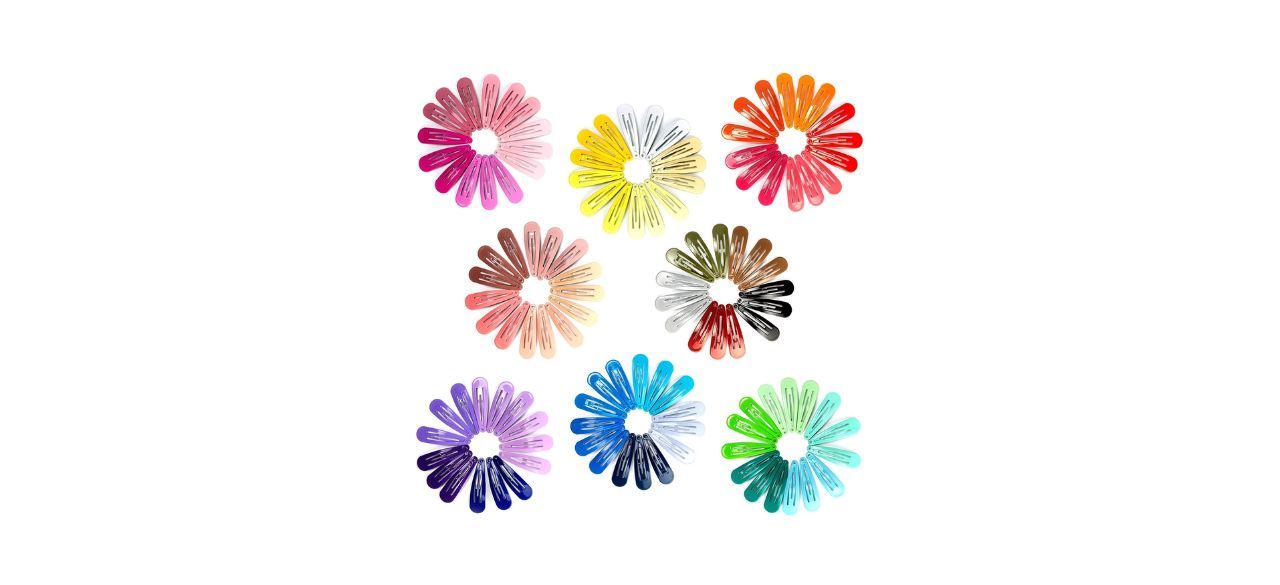 These snap clips are mainly aimed at children, but the vibrant colors are strong enough for adult hair as well. There are 40 colors with three clips each.
Sold by Amazon
Want to shop the best products at the best prices? Check out Daily Deals from BestReviews.
Sign up here to receive the BestReviews weekly newsletter for useful advice on new products and noteworthy deals.
Jordan C. Woika writes for BestReviews. BestReviews has helped millions of consumers simplify their purchasing decisions, saving them time and money.
Copyright 2023 BestReviews, a Nexstar company. All rights reserved.