This is an archived article and the information in the article may be outdated. Please look at the time stamp on the story to see when it was last updated.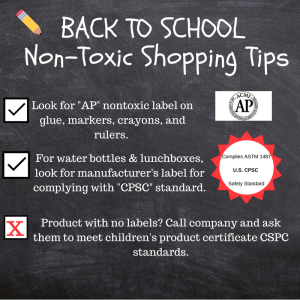 The CoPIRG Foundation tested dozens of school supplies including markers, crayons, dry erase markers, glue, 3-ring binders, spiral notebooks, lunchboxes and water bottles. We found several supplies containing asbestos, lead, benzene and other dangerous chemicals. The "School Supplies Safe Shopping Guide" warns consumers about those specific products, and offers suggestions for safer alternatives.
Out of the dozens of products that they tested, most did not contain toxic chemicals. However, our tests and investigation found the following:
Asbestos in Playskool crayons sold at Dollar Tree. Asbestos, which can cause lung cancer and mesothelioma, has recently been found in other children's products, such as makeup.
Lead in recently-recalled children's water bottles (Base Brands children's Reduce Hydro Pro Furry Friends water bottle, once sold by Costco, and GSI Outdoors children's water bottle, once sold by L.L. Bean). The Consumer Product Safety Commission recalled both of these items because they contained high levels of lead. Lead can cause severe developmental and behavioral problems.
Phthalates in Jot brand blue 3-ring binder. The levels of phthalates in the binder is considered unsafe for children by the Consumer Product Safety Commission. High levels of phthalates can lead to birth defects, hyperactivity, and reproductive problems.
Benzene in Board Dudes brand markers. Benzene is a known carcinogen linked to leukemia, and disruptions in sexual reproduction and live, kidney and immune system function.