This is an archived article and the information in the article may be outdated. Please look at the time stamp on the story to see when it was last updated.
Wireless charging is NOT new.  In fact the main wireless charging standard, Qi, was released 10 years ago.  Problem is, it took some time.  Finally, for the first time, the top 2 smartphone manufactures support wireless charging in their flagship phones.  If you have  Samsung Galaxy or an iPhone 8 or iPhone X, you NEED to use a wireless charger.
If you're not familiar – wireless charging is one of the simplest technologies out there.  As long as your phone supports it, place your device on a wireless charger and it starts juicing up!  You should know that wireless charging is a little slower than a standard USB plug.  Newer, fast wireless chargers, are better than before but still not as fast.  Look for wireless chargers that support 7.5W or 10W.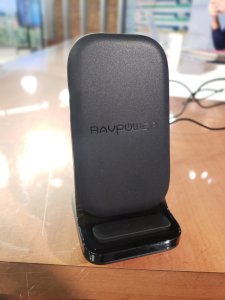 RAVPower Wireless Charging Stand – $49.99
This is my preferred way of using wireless charging.  This stand from RAVPower is the perfect way to charge your smartphone on your nightstand but it's also propped up so you can see the time and see your notifications.  The RAVPower has 2 charging coils inside instead of just 1.  This is important because not every phone has the wireless charging hardware in the same place.  With 2 coils there is a better chance that it'll hit the "sweet" spot on your phone.  It also supports up to 10 Watts of wireless charging.  Older chargers felt like that took FOREVER to juice up your phone.  The iPhone 8 and iPhone X supports up to 7.5W and Samsung phones can charge at 10W.  Having a charger that supports fast charging is important.
DEAL ALERT!  RAVPower hooked us up with a 20% discount code!  Use code KDVRRVPR when you checkout on Amazon to get $10 off this charger.
Belkin BoostUP! – $59.99
If you'd prefer a flat wireless charger, Belkin has a solid option with their BoostUP charger.  This charger looks similar to a lot of other traditional wireless chargers.  It has that round hockey puck shape to it.  Set your phone in the center and it charges up.  The BoostUP supports fast charging so it amps up your battery at a decent speed.  I think the price is a little high but the Belkin name goes a long way when it comes to phone accessories.
DEAL ALERT! I found it for $5 off on Amazon.  It's also available in white for those iPhone purists who love their phone accessories in white!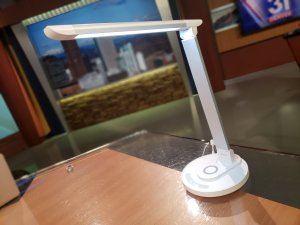 TaoTronics LED Desk Lamp w/ Wireless Charger – $39.99
This is the future of wireless charging.  Mark my words!  It'll soon be built into most desks, tables and kitchen islands.  First, this is a desk lamp that has Qi wireless charging built into the base.  The lamp itself is really cool.  You can adjust the color of the light to match either a home (with warm light) or an office setting (with florescent lights.)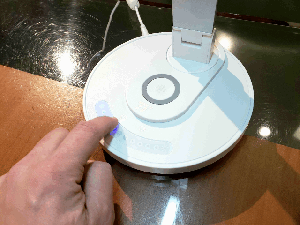 It also has controls so that you can adjust the brightness of the lamp.  Turn the lamp off and back on again and it remembers the last setting you used.
In the center of the lamp base you'll see a phone icon.  Set any wireless-compatible phone on that logo and it'll start charging.  It also supports fast charging like the 2 previous wireless charges in the article.
DEAL ALERT! TaoTronics hooked us up with a 20% code on this lamp!  Use code KDVRTT01 when you buy this from Amazon to get it for $33.99.