This is an archived article and the information in the article may be outdated. Please look at the time stamp on the story to see when it was last updated.
COLORADO SPRINGS, Colo. — Paul Kitterman, the man who vanished at halftime of a Broncos game at Sports Authority Field at Mile High, walked more than 100 miles to Pueblo before being found safe Tuesday, sources tell FOX31 Denver.
There are still several questions surrounding Kitterman's disappearance, but foul play is not suspected.
Kitterman, 53 of Kremmling, was last seen during halftime of the Broncos' game Thursday against the San Diego Chargers. A missing person report was filed with the Denver Police Department on Friday.
Kitterman was attending the game with his 20-year-old stepson and two family friends. At halftime, Kitterman's stepson, Jarod Tonneson, used the restroom but when he returned he was unable to find Kitterman. Kitterman did not have his cellphone or credit cards with him and only about $50 cash.
Pueblo police say Kitterman was found outside of a Kmart store and sources tell FOX31 Denver that he walked the 114 miles from the stadium. They add that he was coherent and that Kitterman told them he wanted to get away and find someplace warm.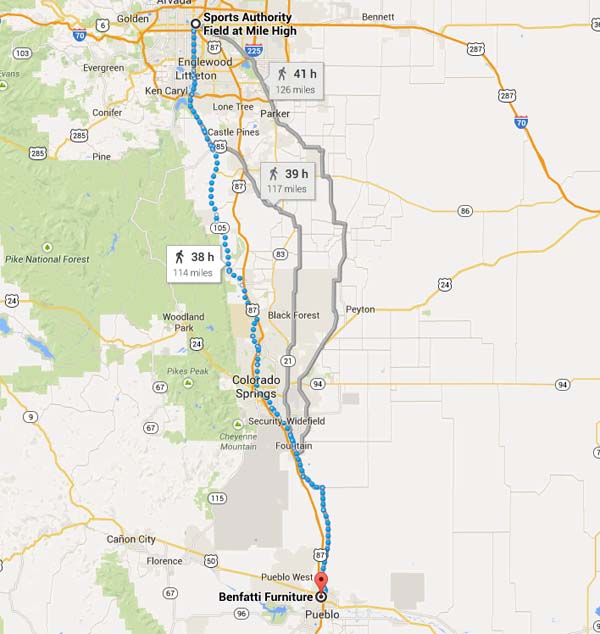 Family members, who were reunited with Kitterman, are just as baffled by the disappearance as everyone else. They believe the statement that Kitterman wanted to find someplace warm might be a survival instinct, that he wasn't trying to say he wanted to vanish but he only knew to go to warm weather.
He was a hunter and outdoorsman in the mountains and knew how to survive outdoors.
Tonneson said his stepfather has no known health problems and doesn't use drugs.
"It's been a long bunch of days for us. It's been a long bunch of days for everyone following this. And it's been a long bunch of days for Paul," friend Tia Bakke said. "At this point all we can do is get him some rest, get him some food and move forward."
Overnight, the family released a statement on Facebook, offering thanks but also seeking privacy.