This is an archived article and the information in the article may be outdated. Please look at the time stamp on the story to see when it was last updated.
DENVER — The Denver Police Department could make a decision Wednesday whether officers will begin wearing body cameras on their uniforms.
A pilot program has been in place for the past six months in which about two dozen officers in District 6 have worn the body cameras. On Wednesday afternoon, Chief Robert White will reveal results of the program.
The body camera gives officers the ability to record their interactions with the public. The case supporters make it simple.  Police and suspects are less likely to misbehave if they know they're being recorded because the video could be used in court cases.
Ferguson
, Mo., groups such as the ACLU are prompting calls for more officers to wear body cameras, adding a new level of accountability to police work.
Sen. Clair McCaskill, D-Mo., believes police are at a disadvantage because anybody with a cellphone can take video of a police encounter and post only a part of it online, giving the impression an officer overreacted when they haven't.
"We need to impact police officers all over the country," McCaskill said. "One of my ideas that I am hopeful I will get the Senate to embrace and ultimately become law, it seems to me that before we give federal funds to police departments, we ought to mandate that they have body cams."
DPD worked with Taser International and the University of Cambridge, who wrote an independent study on the effectiveness of the camera.
The department released this video about the test program including an interview with Chief Robert White.
A turn toward body cameras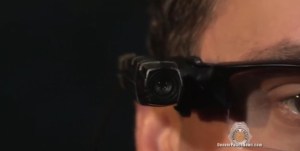 Officers in the United Kingdom were the first to experiment with body cameras, Harris said. They found that the cameras did more than simply record an encounter; they also had an interesting effect on people who were confronted by police.
"Some people who weren't behaving suddenly started behaving knowing that what they were doing was being filmed," said David Harris, a law professor at the University of Pittsburgh who has studied the use of cameras in policing.
Used with apps and other technology, the devices also allowed officers to record and maintain records in real time, which led to faster resolutions of cases.
But sticky questions have been raised.
There are concerns about privacy. Police are called after terrible things happen to people. Could recording expose victims? When do officers begin recording? Only during certain situations or in every situation? Could footage, depending on when the record button is pressed, present a false or misleading account of an encounter?
When does an officer announce that he is recording? Laws governing when and where people can be recorded vary from state to state. Would a person who knows they are being recorded by a police officer be less likely to tell an officer much needed information?
One department's experiment
There are no national guidelines on the use of dashcams or body cameras, said William A. Farrar, the police chief in Rialto, California, a city of about 100,000 in San Bernardino County.
Farrar, a 34-year law enforcement veteran, became intrigued by the use of body cameras in policing while he was on a sabbatical getting his graduate degree at University of Cambridge in England in late 2011.
When he returned full time to the department, he partnered with Barak Ariel, a fellow at the Institute of Criminology at Cambridge, and set out to do a yearlong study. Between February 2012 and February 2013, some of his officers would wear body cameras, purchased with grant funding.
Farrar wrote a policy based on input from his officers and guidance from the Los Angeles branch of the American Civil Liberties Union to assure that guidelines adhered to privacy laws.
"I truly believe that cameras had a positive impact as it relates to increased professionalism — officers minding their P's and Q's — and being more sympathetic to what was happening in the community," he said. "At the same time, the cameras also got citizens who interacted with officers to calm down. It mitigated a lot of circumstances instead of escalating them."
Use of force by Rialto police dropped 60% during the experiment year, Farrar said.
The long-term benefits of having cameras far outweighs the financial costs, Farrar said.
One of the best examples of that came the first week that the officers had body cameras. A call came into Rialto dispatch from a person describing a man who was in a car with a gun. Officers showed up and discovered a man sitting in his car. The man's voice sounded the same as the man who had placed the call, and records showed that later, Farrar said.
But that day, on the street, the man got out and raised his weapon toward an officer, the chief said. And the officer shot him.
"It was a classic suicide-by-cop," explained Farrar. "He called us because he wanted that confrontation."
If the man holding a weapon toward the officer wasn't caught on body camera, the situation might have been misconstrued because another person — a witness filming from afar — also captured the confrontation on video camera and sent it to local press.
On that second video, you can hear a voice saying that it appeared that an officer had, without cause, shot a man in the street.
"We had video that showed what really happened," said Farrar. "It made all the difference."
CNN contributed to this report.