This is an archived article and the information in the article may be outdated. Please look at the time stamp on the story to see when it was last updated.
I had gone in for a physical because I was feeling tired  and I hadn't seen a doctor for awhile.  I was 36 years old at the time, and my doctor suggested I get a mammogram just to have a baseline for when I needed to have regular screenings at 40.   So, after some encouragement from my sister-in-law, who'd been diagnosed with breast cancer at 32, I decided to go and get a mammogram.  The next morning, I got a call informing me I needed to go in for what's called a 'spot compression mammogram.' I had breast cancer in my left breast, something called 'triple negative cancer,' which is a cancer that doubles in size every 80 days.  That's when my journey with appointments, doctors, oncologists, surgeons began.  If I'd waited to get screened, I wouldn't have made it to 40.
That's the story Tiffany Reed, an 11 year cancer survivor, shared with me. Now Reed is the Senior Specialist for Screening Systems with the American Cancer Society in Denver. Reed says "one thing I want to stress, I had no family history and my grandparents lived to their 80s and 90s.  In fact, only 8 percent of cancers have a family history for cancer.  So not having a family history should not stop you from getting screened."
There are certain cancers where early screening changes everything.  Breast cancer, cervical cancer and colon cancer are among preventable cancers, because if they're caught early enough, your chance of survival is very high.  In fact, March is Colon Cancer Awareness month. According to the Colon Cancer Alliance:
Screening is the number one way you can reduce your risk of colon cancer. Despite its high incidence, colon cancer is unique in that it is one of the most preventable and, if found early, most treatable forms of cancer. And the best part is, screening is easy! From colonoscopy to at-home stool tests, there's an option for everyone.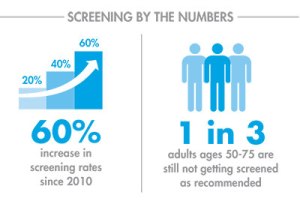 And yet, it's one of the screenings people feel most uncomfortable about.  I was just talking to a friend this week about a colonoscopy and she admitted she's putting it off, "all that gunky stuff you have to drink, and being uncomfortable, and having someone drive you home, I just haven't gotten around to it."
While more people are now being screened, my friend falls into the category described by the Colon Cancer Alliance: one third of those in the age range for screenings are not getting screened.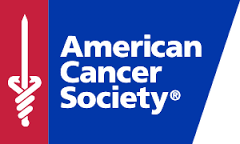 During Colon Cancer Awareness month, the American Cancer Society would like to see an increase in screening rates to 80% by 2018.  Shane Ferraro, with the American Cancer Society's Corporate Communications  in Denver, says "the fear of how uncomfortable a colonoscopy might be is one of the reasons so many people don't get screened, along with concerns about cost.  But now with the Affordable Care Act, that colonoscopy is covered by your insurance."
Reed says if you simply cannot get over the hump of taking the necessary laxatives to go through a colonoscopy, "there are several other options, including a stool test every year. The mortality rate is the same as a colonoscopy IF you do it every year.   Bottom line, the best test is the one that gets done."
Dr. Durado Brooks, American Cancer Society Director of Prostate and Colorectal Cancer gives an overview of the different options for colon cancer screening tests, which could find or even prevent colon cancer.
Dr. Grace Butler is a colon cancer survivor turned activist.  At 60,  she was experiencing unbearable pain in her side. Two days later, she was diagnosed with stage three colon cancer. Butler says,
I had an insatiable appetite. I needed to know what was going on, what was happening to me, what was available, and how I should be treated, I was tantamount to a person who is drowning…the American Cancer Society was the lifeline that provided a wealth of information about the disease and its treatment.
Dr. Grace was so motivated she founded Hope Through Grace, whose mission is eliminate colorectal cancer through prevention and early detection.
For some people, getting around to a physical, much less a screening is something they don't ever think about.  Reed says "until we can give poor people resources for their basic living expenses, the last thing on their mind is a screening."
That's why she's so pleased with the work of the Women's Wellness Connection,  which helps women in Colorado get free breast and cervical cancer screenings.  Here are their qualifications:
Live in Colorado.
Are legal residents of the United States.
Are 40 – 64 years old.
Have limited or no health insurance to pay for these screenings.
Have not had a Pap test or mammogram in the last 12 months.
Meet income requirements.
For all of us, we are told to be aware of our bodies.  That means when you do go in for that annual physical, ask your physician what to be aware of when it comes to your age and family history to determine what types of screenings might be best for you.
It may mean being uncomfortable for several minutes with a mammogram, or going through the steps needed for a colonoscopy, or getting that Pap smear for a cervical exam or being looked over by a dermatologist.  But finding out if anything is out of whack early will make all the difference in the world.
Ferraro points out that everyone has different risk factors.  "I'm fair, so every April in addition to my physical, I have an annual appointment with my dermatologist.  Skin cancer is so common, and I'm at higher risk, so I don't take the chance."
"Each year," says Ferraro,  "roughly 589,430 Americans die of cancer; around one third of these deaths are linked to poor diet, physical inactivity, and carrying too much weight. Tobacco use accounts for at least 30% of all cancer deaths, causing 87% of lung cancer deaths in men, and 70% of lung cancer deaths in women. If people quit smoking , ate a healthy diet and exercised, nearly 2/3 of all cancer deaths would be avoided."
Ferraro says one of the biggest things we can do is choose a healthy lifestyle:
Stay away from tobacco
Get to and stay at a healthy weight
Get moving with regular physical activity
Eat healthy with plenty of fruits and vegetables
 Limit how much alcohol you drink
 Protect your skin
 Know yourself, your family history, and your risks
 Have regular check-ups and cancer screening tests
If you'd like more information on how to reduce your cancer risk, call the American Cancer Society: 1-800-227-2345, or go online at cancer.org.
Simply put, getting screened could save your life.  Tiffany Reed says for her, it's true. Her family, including three children, are glad she decided to have that mammogram because there's no doubt that screening did save her life.
[twitter-follow screen_name='LoisMelkonian' show_screen_name='no]