This is an archived article and the information in the article may be outdated. Please look at the time stamp on the story to see when it was last updated.
When we signed up for a Backroads bike tour in Mallorca I wasn't really sure what to expect.  I've been riding for a few years, my husband has recently become interested in cycling, so when two close friends suggested we join them we didn't hesitate.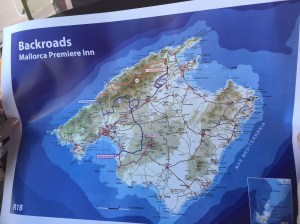 Mallorca is an island off the coast of Spain.  You probably knew that, but since I'd never been I had to look at a map to refresh my recollection of the geography.  All I could think was: island, cycling, end of March equals flat, manageable, warm.  No problem.
We arrived in Mallorca on a Lufthansa flight, lots of issues just in that event across the Atlantic, to meet 19 other riders from the US, Canada and Brazil ranging in age from 15 to 60+.  Imagine my surprise when we looked closely at the map they handed out when we arrived.  Wow.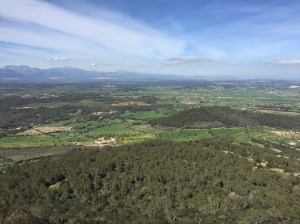 The next six days would be filled with a little more hilly, mountainous, not so flat, actually challenging rides beginning that afternoon.  After a very typical Mallorcan lunch, we would head out and ascend 11-hundred feet to see Santuari de Cura, an amazing monastery at the top of a mountain.
Our trip guides Eva and Danny describe what we're doing as the difference between looking at life and living it.  By climbing this route I realized I wasn't just seeing something incredible, I was experiencing it more profoundly because I worked so hard to get there.
There is also something to meeting new people, 19 of them, with whom you ride and eat and hang out for an entire week.  The friends who invited us along describe our adventure as going to camp, for grownups.
The next morning, we would all meet in the courtyard and get our assignment for the day. We each have maps that are attached to our bikes, which forces more engagement on each step of the way, even though we are aware there are vans close by to make sure we arrive to each stop.
At the end of a long day of riding, three steep switchbacks lead us to our destination after nearly four-thousand feet of climbing.  The activity sends several of us straight to the extremely cold 
outdoor pool as we try to use the 'ice water bath' strategy following a hard workout to recover.  For the record I have never, ever, thought of using a cold water bath or shower or ice water bath.  But I can tell you I have now used this method for the past four days and I haven't had any leg cramps, so count me a believer!
Should you ever choose to go to Mallorca, be forewarned, 150,000 cyclists were here last year, and the number is expected to be higher this year.  It turns out the best professional European teams come to Mallorca because they find it has the ideal conditions for training.  I only say this because as our team of 21 rode throughout the country, we encountered thousands of riders who were far more serious about riding than we were.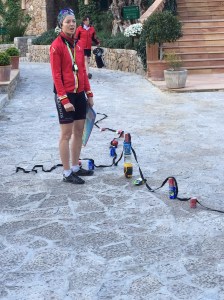 On day four, we were briefed on what the day would look like with imagery that included cans and jars.  After a rolling climb, our big climb of the morning would ascend for nine miles at a 6.4% grade.  All I know is that's fairly steep.
My riding partner on this very chilly morning was a fifteen year old girl from Illinois who is in a riding club at her high school.  She's on the trip with her parents and is happy to chatter away as we begin our ascent.  We ride at a decent pace together and can only laugh in amazement as group after group of
 riders, who must be training for something, pass us as if we're standing still.  We marvel at their abilities and their calves.  And after what we think is an impressive time, we arrive at the summit so that we can careen, with caution, down the hill.
I don't know what your vacations are like but I know that most often mine are spent trying to relax and unwind, with maybe an excursion thrown in just so that I can say I did something.  On this trip, every day has been an adventure.  There is some downtime, if you ride well and get back to your room before 'dinner is served.'  Of course, you can always opt to do less if you choose and the wine and olive tastings have been incredible! Not to mention the ride directors who take it upon themselves to infuse each one of with enthusiasm for riding.
But what I find from each person who's made this choice to participate is that they're looking at what they can do to improve themselves.  Whether it's a goal to reach the top of one mountain, or ride a certain number of miles, or take every extra 'leg' that's offered, they want to live through challenges they might not otherwise take in their daily lives.
Except I believe that this way of thinking has a way of seeping into daily life because we all are remarking how invigorated we are to have pushed ourselves beyond our comfort zone.
I don't know that a Backroads trip is for everyone, even though one of my friends who'd seen my posts about this trip on Facebook did tell me she was engaged on one of these trips to Vermont, spent her honeymoon on another trip to New Zealand, conceived one of her children one a  Bryce/Zion trip and spent her 40th birthday on yet another trip to Italy.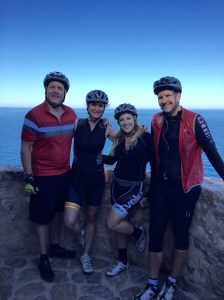 We still have two days to go.  And after 14,400 feet of climbing, I can't believe I look forward to getting in the saddle in the morning.  The way I am seeing life, from the seat of a bicycle, is giving me a fresh perspective.  I'm not sure anyone would look at any one of us and say, 'there's a cyclist,' but that's probably just because we don't walk around in our cycling gear all the time, right?  Time to get some sleep:  our morning route talk is only hours away and after the four-can climb today, I have to be ready for whatever is in store for us.
[twitter-follow screen_name='LoisMelkonian' show_screen_name='no]