This is an archived article and the information in the article may be outdated. Please look at the time stamp on the story to see when it was last updated.
There's something about a survivor that intrigues me.
When I read or hear or watch a story about someone defying the odds, I want to know something more. Like, how did they do it? What made them different?  Did they have a strategy?  Was it pure luck?  Divine intervention? I guess at the heart of the matter, I want to know if I could to do the same thing if I were faced with those same circumstances.
If you're a descendant of a survivor, even if you don't know all the details, there's
something different about you. Denise Gentilini is the granddaughter of Kourken and Malvine Handjian, "My grandfather, Kourken, became an orphan at the age of eight.  His father was killed when the Armenian genocide started in central Turkey, in 1915, where he lived with his family. Along with his surviving family, he was sent on what would become the death march of men, women and children across the Syrian desert to concentration camps.  But a Turkish man had pity on this little boy.  He rescued him and placed him in an orphanage. He never saw his family again. My grandmother Malvine also lived in Turkey.  Her father was poisoned in the genocide and because she had too many siblings for her mother to handle, she was given away to another family to be raised by them. As surviving Armenians were deported from Turkey, both Kourken and Malvine wound up in a refugee camp in Greece where they found each other.  When she was 14 and he was 19 they married, and spent nearly 75 years together."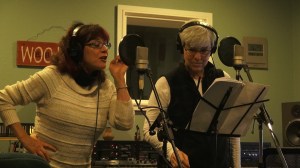 Gentilini says while she's known her history for decades, she chose this year to share what her family went through. "In April it will be the 100th commemoration of the Armenian Genocide, and I wanted to tell the story in a different way.  So along with internationally celebrated singer songwriter Lisa Nemzo, we created I Am Alive, a dramatic musical that spans a nearly 75 year love story of my grandparents, celebrating the strength and resilience of the Armenian people. There have been plays and movies and marches, but I've never heard a musical.  I believe music is a universal language, so even those who don't know about this time in history might be interested because the music makes it accessible."
Gentilini, an emmy award winning composer, says I Am Alive, directed by Christy Montour-Larson, is a continuation of the work she's been doing in music for years. "As part of the We Are Voices project I've composed music for Children's Hospital on Autism, for the Iliff School of Theology for their Courage Award for Judy Shephard and for genocide awareness. I grew up with my grandparents nearby and always knew what they lived through and handed down to us was amazing. It made me want to be an activist and do something: to be the voice for the voiceless."
I, too, am a descendant of Armenian genocide survivors.  Both of my father's parents fled from Turkey around 1915 because of the genocide and ended up on the island of Cyprus. They came to the US in the 1960s and settled in Illinois with the rest of my dad's family. Because my father took a very different track as a missionary and married a Dane, our family lived overseas and then wound up in California.   During the summer, we would load up the station wagon and drive to the Chicago area to spend several weeks with my grandparents and aunts and uncles.
I recall how important it was for my grandfather to be in the garden, to plant trees that bore fruit, vines loaded with grapes, and different varieties of tomatoes.  I always assumed they reminded him of the old country. My grandmother would cook the most amazing Armenian dishes and was always busy, embroidering intricate works of lace or knitting/crocheting all sorts of scarves and hats. As they never mastered the English language, and I forgot the Armenian I learned as a child, we had almost no conversation together.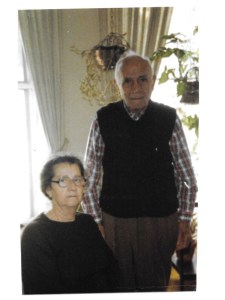 But I watched them as they went about their daily rituals, read books and magazines in Armenian, prepared and ate delicious meals, sat by the window, drank Turkish coffee. They never spoke of how many family members they lost in the genocide or the details of their escape. Ever. Only my aunts and uncles would share those stories with me.
What I remember most?  I never heard them complain.  They had been brutally uprooted from their homes as youngsters and relocated to another country, only to be uprooted again to live out the rest of their lives in a country where they didn't speak the language. The legacy of their survival was handed down to me in how they lived:  without complaint.
In his essay on the Survivor Personality, Al Siebert, PhD outlines why some people have a better chance of surviving when survival is necessary.  What stands out to me is how he describes the emotional commitment that person has to make to handle what is happening and find a way to succeed:
The best survivors spend almost no time, especially in emergencies, getting upset about what has been lost or feeling distressed about things going badly. Survivors avoid feeling like victims and focus on helping everyone survive. The survivor way of orientating to a crisis is to feel fully and totally responsible for making things work out well.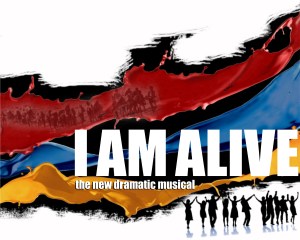 That's what I like most about Gentilini's upcoming musical.  Her grandparents aren't portrayed as victims, instead their life is celebrated.  Their personal and collective history empowered them and empowers those who come after them. If you'd like to participate in the effort to bring the premier presentation of  I Am Alive, to Denver on April 21st, please go to their kickstarter link to support them.
Survivors are a tough breed, damn lucky and create hope for those of us who follow. Maybe philosopher Friedrich Nietzsche got it right when he wrote, "what doesn't kill  you makes you stronger."Lois' Living Through It blogs are posted on Mondays and Thursdays. Join her Monday mornings around 8:45am on Good Day Colorado.
[twitter-follow screen_name='LoisMelkonian' show_screen_name='no]