This is an archived article and the information in the article may be outdated. Please look at the time stamp on the story to see when it was last updated.
With medical intervention, you can battle cancer and beat it, you can face diabetes and live with daily treatments, you can change your life and defeat heart disease, you can recover from a stroke or a heart attack. Alzheimer's disease is another story.  There is no cure.  Alzheimer's is 100% fatal.
No surprise a Marist poll of 1,200 people conducted for Home Instead Senior Care finds Americans are afraid of  developing Alzheimer's disease more than any other major life threatening disease, including cancer, stroke, heart disease and diabetes.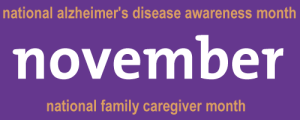 November is National Alzheimer's Disease Awareness Month.  When President Ronald Reagan made the designation back in 1983, who would have known this disease  would take over his life and now affect 5.4 million people?   This is also National Caregiver Month, and it's estimated there are more than 15 million Alzheimer's and Dementia caregivers.
I became an accidental caregiver just over two years ago.  Life wasn't 'supposed' to be this way, but then Alzheimer's wasn't 'supposed' to throttle my father and change everything about him in a matter of weeks, months and years.  The disease spread through his brain, with lapses in his memory, his confusion in following a conversation, faded recognition of individuals, and an inability to make decisions.
As the disease progressed he wandered away from home,  he would talk to imaginary people and then he lost the ability to control many of his basic functions.  I still remember him standing on the landing, staring down, not moving.  He had forgotten how to walk down the stairs. So we installed a stair lift.
When my father was diagnosed with Alzheimer's our family  decided to learn as much about this disease as possible. Realizing my father's needs were beyond my skill level, I took a class through the Alzheimer's Association in Colorado.  For six weeks, facilitator J Jordan,  walked our class through the stages of the disease, how to "care for our lovies," and how to take care of ourselves.  "Every person you meet with Alzheimer's is one person with Alzheimer's," Jordan would remind us, because while there are benchmarks and patterns, this disease manifests differently in every person.
The biggest early breakthrough with my father came through one of Jordan's instructions,  "No questions. Stop asking questions of your loved one, it only muddies the water.  Help them make choices, don't ask questions."  Because of the change in brain activity in a person with Alzheimer's, the simple act of posing a question can send them into a challenging place, causing confusion and frustration.  So, instead of asking my dad whether he wanted juice or water I would place a glass of juice in front of him.  If he really wanted water, he would let me know, and he did!
At one point, Jordan encouraged us to imagine ourselves in a car with 10 screaming children, all demanding something different, and it's our job to drive them somewhere.  That, she says, is often what our loved ones with Alzheimer's experience. Because of the damage with the tangles and plaques in their brain, the connections are no longer taking place and they can't make sense of everything that's clamoring for their attention.  It's a war inside their head.  Our job is to make them feel safe and secure.  Period.  My mother has been by his side 24/7 and we enlisted the help of a nurse who spends several hours in our home every day to help manage life.
Early on in the disease, my father was able to help as we built raised garden beds to grow all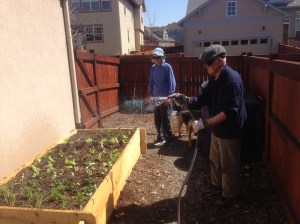 sorts of vegetables.  But my joy as we waited for the cauliflower to form was thwarted after reading an article in Bloomberg Businessweek by Peter Coy,  "Alzheimer's: The Costliest Killer,"  where he describes "a brain destroyed by Alzheimer's disease looks like a shrunken, rotting cauliflower."  That image, of the destruction going on inside my dad's head, has never left me.
Coy's piece highlights the dreadfully low amount of research funds dedicated to Alzheimer's, as he discusses a RAND Corporation study that finds "treating dementia of all kinds costs more than heart disease or cancer, more than 150-billion dollars a year in the US, including the value of informal care."  That informal care is what millions of caregivers are doing right now, as I write.
It's clear there will be no medical breakthroughs unless lawmakers and researchers decide to make Alzheimer's a priority.  Having lived so much of my life in San Francisco, I can't help thinking of Alzheimer's as the new AIDS.  I watched as too many good friends lost their lives battling HIV/AIDS, because early on, there were no treatments that could save them. Granted, there is absolutely NO link between these diseases, except in the way they seem to be viewed from the outside.  In the '80s, getting attention and funding for AIDS research seemed insurmountable were it not for the tireless work of advocacy groups and finally a breakthrough with lawmakers and researchers that totally changed how AIDS is treated and managed in the US and around the world.  The same must happen with Alzheimer's.

Comedian Seth Rogen is among those working to inspire change and raise awareness of Alzheimer's disease among the millennial generation with Hilarity for Charity.  Says Rogen, "the situation is so dire that it caused me, a lazy, self-involved, generally self-medicated manchild to start an entire charity organization.
Two months ago, my father fell and broke his hip in the one place we thought he was safe, his bedroom.  One week later he died.  Because of our four year journey with Alzheimer's, we did get 'a long goodbye.'
But that's not the end of the story because every 69 seconds someone in the United States develops Alzheimer's.
If your loved one is now among those with Alzheimer's here are some incredible resources that are helping me live through it:
I want to see the day when there is real hope for the next person diagnosed with this fatal disease.  That will only happen if Alzheimer's is a top priority.
Lois' Living Through It blogs are posted on Mondays and Thursdays.  Join her Monday mornings at 8:45am on Good Day Colorado.