This is an archived article and the information in the article may be outdated. Please look at the time stamp on the story to see when it was last updated.
Do you remember the blizzard of March, 2003?  The National Oceanic and Atmospheric Administration says it was the number one storm in their list of Top 10 Colorado Weather Events from 2001-2010.
According to the Denver Mayor, this storm is the storm of the century. A back breaker, a record breaker, a roof breaker. Denver experienced the snowiest March in its history and the storm broke a streak of 19 consecutive months of below normal precipitation in Denver. The Foothills and Palmer Divide received 3 to 8 feet of snow, with 2 to 3 feet in the urban corridor and metro Denver.  DIA was closed as was Interstate 70 in both directions from Denver and hundreds of roofs collapsed due to the weight of the snow.
At that time, Jeff Cleary and his wife Kathy Mullen owned the restaurant Intrigue. The powerful snowstorm was devastating for them and set in motion a series of events, beginning with $30,000 in losses that month, that would force them to sell off everything in the restaurant and close it down.
"We lost it all," Cleary tells me, "except for the baking equipment and oven and sheet tables. We were able to salvage that.  I always baked in the back of my restaurant and sold bread to chefs such as Frank Bonanno, Alex Seidel, and Scott Parker. So when the restaurant collapsed, I decided to start baking bread and doing nothing else in a 400 square foot cabin in Evergreen."
For the next several years, Jeff would bake from 11pm to 7pm the following day, deliver the bread he baked and handle the billing for their new business, Grateful Bread Company.  Kathy had to take several jobs so they could make ends meet.  Living through this change of events was amazingly difficult and time consuming, "we hardly saw each other, but I'm not employable," says Cleary, "getting a job wasn't an option for me.  I've been cooking and baking since I was 13.  This is what I know."
A graduate of Johnson & Wales College of Culinary Arts in Providence, Rhode Island, Cleary started working in Denver area restaurants in 1992.  He worked for and opened a variety of eateries, and he believed Denver was ready for baked goods with only the finest ingredients. Slowly, Grateful Bread Company started getting a reputation for delivering top quality artisan breads to a handful of the best chefs at the best restaurants and hotels in Denver.  By 2008, they moved to a 2,000 square foot warehouse in Golden, and by 2011 finally turned a profit.
A stickler for quality, Cleary insists "every piece of bread is hand crafted in true artisan style. We don't use yeast accelerants, dough conditioners, preservatives, artificial flavors or colors, stabilizers, enhancers, improvers or any additives."
Cleary  creates his own bread formulas and develops his own starters, with up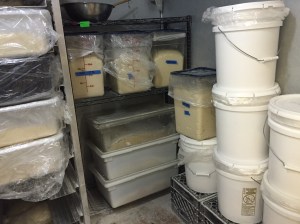 to 10 different starters available every day including "our 14-year old natural wild yeast dough starter.  That's because each starter is made for a certain type of dough, giving each bread its unique, complex flavor."  To compare, most bakers have one or two types of dough.  Period.
Then there's the training he requires for anyone who handles the dough, bakes the bread and delivers the bread.  Cleary says "it takes up to a year to train a baker up to our standards.  We've had the same crew now for several years, and 45% of our cost is in our labor."
Producing bread like this with locally milled flour and "fresh honey from a three-generations-old family of Colorado beekeepers, and milk, eggs, and butter from a local dairy," in addition to highly trained and well paid employees, are a recipe for steep costs.
"So Jeff," I ask him, "why is quality so important to you at this price point?"
Laughing, Jeff tells me, "why do it if it isn't the best?  I could sell stamps online if I didn't care.  Most people do cave into the pressure, but we refuse to compromise on anything.  That's why we're still privately held.  We know people would want us to cut corners, and we are not willing to do that."
On a recent visit to their expanded 8-thousand square foot warehouse, it's clear to see he isn't kidding.
Cleary quotes Thomas Edison, telling me that "opportunity is missed by most people because it is dressed in overalls and looks like work."  That's why he and his wife put in the long hours and insist on baking their way.  And their efforts are paying off.  After 12 years, they've finally been able to take a vacation.
Mullen, who manages client accounts for Grateful Bread Company, says "I have to turn away three to four requests a week from restaurants and businesses that want our bread.  We have very tight delivery guidelines and insist on it arriving fresh, so with our fleet of trucks and deliveries in the morning and afternoon, we simply cannot add new clients unless they're passionate."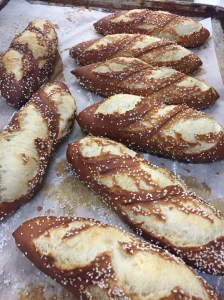 Passionate about bread?  "That's the bottom line," she tells me.  "We'll even work with a small vendor if they're passionate about our bread and how we make it.  It's really the relationships we have with our chefs and restaurants.  We actually won't let anyone sell our bread on a retail level, because if they handle it improperly, you might get a dry baguette and never want our bread again!"
They do hold periodic retail days at the bakery in Golden, and you can go online to find out more about their May 9th event.
So what's the key to Cleary's success?
Don't give up, even if you're down to your last oven.
Quality is essential, without that what is there?
Be passionate about your work.
"Ever since I was a kid, eating food someone made with real, quality ingredients has been very important to me.  When I go out to eat, I feel the bread that arrives before my dinner signals whether this will be a good meal or a great meal.  You may not even think about it, but if it's bad, you will know what I'm talking about."
I'm guessing with Cleary's Grateful Breads, that's highly unlikely.
By the way, Grateful Bread is one of 95 finalists for a Colorado Companies to Watch award this month. They're keeping their fingers crossed!
[twitter-follow screen_name='LoisMelkonian' show_screen_name='no]