This is an archived article and the information in the article may be outdated. Please look at the time stamp on the story to see when it was last updated.
Birthdays.  They're here to mark another year of life.  To revel in the future to come.  Unless you're parenting children.  Then they're bound to break the bank if you try to one-up what your daughter just experienced at her friend's party.  When did this happen?
Am I really going to splurge and provide that princess party?  What is going on here?  Look at the set up!
Or maybe your goal is to find a really cool clown, have him entertain the kiddos and then, oh, I don't know, order a jumpy house?  Invite the whole class?
I'm only thankful I had kids awhile ago.  Because when my sons grew up in San Francisco with birthdays in months that could, for the most part, accommodate an outdoor theme, that's what we'd do. The zoo, the aquarium, Golden Gate Park, any park.  When we moved to Colorado, one son who was turning 11 asked to have his party at the Platte Canyon Water and Sanitation District.  And yes, we saw poop.   He was thrilled.
Talking with parents today, I am one lucky mom.
Danielle has an 8 year old son and 11-year old daughter.  I picked the right moment because she just celebrated her birthday last week.  "This year we decreased the number of friends she could invite.  I was one of those moms who used to have to invite the entire class, but not anymore." The whole class?  Yes, it happens, and more often than you'd think.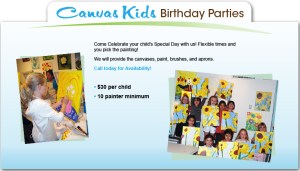 This year, though, Danielle says her daughter's party was so much more manageable, "it was a painting party and the girls had so much fun.  They got to paint and laugh and be creative. I set up a fondue pot with fruit, marshmallows, pound cake, brownies, they loved it!  And they drank ginger ale with sherbet.  We didn't mind throwing this party because our daughter decided she didn't want any presents and wound up raising $600 for charitywater.org."
When I ask Danielle about the extravagant parties with ponies or complete carnivals she just laughs.  "My daughter's two best friends didn't even have parties this year.  They chose to go on a trip with their families instead.  Who knows, that may be us next year.   We are starting to run out of options.  I'm not a huge fan of slumber parties and as she gets older, I'm just not sure what she will want."
For her 8 year old son, who has a summer birthday, it's all about the outdoors.  "Flag football party, baseball party, trampolines, any sport in the park.  We've done the laser tag and Monkey Business and we're past that, I think."
She remembers when they were younger, "it seems like they would have three parties in a weekend.  But the number of parties is tapering off."
I had actually forgotten about those years, and she's not exaggerating.  I recall one month where the tab for my sons' friends birthday gifts got so out of hand, not to mention the shuttling to parties with three boys with different friends.
Sarabeth has twin 8-year old boys and a 4-year old girl.  "I love planning my kids' parties within a budget.  With Pinterest and Facebook, I feel there's this pressure to throw the perfect party.  One year my boys went to a party where the entire class was invited to a venue. My husband and I added up what it must have cost. I knew we couldn't do that, so we let our boys know exactly how many friends they could invite to their birthday."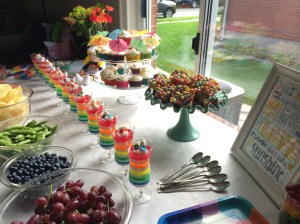 When she asked them which parties have been their favorites, "they picked the ones we did from home.  One was a Star Wars theme with games and food.  One year we took a few of their friends to a nearby fire station, they loved that. My daughter wanted a rainbow party so that was fun to create and she had such a great time."
Sarabath and her husband decided they would alternate a family birthday one year and a friends party one year.  And since that's what their kids know, they're fine with it.
Here are her suggestions for a great birthday party:
Keeping it simple is key:  theme, food, guest list.
Let the kids help out with the decorations so  it's not up to me (the parent.)
Make a budget and stick to it.
Bottom line, says Sarabeth, "it's all about connections for us and the kids.  And when we keep it manageable, we find time to laugh and play and remember the day."
I also wouldn't mind if she'd come over to my house and create those incredible parfait looking things.  Beautiful!
One friend shared that her sister would allow her children to use their age for the number of friends they could invite.  Another says her son wanted a big lego set, so he got that instead of a party and he was not disappointed.
There's a lot that goes into having a party.  Invitations, picking a theme, waiting for an RSVP, planning the party, food and assembling the goodie bags.
As children get older, the one thing every parent seems to be happy to stop putting together:  those goodie bags.   I remember one birthday party where one sweet 7 year old boy arrived, walked into the kitchen and looked around then said to me, "where's my goodie bag?"  Thankfully that was a number of years ago and I don't remember what I said to him. But Danielle confirmed my frustration.  "I don't think there's anything in most goodie bags I actually want in my house, you know?  So it's hard putting them together because I'm sure other parents don't want any of that stuff either!"
And if you've agreed to go to a party and then change your mind, be warned. Maybe you saw this story earlier this month, this version is from the Huffington'Post.
A 5-year-old boy in Plymouth, England, was given a $24 invoice for missing a friend's birthday party in an unusual dispute that appears to be heading to court. Alex Nash was supposed to attend the party at a local ski park in December, where kids were treated to snow tubing, tobogganing and lunch. However, Alex's parents said they realized at the last minute that he also had plans to see his grandparents that day. Alex's father said he didn't have contact information for the birthday boy's parents so he intended to apologize later. Instead, Alex came home from school on January 15 with an invoice in his backpack. The bill, dated December  14, lists "1 Childs Party No Show Fee" at a cost of 15.95 pounds, or $24.
Wow. Happy Birthday party planning for your kids.  Enjoy.  It doesn't last forever.  Really.
lois.melkonian@kdvr.com                                                                           www.twitter.com/LoisMelkonian
www.facebook.com/LoisMelkonianFOX31
Lois' Living Through It blogs are posted on Mondays and Thursdays. Join her Monday mornings around 8:45am on Good Day Colorado.