This is an archived article and the information in the article may be outdated. Please look at the time stamp on the story to see when it was last updated.
For many of us, our smartphones are more than just a phone.  Gaming has become a big part of the smartphone world but those touchscreens aren't always the best interface for playing.  Logitech wants to solve that problem with the Logitech Powershell Controller + Battery.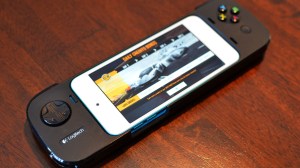 Hardware
The Powershell is a shell for your iPhone 5, iPhone 5s or iPod (5th Gen.)  Slide your iPhone into the shell and that's it.  The gaming controls are immediately available for compatible games.  It makes your iPhone feel like a real gaming device.  Logitech has been making gaming controllers for years so it's no surprise that the controls feel solid and responsive.
In addition to the gaming controls, the Powershell also has a 1500 mAh battery.  Charge up the Powershell and it can re-charge your iPhone when all of that gaming starts sucking your phone dry.  It's a perfect solution to the effect on your battery that smartphone games can have.  Despite the battery, the Powershell doesn't feel overly heavy.  It has a nice feel to it when attached to an iPhone or iPod Touch.  The grippy back rubber is easy to hold and the molded hand grips felt good in my hands.
Software
The biggest frustration of the Powershell is that it only works with games that officially support it.  As of February 2014 there are about 120 supported games.  This is a lot but there are plenty of games that don't work with the Powershell.  Hopefully that list will continue to grow.
Overall
The Powershell is a great accessory for anyone who plays a lot of games on their iPhone or iPod touch.  It's built really well and works exactly as you would expect it to.  The included extended battery makes the $100 price tag worth it.  I would check the list of supported games before you buy though, just to make sure you're not bummed out when your favorite game doesn't work.
The Logitech Powershell Controller + Battery is available right now for $99.99.