This is an archived article and the information in the article may be outdated. Please look at the time stamp on the story to see when it was last updated.
Kirk checks out the new HTC One M8.
The latest and greatest from HTC is the new HTC One M8.  It packs a quad-core processor, a stunning 1080p 5" screen and a brushed metal exterior.  HTC nailed it on design with the M8.  The big question mark is the 4 megapixel camera on the back.  Sure, there are actually 2 cameras on the back that offer super cool depth features (ie: change the focus point after taking the picture) but critics say 4 megapixels is not enough. HTC argues that it's not all about megapixels. HTC says their camera uses Ultrapixels which pack more detail and capture more light resulting in a better final image. I'll let you bet the judge.  I snapped a few pictures and zoomed in so you can compare the detail with an 8 megapixel Nexus 4 camera.
In my comparison I would say the HTC One M8 camera, despite having half as many megapixels produces a more vibrant image that seems to have just as much detail as the 8 megapixel camera from the Nexus 4.  I was surprised at the results.  Other 8 megapixel cameras may produce better images but compared to the Nexus 4, the HTC One M8 seems to do quite well if not better.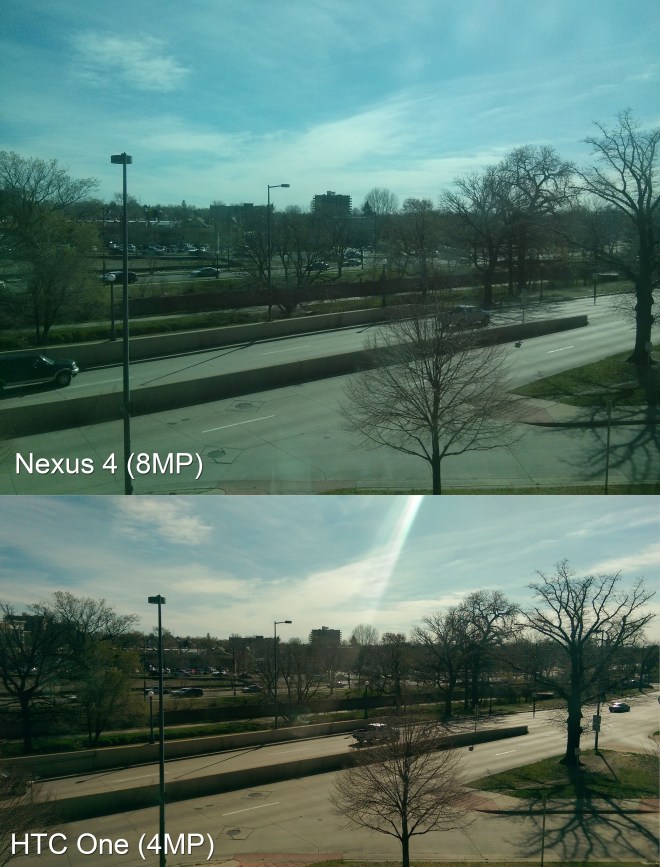 This second comparison tells a bit of a different story.  I zoomed in even more on this picture and you can see that the 8 megapixel image from the Nexus 4 does have a bit more detail than the 4 megapixel image from the HTC One M8.  The difference is minimal but it's clear that when you zoom in enough, there are simply more pixels available to the camera providing more detail.  With that said, looking at the full size image, the HTC One M8 produced a better picture with better colors and lighting.  Unless you're blowing these pictures up to posters the difference in detail probably won't matter.  The difference in color and light will matter no matter what size you're scaling these images to. The HTC One M8 is a top of the line camera with some very unique camera features.  The megapixel argument will go on no matter what HTC or the critics say.  You'll have to decide for yourself if it matters to you. The HTC One M8 is available on all the major carriers for $150-$200 depending on your carrier and contract.  It's $26.50/mo for 24 months on T-Mobile.  HTC also sells an unlocked off-contract version for $700.