This is an archived article and the information in the article may be outdated. Please look at the time stamp on the story to see when it was last updated.
There's a battle brewing right now among tech companies.  Everyone is fighting for control of your TV.  There's Apple TV, Roku, Amazon FireTV, Google Chromecast and now there's the Google Nexus Player by Asus.  It marks Google's 3rd entry into the connected TV world.  Google TV failed, Chromecast flourished and now Google is hoping Nexus Player will be the perfect compliment to the success of Chromecast.  I had a few weeks to test out the new set-top box from Google.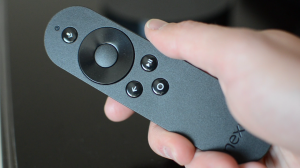 Hardware
Imagine if someone took a giant sledge hammer and flattened a hockey puck.  That's exactly what the Nexus Player looks like.  It's a round black unassuming device with 3 ports on the back; power, HDMI and micro-USB.  The included remote is small, simple and easy to use.  It has your normal slathering of buttons as well as a microphone for voice search (more on that later).  It's not the best remote I have ever seen but it's not the worst.  It's exactly what I would expect from a $99 set-top box.  The built-in microphone is a nice touch that we first saw on Amazon's Fire TV.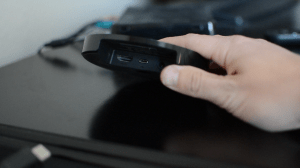 Setup
Setup is super easy.  Plug in the HDMI cable, plug in the power cable and you're up and running.  The on-screen prompts will walk you through setting up your Wi-Fi connection and logging into your Google account.  Once you're logged in, you're greeted with simplistic home screen that lists all of your available apps.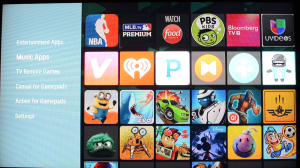 Software
Out of the box you'll find the expected apps; YouTube, Google Play Music, Google Movies & TV and the Google Play Store.  They also pre-installed Netflix, Hulu Plus and Songza.  Beyond that, you'll need to venture into the Google Play Store to find additional apps.  As of this review (11/14/2014) the selection is decent but small.  While there are a few key apps including I Heart Radio, Vimeo, NBA, MLBTV, and Pandora there are also a few important ones that are missing.  HBO Go and WatchESPN, for example, are obvious omissions.  Here's where Google did something very smart.  The Nexus Player can double as a Chromecast.  This means you can load up the HBO Go app on your smartphone and "cast" the stream to the Nexus Player just like you would with a $35 Chromecast device.  This quickly fills in many of the missing apps while Google works to convince developers to create a Nexus Player version.
Clearly the selection of apps needs to grow and clearly it will.  Google has to know this and has to be working with developers right now.  Roku has a HUGE selection of apps that Google will need to catch up to.  I think they will… quickly.
Voice search is cool.  Hit the microphone button on the remote, say the name of an artist, song or movie and it immediately searches Google's library.  The biggest shortfall is that it doesn't search 3rd party apps.  I'd love to see results from Google, Pandora, Netflix, etc.  Hopefully this will come with time.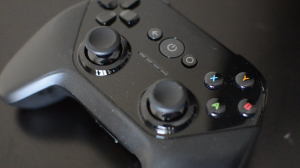 One advantage that Google does have over Roku and AppleTV is gaming.  Some games will work with the included remote, others will need the $40 gaming controller.  It looks very similar to Amazon's gaming controller.  It worked great during my limited testing. You can also use other bluetooth gaming controllers with the Nexus Player.
The small selection of games are Android games adapted for the big screen.  Sometimes this works great, other times it doesn't.  None the less, if Google can tap into the vast library of Android games this could turn into a very cool casual gaming device.  Sure, it's no Playstation 4 or Xbox One but it doesn't need to be.  It could end up being the perfect gaming device for "the rest of us."
Conclusion
The Google Nexus Player isn't perfect.  It needs more apps.  The best thing Google could have done is to keep the device simple and they did.  They learned that from the success of Chromecast.  The Nexus Player is perfectly simple and with a better selection of apps it will quickly grow into one of the best internet connected set-top boxes on the market.  On top of that, it ties in beautifully with the Google ecosystem.  If you're an Android user enjoying the Google Play ecosystem already, this is the perfect set-top box for you.
The Google Nexus Player is $99.  If you buy it before 1/31/2015 you'll get $20 in Google Play credit, effectively cutting the price down to $79.  The wireless gaming controller is an extra $40.