This is an archived article and the information in the article may be outdated. Please look at the time stamp on the story to see when it was last updated.
There was a day when Blackberry was king.  A day when having a Blackberry in your pocket was a status symbol almost as much as it was a tool for e-mail and texting.  The world of smartphones has changed and Blackberry no longer holds that kind of swagger.  None the less, they still know how to make a solid smartphone with an affordable price tag.  I took the new Blackberry Motion for a test.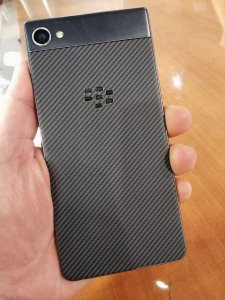 Hardware
The Motion is a sizable phone.  It has a 5.5″ screen but is larger than other phones with even larger screens.  This isn't a bad thing, I think many people will appreciate the heft.  It's a little thicker than other phones too.  It feels solid.  I also love the solid hard rubber feel on the back of the Motion.  This is not a phone built for someone who wants the sleekest smartphone in the world.  It's for someone who wants a phone that is going to hold on over time.
The 5.5″ screen is full 1080 HD.  It's bright and looks good.  Just below the screen is a hardware center button that doubles as a fingerprint sensor.  The Motion uses the newer USB-C port for charging and transferring files to a PC.  There's also a headphone jack (imagine that!) on the bottom.
On the right side of the phone you'll find the usually suspects, power on/off and volume up/down.  What's really cool is the 3rd button called the "convenience key."  It's essentially an extra button that you get to program.  You can have it launch the web browser, your text message app, a phone call or anything!  It can also do different tasks in car mode, meeting mode or home mode.  It's a nice touch that offers something unique that you won't find on other smartphones.
The 13 Megapixel camera is standard issue.  It takes great pictures and video but offers what you would expect with a smartphone these days.  I don't mean to downplay it, it's a solid camera but we've come to expect this in any smartphone in 2018.
Software
Android!  Back in the day Blackberry was know for the BBOS.  Those days are long gone.  Thankfully Blackberry finally made the wise decision to switch to Android.  The best part is, Blackberry didn't mess up Android.  No added skins, no added icons.  It's nearly vanilla.  The additions and changes that Blackberry made to the OS are worth it!
There is a tray that sides along the right side of the screen.  Slid it out and you get quick access to email, text messages, your calendar and tasks.  It's exactly something I would expect Blackberry to add.  They also changed up the multi-tasking interface a little bit.  Showing squares that can be closed inside of the standard card view that Android offers.
Security is king.  Blackberry touts it as one of the most secure smartphones on the market.  It has security features that you won't find on most other smartphones including a security warning if things don't look right, a secure file locker and privacy shade for those times you need to read a top-secret email and know that prying eyes can't see it.  These aren't features most consumers will use every single day but it could be huge for businesses.
Battery is boss
One of the shining stars of the Blackberry Motion is the massive battery!  They promise 2 days on a single charge and I can vouch for it.  It's a good feeling to know you don't have to find a plug half way through your work day.
Things I'd Change
With both Samsung and Apple including wireless charging in their newest phones I feel like it's an expected feature.  I would love to see that in this Blackberry.  I also would hope for a more powerful processor at this price point.  The Motion is powered by the Snapdragon 625 processor.  It's a capable processor but it seems that for a phone priced at nearly $500 the Motion would have the more powerful 800 series.
Conclusion
Blackberry is close, so close!  This is a solid phone clearly aimed at a specific business consumer who doesn't need the slimmest and sexiest smartphone.  They understand their niche.  With some nice software add-ons that add value without cluttering the Android OS, I like where they are heading.  A few hardware tweaks would make this a perfect buy.
The Blackberry Motion is only compatible with GSM networks (At&t, T-Mobile) and is available unlocked online for $450.  You can buy it from Amazon or BestBuy.com.