This is an archived article and the information in the article may be outdated. Please look at the time stamp on the story to see when it was last updated.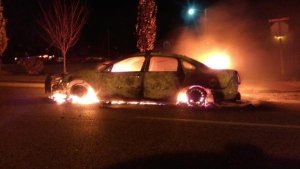 For the last week, the searing images of violent protests, triggered by last Monday's grand jury decision in Ferguson, Missouri not to indict Darren Wilson in the shooting death of Michael Brown this past August, have been difficult to absorb.
Every day, in a different part of the country, a new wave of anger has erupted as protestors clashed with police, and reopened a debate on race and law enforcement.
The discussions aren't  just over the airwaves, in courts of law or among our elected leaders,  they are taking place in our homes and in the classroom as parents and teachers struggle with the issue we really hate to talk about:  race.  We want to believe that racism is over.
But the taboo topic is unavoidable, because once again a black male, Brown, was killed by a white officer, Wilson.
So, what do we say to our kids?  As I spoke to my adult sons, one of them said to me, "first, tell the truth about what happened."  As he dug into the details of the shooting, the grand jury decision not to indict Wilson and Wilson's decision to resign from the police department in Ferguson, we talked about how we, as a white family, view the police and how everyone he knows of color view the police.  We find safety with law enforcement, not so for many of his friends.
"Most of talking to kids is asking questions and listening," says Dena Samuels, Assistant Professor of Women's & Ethnic Studies at the University of Colorado - Colorado Springs and Director of the Matrix Center for the Advancement of Social Equity & Inclusion. She suggests one way to open up a dialogue is to "find out where your kid is coming from, and listen to their thought process, whether or not it sounds logical."
Samuels, author of The Culturally Inclusive Educator:  Preparing for a Multicultural World, says as we enter into this discussion, parents and teachers and adults who engage with young people have some work to do as well.  Her challenge?
Be Self-Reflective.  What makes us uncomfortable talking about race?  Once you know that, be honest with the young person in your life and let them know this is a subject that we are not always ready to talk about.
Make Time for the Conversation.  Instead of grabbing a few minutes on the way to soccer practice or just before bed, carve out some time where there can be real discussion, so it's clear this is important.
Ask Direct Questions.  Do not say, 'my door is always open,' ask the questions directly, like "how are you feeling about what you just saw? Or, how would you feel if you were treated differently for something you have no control over?"
Be Hard on the Problem and Soft on the Person.  Make sure if you are angry over the issue of racism you are clear that you are not angry with your kid.
Bring the Conversation Full Circle.  Be sure to include gender, sexism, social class and sexual orientation into the discussion to demonstrate that exclusion affects all sorts of people, not only people of color.
Samuels is not alone as she encourages parents and teachers to listen.  Marcia Chatelain, a history professor at Georgetown University, started a conversation on Twitter with the hashtag #FergusonSyllabus.
"I would tell parents, talk to your child, but especially listen to your child.  Listen more than talk. How do they feel? What do they think is going on? Listen to them as much as you can and get a sense of what they're seeing and feeling. Nothing terrible has happened because we have had an open conversation about race and about communities and policing."
Unfortunately, this isn't a topic many families discuss.   Alison Salutz, visitor experience coordinator for History Colorado Center, says they are hosting another parent workshop on December 6th where they will help families talk about racism, inclusion and diversity. You can still register for the workshop, called How to Talk to Your Kids About Race,  for the 1-3pm session. Salutz emphasizes, "not talking about it is the real problem." The exhibit remains until January 4th.
Micah Maxwell,  the executive director of the Boys & Girls Club of Muncie, Indiana, says our kids have probably already been talking about this on social media, so don't be afraid to jump into the discussion.  In an op/ed he wrote for the Star Press, he has some insights for how parents and kids can interact:
Parents of white children, talk to them about perception and remind them that they face different challenges than people of color. Be candid. Racism is real. There is unfairness and injustice in this world and you can recognize it and discuss it in a civil fashion.

Parents of children of color, have a conversation with your sons (and daughters) about dealing with the police. As difficult as this conversation may become, it is possible that a person in authority might judge you by the color of your skin. Likewise, police and other authority figures are to be addressed respectfully. Think of your own family and friends who serve our community through public safety such as police, fire and military.
So as we give our kids the room to express their concerns and ask questions, Dena Samuels reminds us to listen.  "So often, I'm tempted to say hush, or we'll talk about this later.  But later never comes.  If your child is asking questions, answer them, no matter how uncomfortable you may feel.  Go ahead and admit this is uncomfortable, because you've been trained not to talk about it."
If you're willing to go that far you just might be able to lift the taboo and live through these difficult times with your kids, maybe even work together for change.  And that is a good place to start.
Email: lois.melkonian@kdvr.com                                                                                                                 Twitter: www.twitter.com/LoisMelkonian                                                                                          Facebook: www.facebook.com/LoisMelkonianFOX31
Lois' Living Through It blogs are posted on Mondays and Thursdays.  Join her Monday mornings at 8:45am on Good Day Colorado.