This is an archived article and the information in the article may be outdated. Please look at the time stamp on the story to see when it was last updated.
Typically Crock-Pots are about as low tech as you can get.  The settings sometimes only include on and off.  High, medium, low and off if you're lucky.  Crock-Pot is teaming up with technology company Belkin to change that.  The newest Crock-Pot is the first ever "smart" Crock-Pot.  I had a chance to test out the Crock-Pot Smart Slow Cooker enabled with WeMo.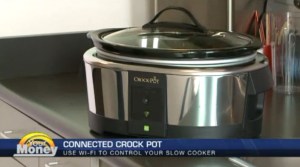 First Impressions
At first  glance, it looks like a normal crock pot.  It has the standard stainless steel shell with a  black ceramic crock inside and black accents.  On the front there is one single button and tiny LED lights to indicate the high, low and warm settings.  There's also an LED wi-fi logo to indicate the current connected status of the Crock-Pot.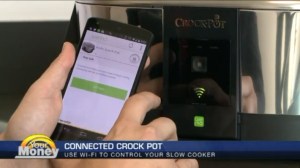 Setup
The Crock-Pot works out of the box using the button on the front.  You might call it the "dumb" way to use it.  To make it "smart", you  have to set it up via the WeMo smartphone app for Android and iPhone.  The app will guide you through the setup, helping you connect your Crock-Pot to your home wi-fi network.  It took about 5 minutes to get the Crock-Pot connected.  The app also asked me if I wanted to update the software on my Crock-Pot.  Really?!?  That's something I never thought I'd say.  I just updated my Crock-Pot's operating system!  This could be used to add new functionality in the future.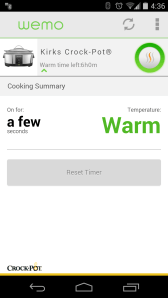 Using the WeMe Crock-Pot
The free WeMo app is pretty much self explanatory.  You can turn the Crock-Pot on and set it to any of the included temperatures.  You can also set a timer which will turn the Crock-Pot on immediately and run for a selected amount of time at one specific temperature.  For safety reasons, you can't delay the start.  You also can't create a "tiered" timer.  So, for example, you can't tell it to automatically run for 3 hours at high and then turn it down to warm for 2 hours.  You'd have to do the 3 hour timer first and then create a new timer when the first time is finished.
The app worked as promised when I was using my smartphone on my home network and when I accessed the Crock-Pot from outside of my home.
It's still a Crock-Pot
In terms of cooking, it's a Crock-Pot.  The "smart" features are cool but it doesn't change what you've come to expect with a Crock-Pot slow cooker.  Luckily they didn't mess with what's been working for decades.
Things I'd change
Tiered timing would be a nice addition to the WeMo Crock-Pot.  I'd also like to see a display on the front to show remaining time for a cooking period.  If I set it from work, my wife at home might not know how much time there is left.  Sure, she can load up the app on her phone but it would be easier if it had a simple display on the front.
Conclusion
With that said, the Smart Crock-Pot enabled with WeMe is cool!  If you like control, this is for you.  It lets you control the Crock-Pot no matter where you are when your busy life changes. Stuck late at work? Turn the Crock-Pot to warm so your meal doesn't over cook.  Did you forget to turn it on before you left?  No problem, load up the app and set a timer.  Simply put, you are now the master of your Crock-Pot's universe!
Convenience and wi-fi connectivity doesn't come cheap.  The Smart Crock-Pot enabled with WeMo sells for $130 and is available for pre-order right now.  It starts shipping August 1st.  That's about a $70 premium over a comparable Crock-Pot without wi-fi.  Worth it?  You'll have to decide how much control you need over your Crock-Pot and how much that convenience is worth to you.