This is an archived article and the information in the article may be outdated. Please look at the time stamp on the story to see when it was last updated.
For me it begins in early November.  Not saying it's a good thing, it just does.  The mental planning.  For Thanksgiving and Christmas.  Usually the ideas hit me around 5:30am.  For the next eight weeks, I'll spend a great deal of mental energy on holiday food, menus, seating arrangements, gifts, who all will be here.  That doesn't take into account an unexpected event around either holiday, which for some reason seems to be the norm for our family recently. It all adds up.
And then this year I noticed the shift.  Did it really take me this long?  Some of you figured this out years ago, and your more relaxed attitude is starting to take hold.
For Thanksgiving dinner, I asked people to bring their favorite dish.  And it may have been the best Thanksgiving meal ever for me and everyone there.  I chose several short cuts: canned pumpkin, no place cards, and lots of wine.  And now at Christmas I am continuing this approach of loosening my grip.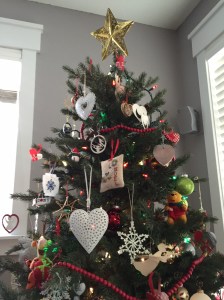 Christmas decorations are a big deal for me and my mother's Danish heritage has influenced how our tree is trimmed.  That means red and white paper hearts, silver balls, wooden angels, woven stars and white lights. Several years ago I was so emphatic about my, I mean our, tree that I would buy a smaller tree for the boys so their toy ornaments wouldn't clash on the big tree. (I know there's probably a psychological condition for this, you don't have to tell me.) Well, thank goodness those days are over.  Now that we're a blended family, and my husband's Christmas box included purple, blue and green ornaments and Winnie the Pooh characters, my Danish tree had to evolve.  And it has. We even decided to add red and green lights.
When did entertaining and decorating turn from engaging with others and brightening our living spaces to a hard and fast tradition?  Free-Lance Star columnist Rob Hedelt says when he was at dinner with friends, the subject of Christmas trees came up. "Without exception, the men in the group said that acquiring the perfect tree each holiday season is one of the most stressful things they do all year. Largely because, they said, the expectation of getting the perfect tree from the perfect place at the perfect point of the holiday season is not so easy to do."
Years ago I resolved to accept my battle with a live tree and purchased an artificial tree, but even they have their issues: assembling and lights.
What's changed for me is deciding to incorporate traditions of the people I care most about as part of my own,  taking a huge weight off my shoulders.  I realized I was missing out on the time of sharing thanks on Thanksgiving, and spacing out entirely on why I celebrate Christmas.  I'm guessing if you just made it through the eight days of Hanukkah, you know what I'm talking about.  Or you'll be facing it all soon with Kwanzaa.
To help me focus as I'm writing, I'm listening to Handel's Messiah by the London Philharmonic Orchestra.
This oratorio, combining texts from the Old and New Testament of the Bible, frames my world view.  I miss not participating in a Messiah 'sing along', blending amateur and professional voices, this year, so I'm doing it from home.   Listening to the choir and the vocalists, I'm reminded of why I want to release my tight grip of the traditions I once counted so dear, especially if they make me so stressed out I can't enjoy the people around me.
David Wong's End-Time Reports features a Christmas-y offering this year,  The True Meaning of Christmas , and he concludes:
So, if you're gathering with your family and friends this time of year, I personally don't care what you call the holiday as long as you celebrate it with this in mind: You don't get many of these. Make them count.
Here's how I'm letting go:
1.  Buy as many gifts online as possible and have them sent directly to the recipient.
2.  Simplify your holiday meals, and allow your guests to bring their favorite dish.
3.  Only attend the holiday parties you want to attend.
4.  Do something totally different in one area of your holiday celebrating this year.
5.  Love, love, love.
And now, if you'll excuse me, the banana bread is just coming out of the oven.
Wishing you the best in 2015.
Email: lois.melkonian@kdvr.com                                                                                                                 Twitter: www.twitter.com/LoisMelkonian                                                                                          Facebook: www.facebook.com/LoisMelkonianFOX31
Lois' Living Through It blogs are posted on Mondays and Thursdays.  Join her Monday mornings around 8:45am on Good Day Colorado.