This is an archived article and the information in the article may be outdated. Please look at the time stamp on the story to see when it was last updated.
Most of us are always hanging things around the house from pictures, to book bags to keys.  You can use the old hammer and nail, screws, those adhesive pull-tab hooks along with a ga-zillion other options.  GeckoTech reusable hooks are a new option from the company that makes Duck tape.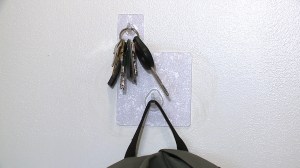 GeckoTech is different because it doesn't use adhesive.  It uses a micro-suction cup surface that can be peeled and re-used again.  In fact, if it starts to loose stickiness you can simply wash the sticky side with water and soap and let it dry.  The GeckoTech hooks come in 4 sizes, 1/2 pound, 1 pound, 3 pounds and 5 pounds.  The "pad" of the hook is larger based on the weight limit.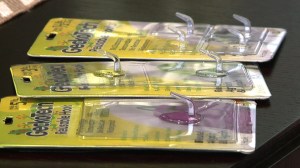 We took the GeckoTech hooks to Katy Byrne, design director for HBC Design Group, to help us test them out.  She said she typically uses standard weighted hooks for hanging pictures and items around her home.  She said they're reliable and hold plenty of weight.  We tested the various weight options of the GeckoTech hooks.  The 5 pound hook worked well when we tried it on a flat surface of a door.  It held a backpack with a 4 pound weight added.  The 3 pound hook worked fine for just the backpack but as soon as we went over the weight limit it fell off the wall.  The 1/2 pound hook worked great for small items like keys or kitchen utensils and seemed to stick well.
The GeckoTech package warns that the hooks will only work on flat surfaces.  None the less, we tried them on a wood textured cabinet in the kitchen and a standard textured living room wall.  The hook would not stick to either.
Byrne said textured walls are in almost every home in Colorado so this could be a deal-breaker for some people.  In the end, she said GeckoTech hooks do work if you follow the directions.  Stick to flat surfaces and obey the weight limits on the package.  She said the large plastic pad may not look right for some locations but might be perfect for a garage, kitchen or kid's room.  Depending on your needs, she thinks these reusable hooks could be a perfect solution for some people.
You can find GeckoTech hooks online.  Locally they should be available at Office Depot and ACE Hardware stores.