This is an archived article and the information in the article may be outdated. Please look at the time stamp on the story to see when it was last updated.
I am one of eight billion people on the planet.
So are you.  And each of us, at any given moment, is going through joy or crisis or trial or just working hard.  Most of us get up in the morning with every intention to thrive and succeed and make our lives positive.   No matter how tangled up in life I may get, there is always someone, somewhere, facing an even more perplexing dilemma.  That doesn't make the crises in my life less important, it's just the truth.  And so that I don't take myself so seriously, I need to leave my comfortable existence every now and then to see how other people live.
Three weeks ago I was riding in a bus through the poorest neighborhoods of Bogota and Cartagena, Colombia.  I'd been invited to come and observe how the non-profit group Opportunity International is providing small business loans, savings and training to people working their way out of poverty.
There is no doubt life is hard for many here in the Denver metro area.  Still, the level of poverty I step into when traveling in a third world country always takes my breath away.
The trash, the smells,the lack of sanitation, the heat.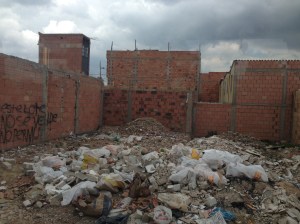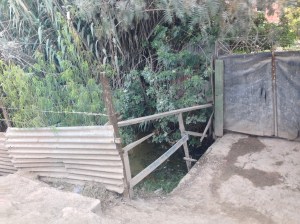 How about this innovative security system?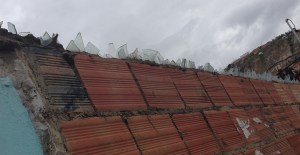 So imagine my surprise to fly more than three-thousand miles away from home to meet two moms of young children from Denver who were also on this trip!
Our reasons for making this trip were different, but when we encountered people choosing to take these small loans, I'm talking $50 loans that they have to pay back, and change the direction of their lives, we were blown away.
I mean, who would think that a loan to fund a business of selling recycled egg crates could be success?Or this family who used their loan to build a business  crafting leather cases for machetes and knives.
The dream of this man is to have a larger grocery store, for now, his loan allows him to sell vegetables and fruits in a corner 'store.'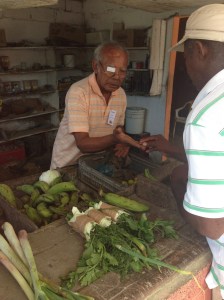 And the loan for this woman allows her to teach young people how to sew so they can get jobs.  She sells costumes and clothing in Colombia.
As my last year has been filled with enormous transitions, I looked forward to this trip to break out of the routine and the comfort I've created for myself.  Don't get me wrong, I love a vacation.  But there are also times when seeing another part of the world, where making it through the day can be a challenge, brings me right where I need to be.
In an article on travel and mental health,  travel consultant Sarah Jenson says "when people view others in similar or worse situations, they tend to realize that their problems are no longer as daunting as they may have earlier believed. "
Bring that full circle to this coming Friday, when my new friend Kerri McAfoos and her husband Travis are hosting a Halloween Costume Ball in Denver, with all the proceeds going to Opportunity International.
"We adore Halloween and have had an annual Halloween party for years, and while we had a blast, it had grown so big and it wasn't as much fun anymore.  In addition to Colombia, I'd gone on an earlier trip with Opportunity International to Rwanda, and we had a renewed interest and decided, why not have a party and have a great time and make sure 100% of the money goes to a great cause?"
So there you have it.  I have to go all the way to Colombia to meet a woman from Denver, who's throwing a Halloween party for this great cause.  I am not going to get into the '6 degrees of separation' or what 'the real purpose of my trip' was supposed to be.  I believe it's simpler than that. I'm one of those who gets a song stuck in my head, and this whole series of events just takes me back to one of my favorite rides at Disneyland, "It's a Small World."
It's a world of laughter a world of tears.  It's a world of hope and a world of fears.  There's so much that we share that it's time we're aware. It's a small world after all.
(The song and tune lyrics are the only Disney creations never to by copyrighted!)
It really is a small world.  Whenever I get stuck on being one in 8 billion I can be overwhelmed. But as I engaged with people sharing very similar core needs:  wanting meaningful work, providing for family, a future for their kids, it became clearer that we aren't all that different.  And if they can live through it, so can I,  whatever life brings my way. 
If you'd like to go to the Halloween Costume Ball, get your tickets at:  www.halloweencostumeball2014.eventbrite.com