This is an archived article and the information in the article may be outdated. Please look at the time stamp on the story to see when it was last updated.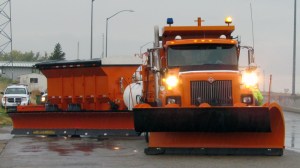 DENVER — In an effort to increase the fleet of plow trucks clearing snow through the high country, CDOT said Monday they will start using a tow-plow truck.
A tow-plow features a normal plow truck pulling a trailer with a second blade that can also lay down de-icer.
CDOT said the truck is on loan from Logan County and will be in used in Summit and Eagle counties.
"Our tow plows are able to plow and/or de-ice 24 feet or two lanes of the Interstate with one snow plow truck and one employee with a second truck clearing the shoulders," said CDOT Maintenance Superintendent Tim Miles. "By using fewer trucks to plow the same amount of space, we are hoping to use the extra truck for other highways in the area, ultimately increasing our coverage and improving safety during this testing period."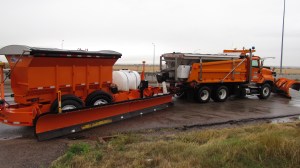 When the tow-plow is in use, both lanes of Interstate 70 will be blocked. The plows will travel at 35 mph, so travelers should be prepared to travel at lower speeds, a spokesman said.
"Since this will be the first time I-70 drivers will see this type of equipment, we want to remind them to give the plow extra room to work since it is roughly twice the size of a normal plow," Miles added.
Altogether, CDOT has four tow plows based out of Boulder, Morgan, Washington, Weld, and Yuma counties.