This is an archived article and the information in the article may be outdated. Please look at the time stamp on the story to see when it was last updated.
I think I manage my dependence on technology pretty well. Yes, I own a smartphone.  I do a lot of my work on my phone:  email, social media, text, call, check my favorite news sites, take photos, read stories.  I think that's pretty normal.  I don't text/email and drive.  Unless there's a red light, right?  Doesn't every one catch up on their emails at red lights?
But when I went to Sundance last month, I wound up with a number of inadvertent photo bombers who were doing the same thing.
Whether I was waiting to see a movie, in a theater taking a selfie, or on the bus,


our engagement with our devices is pretty telling. So I challenged myself to take a digital distraction test.  Here was my result:

A digital diet?  Am I really addicted? Here's how wikipedia defines a digital addict:
Digital addict is colloquially used to describe a person whose interaction with technology is verging on excessive, threatening to absorb their attention above all else and consequently having a negative impact on the well-being of the user.

Used as a conversational phrase, digital addict describes an increasingly common dependence on devices in the digital age. The phrase is used to highlight the possible danger in being over exposed to technology in an age where the scope for using digital technologies in everyday life is ever-increasing and the danger of becoming dependent upon them is a distinct possibility.
I decided to reach out to someone who knows a great deal more about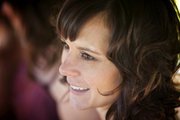 technology than I do, and who manages 25 engineers.  Meet Alicia Yanik, Senior Vice President of Engineering for Levels Beyond, a Denver-based software company.
"So," I ask Yanik sheepishly, knowing she lives and breathes technology at work, "how pervasive is technology in your life?"
After a good laugh, she responds, "7 days a week.  I would say that if I'm not exercising, or eating or hanging with friends, I am checking my devices at least once an hour."
"Every day, once an hour?" I ask.
"Yes," she confirms, "every day."
Apparently this is the first step in dealing with digital addiction, admitting it.  I wonder if this is just life as she knows it or if she'd like to change the situation.
"I do want to cut back," she says, "so when I go on vacation I'm better about it.  I really do check out.  The only person who will hear from me is the house sitter.  I'm able to put it down when I'm not at home.  When I'm home, though, I've built these patterns that are pretty hard to change."
Still, Yanik does have some clear cut boundaries when it comes to her devices. "The other evening I was out to dinner and the person I was with took out their phone to check something.  I asked him if we could have a 'phone-free' dinner, and he agreed."  She also can't stand when people are texting at movies, "movies, recreational activities, eating together with others, no phones."  And that's the second step of dealing with digital addiction, establishing clear cut lines.
In her work managing 25 engineers at Levels Beyond she took a very bold step.  "I noticed the level of interruptions was so high, the engineers couldn't focus for an hour at a time without being distracted. We were facing challenges problem solving and we were lagging on getting some code out.  I wondered how I could provide them a cover, without hurting business.  So after some research, I established an hour of 'Quiet Time.' I told them I wanted them to have time to think so here's what they had to do:  turn off email, only take a cell phone call from a family member, turn off chat and chat rooms.  What was amazing was that 30 minutes leading up to 'Quiet Time,' I noticed a big change as the engineers geared up for the hour of 'Quiet Time' and many would stay in that zone after the hour was up."
Turns out this was a 6 month experiment, "and while it was hard for all 25 of them to completely detach and many still responded to some of their emails, overall we all became very aware of how interruptible we are. Now we're in an assessment phase to determine whether to continue with 'Quiet Time,' and it's pretty much 50-50 for our group about whether to continue with the program."  This, by the way, is step three of dealing with digital addiction, instituting a quiet time, free of devices, at work or anywhere.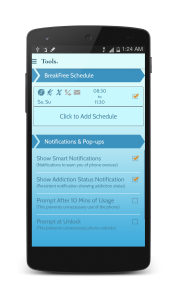 If you're serious about wanting to go on a digital diet, the BreakFree app might be for you.  The website describes this app as
a first of its kind, revolutionary mobile app, aimed at controlling smartphone addiction and helping you maintain a healthy digital lifestyle.
Here's what one user had to say about using it:
annoying, but doing it's job it launches every time you unlock your phone, which is annoying when you really just want to have a conversation, but doggone if it hadn't cut down on my phone time like I wanted it to. be prepared for it to annoy you, but to work well because of that.
As a result of this conversation and the earlier digital distraction test I took, I am thinking about how close my phone is to me when I go to bed, whether I lay it on the table while I'm eating, and how often I take it with me into the bathroom.  Will I change those behaviors? I am thinking about it. Take the test yourself, if you're at all wondering about your digital dependence.  I'm curious what your score will be.
lois.melkonian@kdvr.com                                                                           www.twitter.com/LoisMelkonian
www.facebook.com/LoisMelkonianFOX31
Lois' Living Through It blogs are posted on Mondays and Thursdays. Join her Monday mornings around 8:45am on Good Day Colorado.