This is an archived article and the information in the article may be outdated. Please look at the time stamp on the story to see when it was last updated.
Greeley, CO– Mark Green said when he became homeless through no fault of his own, Weld County's Department of Human Services spent its resources trying to take his daughter away from him, instead of helping him find housing.
Two years later, the Fort Collins dad has been given his full parental rights back after having his  infant daughter taken from him and placed in foster care. Green said ironically, his troubles began when he reached out to Child Protection Services for help.
It was August of 2014, when Green said his common-law wife Alicia Watson started having mental health issue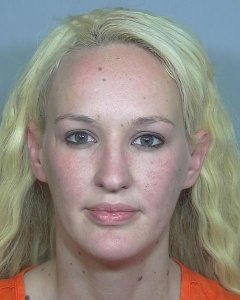 s and disappeared with the couple's then 4-month-old daughter Ella. Green said he called CPS, "So I can get my daughter safely back into her home and get my wife the help that she needs … They (Weld County DHS) seen it as an opportunity to be able to adopt out a child out."
Windsor Police found Alicia Watson and Ella Green a few weeks after they disappeared but didn't contact Weld County Child Protection Services because officers didn't know the two had been reported missing. Instead police arrested a very drunk Watson for disorderly conduct and left her baby girl with friends of the mother.
Watson soon bonded out and filed a restraining order against her common law husband Mark Green, based on what Green called delusional accusations.
Green told caseworkers they would probably find Watson and baby  Ella at the upcoming hearing for the restraining order.  Just as Mark predicted Watson showed up at the hearing with the couple's daughter but a visiting judge granted the restraining order against Mark even though his wife presented no proof of domestic abuse.
As a result, Green was evicted from the Fort Collins Housing Authority apartment he had been sharing with Watson and social workers placed baby Ella into foster care.  The couple had received subsidized housing because Watson was a military veteran.  But the Housing Authority said Mark was no longer entitled to the housing voucher because of the restraining order.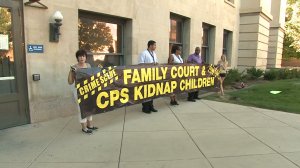 "17 months his daughter was in foster care unnecessarily," said Rosemary Van Gorder, a community activist who followed Mark's case from the beginning. " If you disagree with allegations, it`s very difficult to contest those and have a proper process where you can be exonerated," said Van Gorder.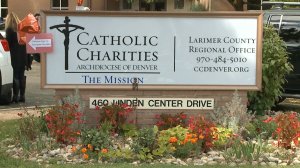 Long before Mark Green was exonerated, Weld County's Department of Human Services filed to terminate his parental rights because he was homeless living in a Catholic Charities shelter in Fort Collins. DHS never alleged child abuse but forced Mark to attend parenting classes 40 minutes away in Greeley even though he had no car.
During this same time period Mark Green missed some of his parental visits with Ella because he spent 40 days in the Weld County jail, to poor to post a $150 bond.  He had been accused of punching Alicia's new boyfriend though again there was no evidence other than the word of Alicia Watson and her boyfriend who told police "he was too high to remember what happened."
The charge was later dismissed as was the original restraining order Watson filed against Green.  But it would still take until February of 2016 for Mark Green to convince a family court judge to reverse Weld County's effort to terminate his parental rights.
On the day of the judge's decision an emotional Green told FOX31, "I had to hold it together in the courtroom…biggest thing in my life."
Green said the judge agreed mistakes had been made that forced Mark into homelessness and his daughter Ella into foster care.  "I`ve never been homeless in my life. I`m 46-years old. I spent 45-years not homeless.  Due to someone`s malicious act I was made homeless," said a visibly frustrated Green.
It would take another seven months, until a hearing on August 31, that full custody of now 2-year-old Ella,  was transferred from a foster mom back to Mark Green.
The Department of Human Services insisted state privacy laws prevent it from talking to FOX31 even though his case is now closed. But Mark's attorney said the child welfare system failed Mark and his daughter.
"We have a little girl that was a baby when the case started and who`s now two and finally the case gets to close," said Mark's attorney Carrie Ann Lucas.
"His rights had been violated," said the Reverend Juls Mercer, president of the Veteran's Assistance League of Colorado.
Rev. Mercer had written a letter to the Fort Collins Housing Authority that read in part, "Mark has been recognized by the courts as the victim of domestic violence perpetrated by his spouse."
Mercer's letter also demanded Green's housing voucher be restored, writing, "My expectation is that this horrible error be immediately corrected and a voucher for a two bedroom unit be issued to Mark and his daughter."
The hearing officer for the Fort Collins Housing Authority not only agreed to restore Mark's housing voucher, she wrote a personal note at the end of her decision that states, "Mr. Green, I admire you for what you have been through and commend you on what you have managed to accomplish. I wish you and your daughter all the success in life that you deserve."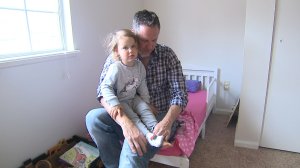 I was like, it's about time. Good, good. It's about time," said Rev. Mercer.
Mark Green and his daughter Ella have spent the past few months making up for lost time. "I`m going to do everything I can to give her a life full of happiness, security and love," Green said.
Mark's former wife is now in Oklahoma, where her mother tells Fox 31 she's been admitted to a V-A hospital for mental health treatment and has no contact with her daughter.
Ella's former foster mom tells FOX31 she didn't know until after the fact that she was only given Ella because her father Mark Green was homeless, not abusive.
The foster mom tells FOX31 she had hoped to adopt Ella but is now disgusted with Weld County's Department of Human Services and vows she will never be a foster mom again.