This is an archived article and the information in the article may be outdated. Please look at the time stamp on the story to see when it was last updated.
9:40 – What a night.  We'll have a complete wrap up tomorrow morning starting at 6am.  PLUS, I'll have the scoop in Channing Tatum and Jonah Hill …they're BOTH in Denver tomorrow!!
9:35 – THE ARTIST wins.   All of the films nominated prove that movie making is alive and well.  That we can still tell inventive, creative, compassionate, and deeply moving stories.  Oh, and I love the bow tie on the dog :-)
9:30  "When they called my name, I could imagine half of America saying, 'oh no, not her …again.'  Whatever."  I'm simply in love with her.  Classy, intelligent, brilliant. Congrats, Meryl.  
9:29 –  And Meryl WINS!!  If you haven't seen "Iron Lady," you must.  She is just mezmerizing.  Woo HOO.
9:22 – Up next is Best Actress.  Again, my heart is with Meryl Streep.  She was absolutely captivating as Thatcher.  But Viola will likely win this one.  I loved her, too!
9:19 – JEAN DUJARDIN wins!  I may clean up at the office Oscars pool :-)  "I love your country."  Priceless.  What a GREAT speech … that's the kind of energy and charm that makes me fall in love with this show.
9:14 – Natalie Portman looks amazing.   "Best Actor" is gonna be a tough category, but I still have to give it to the man who conveyed so much energy, with barely a word.  Jean Dujardin.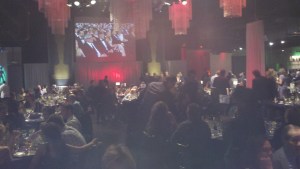 9:09 – A big salute to the Denver Film Society for hosting the BEST Oscars party in Colorado.   You need to check out:  www.denverfilm.org  They do great work, year round, in promoting cinema.  And they'll be screening the Oscar winning "Saving Face" in the days ahead.
9:00 – Oprah looks great, too.  GOLD is definitely in this year.
8:55 – You GO, Meryl.  LOVE her dress. 
8:53 –  "The Artist" wins for Best Director.  It really was SUCH a simple, yet inventive film.  He kinda looks like Leonard Nimoy, just sayin. 
8:50 – and only the biggest awards remain!  Michael Douglas looks fantastic!  So glad to see him on the road to recover
8:41 –  And Denver WINS IT!!!   Congrats to "Saving Face," directed and produced by our DENVER team!!!
8:32 – we're approaching Denver's shot at an Oscar!  Keep your fingers crossed for "Saving Face" in Best Documentary short!
8:30 – Angelina needs some meat on them bones. Her arms are so skinny.  Congrats to Woody Allen on Screenplay, wish he'd been there to accept!
I know, I know … CYMBALS.  Sorry, the Champagne is flowing LOL
8:18 – Will Ferrell and Zach Galifianakis … with Symbols.   CLASSIC. What happened to the cow bell?  MAN OR MUPPET wins!  Yippie!
8:14 – "The Artist" wins original score. It will be a night for the French, I promise. Still banking on "The Artist" to win best picture, and best actor.  So much for "freedom fries."  :-)
8:00 – And Christopher Plummer wins it, as expected. I do think his role in "The Beginners" really put a beautiful perspective to aging as a gay man.
7:52 – I'm pretty sure Emma Stone is WEARING the red carpet.
 7:50 – "Supporting Actor" is coming up next.  I know Christopher Plummer is the inside favorite, but my money is on Nick Nolte. 
7:47 – "Rango" wins, and rightly so! LOVED it.  And Chris Rock was *hilarious* during the intro.  "If you're a black man in in animation … you can play a donkey or a zebra."
7:42 — HOLY CRAP, Robert Downey Jr. just TEBOWED.
7:40 – Cirque Du Soleil.  Enough said.  "We're a pony away from being a Barmitzvah" — Billy has still got it. 
7:34 — Kermit and Piggy!    She's wearing a "bump it!" But they should have had Waldorf and Statler in the Balcony (the old muppets)!
7:20 – Christopher Guest and the gang!  HILARIOUS "Wizard Of Oz" spoof!  They need to make another movie.  "Best In Show" still ranks among my top five.
7:13 – And she WINS it!  Octavia absolutely deserves this award.  The character of "Minnie" was based on Ocatvia (she and the writer are friends). And our first tears of the night.  "I'm freakin' out. Thank you, World!" — love it!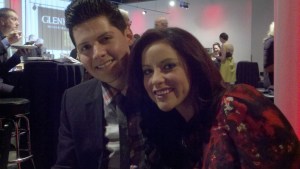 7:02 – "Supporting Actress" is coming up next.  I can PROMISE you that Octavia Spencer will win.  And, as she told me, she'll be wearing three pair of Spanx :-)
6:55 – JLo and Cameron are looking FANTASTIC…maybe I should have re-thought wearing flannel to the party tonight.
6:45 — Hugo … two for two.  I love that lady's gown.  Someone got out the bedazzling gun :-)
6:38 pm  — He's singing, YES!
5:36 pm — Loved the Billy Crystal opening.  He looks great!
4:00 pm – Getting my outfit ready for tonight…I'll be wearing "Target" :-) We'll be blogging *LIVE* from the big Oscars Bash downtown, held by the Denver Film Society.  A few predictions before we get started:
Best Picture – "The Artist"
Best Actor – Jean Dujardin
Best Actress – Viola Davis  (though I'm rooting for Meryl)
Best Supporting Actor – Nick Nolte
Best Supporting Actress – Octavia Spencer  (hands DOWN)
Friday, 8:00 am – Watch the Oscars along with me!   Every bad dress, every wild acceptance speech, every joke from Billy Crystal!  I'll be blogging LIVE on Oscars night.  We'll be on location at the biggest local party, hosted by the Denver Film Society.  So tune in, and log on for our wild play-by-play, and let the blogging begin!