This is an archived article and the information in the article may be outdated. Please look at the time stamp on the story to see when it was last updated.
BOULDER, Colo. — Jorge Rufat-Latre thrives at the edge. His name is synonymous with "Cold Latitudes."
Rufat-Latre's curiosity for what's physically and mentally possible takes him to some of the most inhospitable locations on this planet.  The colder the better.  That's why Jorge signed up twice for the Iditasport Impossible 1,000 mile ultramarathon across Alaska.
"Only 15 runners have ever covered the entire Iditarod Trail during the winter.  Only three more than have been to the Moon, and orders of magnitude fewer than have summited Everest," said Jorge before the start of this years race.
Three total runners signed up for the 2018 Iditasport Impossible 1,000 mile foot race including Dr. Jan Kriska and Scott Smith.  In the end it was Jan and Jorge at the finish line.
Unfinished Business
I first met Jorge in 2017 at his house in Boulder with his life partner Wendy Drake.  Wendy is also an accomplished ultrarunner and trains with Jorge on the windiest, coldest days in the Indian Peaks.  They thrive at the edge together.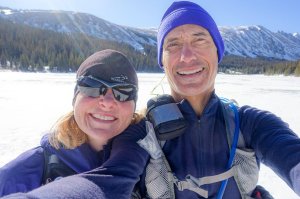 They invited me, Leanne, and a group of close supporters and friends over to watch a slideshow from Jorge's first attempt at completing the 1,000 mile race.  Jorge stopped 600 miles into the race unable to finish and later told me, "I was certain I would not return."
"Mental game was key, even as fatigue took a terrible toll day after day.  The Iditarod Trail threw mental challenge after mental challenge at me, and I discovered that my game was barely up to par; and I had to develop new tools and responses on the go," said Jorge.
I was hired to forecast weather for Jorge from start to finish.  I had also worked for Jorge in 2016 during an expedition to the Penny Ice Cap on Baffin Island (SPICE 2016) with Dr Ulyana Nadia Horodyskyj who is the founder of Science in the Wild.
Inspired: Back to Alaska
"Then I was at the Boulder Bookstore one day in April listening to Erik Weihenmayer, the first blind person to summit Everest, present his newest book. I don't remember what Erik said, but something clicked and in that moment I knew I was returning to Alaska," said Jorge.
I was once again asked to forecast weather.  Over the years i've come to live vicariously through athletes like Jorge.  I can almost feel the Alaskan cold.
Jorge returned to Anchorage with a 46 pound sled ready to once again put his mental game to the test.  He started February 19, 2018 and finished in Nome on March 24, 2018.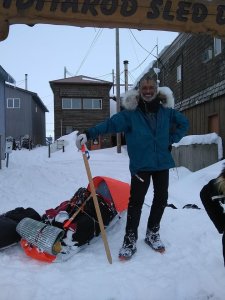 Thriving at the Edge
Jorge Latre pays close attention to detail.  He holds two Electrical Engineering degrees, worked for NASA, is a pilot, runs ultra endurance races around the planet, and applies what he's learned to help companies grow and innovate.
I decided to let Jorge tell the rest of the story.
9 Questions with Jorge
1) What drew you to this 1,000mile race?
After racing a few 100s and a 300-miler, I realized that as distance increases, there is more opportunity for learning, and I was all for that. 1000 winter miles in Alaska was a guarantee of adventure: remoteness, weather, places few get to see and people few get to meet.
2) Why the cold and snow?
If you run enough 100s, you can refine your performance, but there is very little new to learn. A technical trail is a technical trail. Sleep demons are sleep demons. The cold is a different animal. It requires constant attention and quite a range of equipment options. It makes you pay for a mistake immediately, and the bill can be very high. Along with the cold comes "big" weather and the need to adapt constantly and accurately. The need to learn a lot and well, the opportunity to achieve mastery in a situation where death or dismemberment are fractions of an inch from your skin were irresistible to me. This attraction has taken me to Greenland, Baffin Island, The Yukon, and Alaska, so far.
3) How did you reconcile not finishing last season and did it motivate you to return this season?
I was certain I would not return. Then I was at the Boulder Bookstore one day in April listening to Erik Weihenmayer, the first blind person to summit Everest, present his newest book. I don't remember what Eric said, but something clicked and in that moment I knew I was returning to Alaska. Then I determined to do the Iditarod's southern route, an even more remote and challenging path, to make it more interesting.
4) I've read many of your posts and blog entries about "tricks of trade" and mental distractions in order to survive these long distance events. How and why is the mental aspect of what you do so important?
1000 miles means a high level of uncertainty and very slow progress. Humans don't like the former and runners don't like the latter. The food box you sent to a post office to support your race might have been lost by the time you get there. The trail will disappear when it snows or when the wind blows. When you have to wear snow shoes (800 miles this year), the odometer moves depressingly slowly. The temptation to get excited when getting near the end or to a village or cabin is enormous, but self-defeating: nothing changes until you are literally there. Half a mile away looks and feels just like a hundred miles away, so that undisciplined anticipation turns into major and unnecessary frustration. The mental game is important because it's all we have to deal with these issues.
5) What were the most challenging aspects of completing this year's race?
Snow storms followed each other closely, interspersed with significant chilling winds that quickly erased the trail and forced very slow progress, wayfinding, and using snow shoes. By the way, it was very helpful to get your forecasts and be mentally ready for the next challenge. We seldom saw the Sun. On the sea ice, flat light made sastrugi invisible and led to frequent falls. Thin ice on the Kuskokwim River gave us tense moments – several people broke through and had to deal with frostbite. Key equipment items kept breaking – including my stove, which, ironically, went up in flames – and my snow shoes, both of which broke at key spots. It was a test of persistence, as in "keep moving," "this too shall pass," and "we will get there when we get there".
6) How did you feel walking to Nome?
Five miles from Nome I realized the adventure was ending and I did not want it to end. I was ready to continue! By then I was used to living off my little sled and to experience everything Alaska has to offer and that very few get to enjoy – only 18 people are on record for having completed this small odyssey. Aside from the fact that very few crazies attempt to do this in the first place, I did feel quite the pride as I stepped under the arch!
7) What did you eat while on the trail and how heavy was your sled?
Without food or water the sled and the equipment weighed 46 pounds. Add 15 to 25 pounds of food and water depending on the reserves you keep, proportional to the risks of delay for each race segment. I ate calorically-dense, high-fat, low water content food: dry sausage, nuts, Manchego and Emmentaler cheese, dried fruit, peanut, cow, and coconut butter, chocolate covered Digestive cookies, and so on. About four pounds a day.
8) What did you learn from this year's race?
I learned that when a race is big enough, it is not a race any more – it is an adventure and the emphasis becomes the accumulation of unique experiences and encounters. The racing aspect pales when compared to the memories. On the mental game front, I realized that most of my apprehension when a situation would get ugly came from my brain projecting bad outcomes and not from an objective assessment of the situation. So I learned to ignore this drama-producing part of my brain.
9) What do you do when not running and racing?
I fly. I love flying. And, I apply my decades of management consulting and northern adventures to help corporations and individuals grow and innovate through Cold Latitudes and Thrive at the Edge.