This is an archived article and the information in the article may be outdated. Please look at the time stamp on the story to see when it was last updated.
GREENWOOD VILLAGE, Colo. – A "person of interest" wanted by police in connection with the shooting a Greenwood Village woman committed suicide after a standoff with a SWAT team for several hours Thursday.
Police said they found the body of Robert Lewis in his home at the Carriage Place Apartments at 4900 Ulster Street. He had shot himself in the head, police said.
Earlier in the day, the SWAT team was called to Lewis' apartment and named him a "person of interest," in a fatal shooting that happened about a block away.
Officers used a bullhorn to call him to surrender and come out of his apartment but he refused.
The shooting victim, a 20-year-old woman, was found in the parking garage of the Promenade Place Apartments at 5200 Ulster Street Thursday morning.
Residents reported hearing gunshots around 7:15 a.m.
"I received a 911 hang-up with a woman screaming in the background," said a dispatcher according to RadioReference, a website that records police radio traffic.
Patricia Salvidio, a resident of the Promenade, said her husband saw "a lot of articles of clothing" near where the woman was killed.
"We came out and there was a body in between the cars that was covered," Salvidio said.
Police spokeswoman Crystal Dean said responding officers found the victim between two cars and tried to resuscitate her. The woman was later pronounced dead at the scene.
"We found signs of a struggle between the third and fourth floors of the parking structure," said Cmdr. Joe Harvey. "A few minutes thereafter we found a young female in her 20s that was a victim of a gunshot."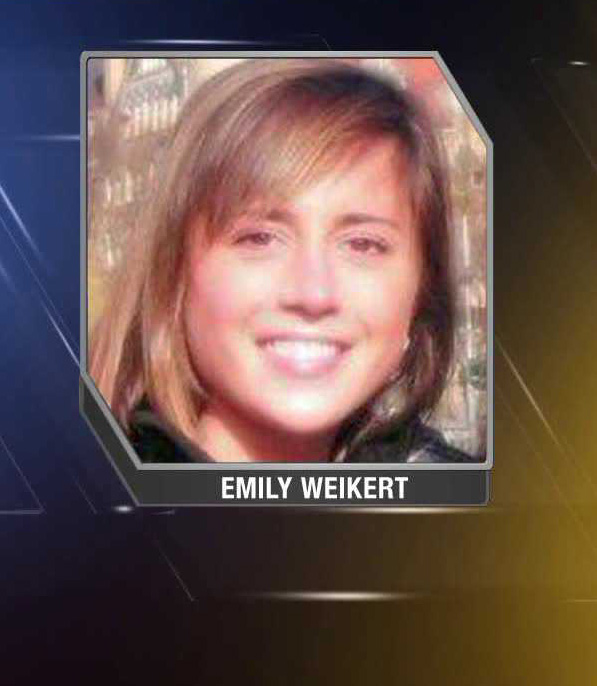 FOX31 Denver has learned the victim is Emily Weikert. She was shot twice in the back.
A neighbor told reporter Dave Young that Weikert was a sweet woman.
Weikert worked at the national headquarters of CoBank on S. Quebec Street, as did Lewis.
Police said Lewis was fired two weeks ago for harassing Weikert.
"The investigation yielded he was someone we wanted to speak to because he'd been terminated for harassment of the victim," says Greenwood Village Police Commander Joseph Harvey.
Investigators then went to Lewis' apartment around noon to question him. That's when the police standoff began.
"They knocked on my patio door and told me I need to evacuate. I didn't even have shoes on me. They said, 'Grab your shoes and coat and get out of here,'" said resident Blair Colsey, one of many people evacuated from the building as the standoff continued.
Around 5:30 p.m. police used explosives to break into Lewis' apartment. That's when they found him inside with a single gunshot wound to the head, police said.
Police say Lewis is still considered just a person of interest -- not a suspect. They still have to collect and review evidence to make that determination.
Police investigate at the scene of a fatal shooting in the parking garage of the Promenade Place Luxury Apartments in Greenwood Village on Dec. 27, 2012.

Police investigate a fatal shooting at the Promenade Place Luxury Apartments parking garage in Greenwood Village on Dec. 27, 2012.

Police prepare to tow a green Jeep away from a light rail station near the scene of a Greenwood Village shooting on Dec. 27, 2012.

Records show both the suspect and the victim worked at the CoBank national headquarters.

Police waited for a search warrant before they entered the apartment of the suspect at 4900 S. Ulster Street. The dead woman was found at 5280 S. Ulster.

A SWAT team was called to enter the suspect's apartment.