This is an archived article and the information in the article may be outdated. Please look at the time stamp on the story to see when it was last updated.
LAKEWOOD, Colo. -- Investigators are trying to find a man who a woman says sexually assaulted when she checked damage after he crashed into her car.
Police, who have not yet released a sketch, report the attack happened early Monday morning.
The female victim, who had just dropped her kids off at school, reported being forced back into her vehicle after being sexually assaulted in the 9000 block of W. Dartmouth Place.
The victim told police the suspect tried to force her to drive to another location, but she fought him off and was able to flee from the scene.
Suspect Description
-- White male, possibly with a "Mexican" accent
-- Late 20s-early 30s
-- 6'00" tall, skinny
-- Dirty blonde hair, medium length
-- Heavy acne on face, rotten teeth, dirty and unkempt
-- Seen wearing dark blue baseball cap, purple jersey, white long sleeve shirt underneath jersey and baggy blue jeans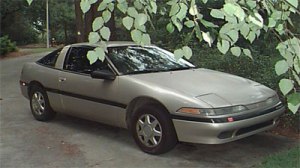 Vehicle Description
-- Gold (or similar colored) Plymouth Laser or similar model**
-- 1990-1994 model
-- No front plate, Colorado plate on rear
-- Cracked front windshield
-- Old body damage on front driver's side
**Similar models include Mitsubishi Eclipse and Eagle Talon, same years as above.
Anyone with information can call Lakewood police at 303-987-7111.