This is an archived article and the information in the article may be outdated. Please look at the time stamp on the story to see when it was last updated.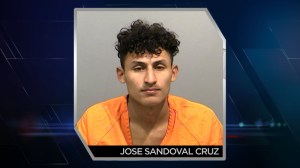 ARVADA, Colo. — A 40-year-old mother was killed and her 15-year-old daughter was injured in a crash on Sunday night that police believe was alcohol-related.
The crash happened about 10 p.m. at Sheridan Boulevard and West 80th Avenue, the Arvada Police Department said.
Police said the driver of a Jeep Grand Cherokee ran a red light while driving southbound on Sheridan and slammed into a Chevrolet Malibu that was traveling westbound on 80th Avenue.
The impact sent the Malibu about 60 yards west of where the impact happened.
The driver of the vehicle was taken to a hospital where she later died, police said. Her 15-year-old daughter, Jessica Zapata, was also in the car. She is in the hospital with unknown injuries, but her family said she has bumps and bruises.
The 40-year-old victim is Monica Zapata, the sister of Angie Zapata, a transgender person who was killed in Greeley in 2008.
Friends gathered at the intersection Monday night to build a memorial for the mother of three. Zapata was two months from graduating beauty school, a dream she always wanted to pursue.
Police said the two men inside the Jeep took off on foot after the crash but were apprehended at Highway 36 and Pecos Avenue by Westminster police officers.
One of the men, Jose Sandoval Cruz, 24, is believed to have been the driver according to eyewitness reports and evidence, Arvada police said. He was arrested on numerous charges, including vehicular homicide – DUI and first degree assault.
The second passenger has not been identified. A third passenger of the Grand Cherokee came forward, Arvada Police said Thursday. Both passengers are not charged with any crimes, police said.
Cruz is due to make his first appearance in a Jefferson County courtroom at 10 a.m. Tuesday.
The intersection was closed for about six hours as crews cleaned up the wreckage.
[protected-iframe id="39ebbf4f47dce5d793451c13e33f26c5-29290497-62452405″ info="https://www.google.com/maps/embed?pb=!1m18!1m12!1m3!1d14431.332430723054!2d-105.06691567788572!3d39.842259327513915!2m3!1f0!2f0!3f0!3m2!1i1024!2i768!4f13.1!3m3!1m2!1s0x876b8837a3f791ff%3A0xcf2eef5b49a325e4!2sArvada%2C+CO+80003!5e0!3m2!1sen!2sus!4v1455538159572″ width="100%" height="450″ frameborder="0″ style="border:0″ allowfullscreen=""]