This is an archived article and the information in the article may be outdated. Please look at the time stamp on the story to see when it was last updated.
DENVER — One of three people hospitalized when a SUV crashed into an Accent Optics in Denver has died, police said Saturday.
Denver Police did not release the name of the victim, but said she died overnight.
Ryan Nuanez, 24, is accused of driving the Chevy Tahoe when it crashed into the store last Saturday morning.
The Tahoe was speeding and driving north in the southbound lanes of Colorado Boulevard when it crashed into the building, police reported.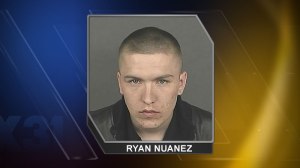 Nuanez was hospitalized after the crash. Earlier this week, the Denver DA charged him with three counts of third-degree assault, driving under the influence of drugs and driving with a suspended license.
The DA may decide to change the charges now that a victim has died.