This is an archived article and the information in the article may be outdated. Please look at the time stamp on the story to see when it was last updated.
GOLDEN, Colo. — Strange behavior is nothing new at the Jefferson County jail, but it's not often a woman drops from the ceiling. And no, Jessica Leger was not attempting to escape, at least not from the jail. However, it was a bizarre escape from the women's restroom.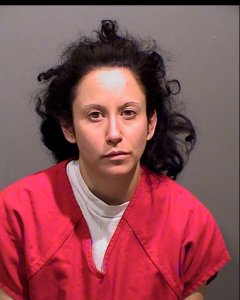 It began after the 29-year old was released from custody on Nov. 21 around 9 p.m. Leger decided to use the women's bathroom in the Inmate Services lobby before leaving the jail complex.
Leger locked herself in the restroom and then, according to an arrest affidavit, yelled "get me out of here."
As deputies attempted to pry the door open, Leger yelled at deputies to call her father and uncle and then made accusations that deputies "released someone ahead of her that had threatened her life." At one point, deputies said they overheard Leger say that she was having a psychotic episode.
Eventually, deputies were able to pry the door open, only to discover Leger had removed the paper towel dispenser from the wall above the toilet and appeared to have crawled into the wall. Four deputies ran up an emergency stairwell to the fourth floor in an attempt to find Leger crawling in the ceiling.  Moments after they arrived, there was a call over the radio stating Jessica Leger had dropped herself into the lobby and was in custody.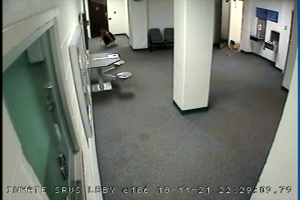 In the video, one can see Leger lower herself into the lobby and then run to a corner of the room before a deputy runs out of the women's restroom and apprehends her.
Leger was booked with Criminal Mischief and ended up spending two more nights in jail until she was released on a Personal Recognizance bond on Nov. 23.  Court records suggest Leger caused $400 dollars in damage to the bathroom.
"It breaks my heart for a couple of reasons," said Andrew Romanoff, the President and CEO of Mental Health Colorado. While Romanoff would not comment on the Lager case specifically, he pointed out that 55 percent of inmates in state prison and 65 percent of inmates in county jails are thought to have some kind of mental health or substance abuse disorder.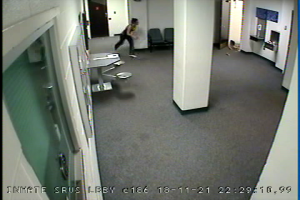 "There are too many people in Colorado with mental illness who aren't getting the care they need, turning our jails and prisons into warehouses for folks with mental illness is the most expensive and least therapeutic decision we could make," said Romanoff, before adding, "You shouldn't have to be charged, you shouldn't have to be incarcerated in order to get care."
A spokeswoman for the Jefferson County District Attorney said it's premature to conclude Leger was suffering from a mental illness when she barricaded herself into the bathroom and climbed into the ceiling but said Leger's defense lawyer will be allowed to seek a mental health evaluation to ensure Leger is competent to face trial.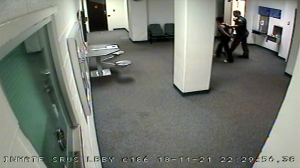 FOX31 was not able to locate Leger, who listed a disconnected number on her booking sheet and what appears to be an old address. She's due back in court Jan. 17.
If you or someone you know is in crisis, visit Mental Health Colorado for a list of resources and services.