This is an archived article and the information in the article may be outdated. Please look at the time stamp on the story to see when it was last updated.
DENVER -- A second suspect has been arrested for investigation of a felony sexual assault. Angiella Arnot, 47, is being held for investigation of multiple counts of sexual assault.
She was arrested Wednesday, a day after the arrest of 31-year-old Denver police Officer Devin Munk for investigation of the same charges. Arnot is not a Denver police officer and it is not clear what connection there is between Arnot and Munk.
Police originally would not release Munk's mugshot and requested FOX31 Denver withhold photos of him because they said it could compromise their investigation.
But police released Munk's and Arnot's mugshots on Thursday.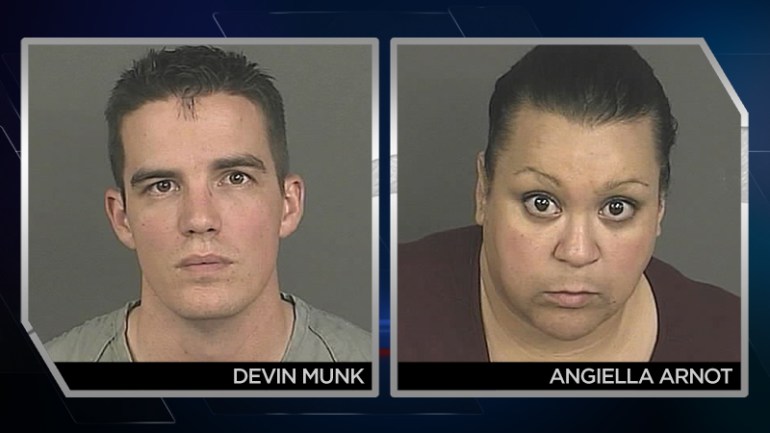 Munk is accused of sexually assaulting a woman in late April in Denver while off-duty. He has been in trouble multiple times before.
In December 2014, he wrecked a police vehicle and was reprimanded. A month later, one of Munk's supervisors discovered he had lied in a police report while investigating an assault. Munk was suspended for four days.
And in December, Munk was accused of inappropriate force, a complaint that is still being investigated.
Now Munk is accused of sexually assaulting a woman. He's also charged with felony menacing because police said a weapon was involved.
Munk was most recently assigned to northeast Denver. Police said the alleged assault was reported to another police agency, which then notified the Denver Police Department.
Denver police then contacted the victim and after an interview on Tuesday afternoon, found probable cause to obtain an arrest warrant for Munk.
Police said they are not sure why the alleged victim reported the crime to another jurisdiction, but they said a victim can report a crime to any agency of their choosing.
Munk has been suspended without pay pending the outcome of the criminal case. The Denver Police Department's administrative review will begin once that case is complete.
The arrest affidavit and other documents are sealed to protect the integrity of the investigation, Denver police said, adding the investigation is ongoing.