This is an archived article and the information in the article may be outdated. Please look at the time stamp on the story to see when it was last updated.
AURORA, Colo. — Christina Archuleta, the woman who allegedly had gasoline poured on her then set on fire with her two young children nearby at a Clear Creek County campsite last month, died Wednesday night, according to a GoFundMe page that was set up on her behalf.
"I'm sure a lot of you have already heard that our dearest daughter went to be with the Lord," according to an update on the site that was posted Thursday morning. "What a heart wrenching time. I will miss her. Her poor boys. They took it so hard. It was so devastating to see their broken hearts. Please pray for them that God comforts their hearts. It was a tough day. Thank you all for everything that you have done for our daughter, her boys and us. Thank you for all the love, support and donations you have shown and shared with Tina and her boys. We love you and may God bless you."
A good friend of Archuleta for more than nine years, Vangie, described the moment she learned Archuleta was gone.
"Devastating, absolutely devastating," she said. "Being poured gasoline on you and being caught on fire in front of your two boys, I mean it's just the most awful thing. I can't even imagine what those little boys went through."
Archuleta was flown to University Hospital in Aurora after the incident on June 18 in which she suffered third-degree burns on about 60 percent of her body, mostly on her torso. She underwent numerous surgeries over the past month, according to the GoFundMe page.
Vangie said Archuleta was in a medically induced coma, facing multiple surgeries and skin grafts. Her body had shut down.
John Anthony Vasquez, 32 of Arvada, will be charged with murder, Assistant District Attorney Heidi McCollum said Thursday afternoon. He is being held on $2 million bond.
"I hope he gets what he deserves," Vangie said. "It's probably not even enough to be honest. It makes me sick."
According to an arrest affidavit, Vasquez, Archuleta and her two sons, 7 and 10, were on an unscheduled camping trip on June 17 at Barbour Forks south of Idaho Springs.
During interviews with investigators, one of the boys said Vasquez and Archuleta got into a fight on June 16 and that Vasquez "kicked her and she punched him in the face, splitting his lip," according to the affidavit.
RELATED: John Vasquez affidavit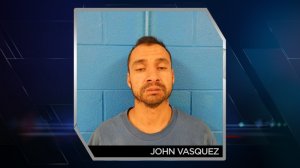 One boy told investigators with the Clear Creek County Sheriff's Office and the Colorado Bureau of Investigation that he was next to his mother when Vasquez spilled gas on her and lit a lighter.
The boy said he tried to put out the fire by pouring water on her. The second boy said he didn't see the incident but heard screaming and also tried to put out the fire.
One of the boys said "he saw John pour gas on his mom and light her on fire near one of her shoulders using a blue lighter, then John stood there and laughed," according to the affidavit.
The boy told investigators he saw Vasquez kicking dirt onto the victim. One of the sons called 911 and said, "Johnny spilled gasoline on mom and lit a lighter."
Instead of focusing on the horrific nature of the alleged attack, Vangie wanted to honor Archuleta's memory.
"She was a good mom, a good sister, a good daughter, a great friend," Vangie said. "She had such a warmth about her."
The GoFundMe page has raised more than $10,000 as of Thursday night. And Vangie said she was planning a benefit barbecue, seeking donations for Archuleta's family and three children, at Stone Crow (6801 W. Lowell Blvd.) at 1 p.m. on Aug. 27.
"I was hoping that we were going to celebrate her still living, but now we just have to celebrate her life," Vangie said.