This is an archived article and the information in the article may be outdated. Please look at the time stamp on the story to see when it was last updated.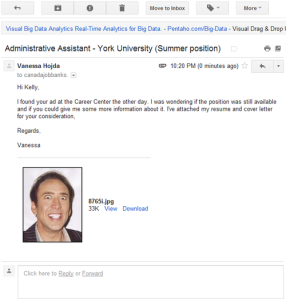 TORONTO — A  woman applying for a summer job at a prestigious Canadian university is once again making Nicolas Cage an internet sensation.
Vanessa Hojda recently made the mistake of attaching a whacky photo of the American movie star instead of a document that contained her resume and cover letter in an application for a summer position at York University in Toronto.
"I accidentally sent my potential future boss a picture of Nic Cage," Hojda wrote on her Tumblr blog on July 6. "(The photo) was a zip file title with a bunch of numbers like the jpg I accidentally attached. Oh my god."
York University happens to be one of the top 400 universities in the world, as ranked in a listing by the Times Higher Education Tuesday. There is no word whether or not Hojd got the job, but news outlets like the Washington Post are suggesting the slip-up might just prove that she's qualified.