This is an archived article and the information in the article may be outdated. Please look at the time stamp on the story to see when it was last updated.
DENVER – For the second day in a row, powerful winds whipped up trouble along Colorado's Front Range foothills.
Wind gusts in excess of 80 miles an hour were reported along the Highway 93 corridor spanning the distance between Golden and Boulder. (official wind reports)
Numerous vehicles were toppled by the strong winds, including a tractor trailer and SUV.
Several accidents were also reported on Interstate 70. However, it was difficult to determine what role, if any, wind played.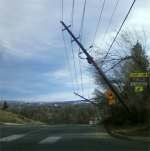 In the area of 19th & Norwood in north Boulder, strong winds snapped several Xcel Energy power poles, knocking out electricity to an unknown number of customers. Xcel said repairs might not be completed until Thursday morning.
On University Hill, a large tree was toppled by the wind, damaging a sedan that was parked underneath.
A HIGH WIND WARNING remains in effect for Boulder, Broomfield, Clear Creek, Douglas, Jefferson and Larimer counties until 5:00 a.m. Thursday morning.
A WINTER STORM WARNING is in effect for the northern mountains through 11:00 a.m. Thursday with 12-18″ of snow possible, according to Pinpoint Weather meteorologist Jennifer Broome.
"A fast-moving cold front will move through Denver shortly after midnight," said Broome. "A rain/snow combo will  change over to all snow as temperatures fall."
Broome says snow showers will be possible through the morning commute but most of the snow will be over by 8:00 a.m. Thursday.
Another chance of snow will move into the Metro Sunday night into Monday morning.