This is an archived article and the information in the article may be outdated. Please look at the time stamp on the story to see when it was last updated.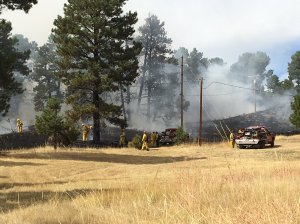 PARKER, Colo. — South Metro Fire Rescue quickly contained  a three-acre wildfire near Inspiration Place and North Antelope Trail in Parker on Wednesday.
South Metro Fire Rescue said no structures were damaged, although the fire briefly threatened  homes in the area.
No injuries were reported.
IREA said 500 customers lost power in the area. They are working to restore power as soon as possible.
Earlier video from the fire line pic.twitter.com/zqCPPeZ1DA

— South Metro Fire Rescue (@SouthMetroPIO) September 21, 2016
[protected-iframe id="a231789b5a2ab51000c26c10958a69f1-29290497-106858368″ info="https://www.google.com/maps/embed?pb=!1m18!1m12!1m3!1d29270.546134474207!2d-104.7300887463994!3d39.54411071287686!2m3!1f0!2f0!3f0!3m2!1i1024!2i768!4f13.1!3m3!1m2!1s0x876c8dc069ce86b7%3A0xcdc36abcbb59f18e!2sN+Antelope+Trail+%26+Inspiration+Pl%2C+Parker%2C+CO+80138!5e0!3m2!1sen!2sus!4v1474490459049″ width="100%" height="450″ frameborder="0″ style="border:0″ allowfullscreen=""]