This is an archived article and the information in the article may be outdated. Please look at the time stamp on the story to see when it was last updated.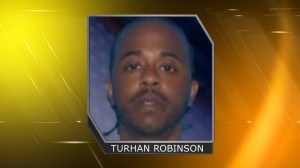 WHEAT RIDGE, Colo. -- Officers are on the lookout for an escaped murder suspect in Wheat Ridge, the Wheat Ridge Police Department said Friday morning.
At about 2:20 a.m., Turhan Robinson, 37, was being transported form Las Vegas to Illinois by Inmate Services, a private contractor that handles prisoner transports, when he escaped at 12151 W. 44th Avenue. He was last in the 4100 block of Tabor Street.
Robinson is described as a black male, 5-foot-9, 180 pounds with black hair with cornrows and brown eyes. He was wearing a black shirt over a white tank top, khaki shorts and red boxers. He was handcuffed in the front and had a shackle on his left leg.
A perimeter was set up by the Wheat Ridge Police Department with help from the Jefferson County Sheriff's Office and the Arvada Police Department, and a K-9 track was deployed, but Robinson was not found.
Robinson is considered extremely dangerous. A reverse 911 recorded call went to residents of the area warning them to keep their doors and windows locked and to call 911 to report any suspicious activity.
Robinson is one of two suspects in a murder in Granite City, Ill., just across the Mississippi River from St. Louis.
[googlemaps https://maps.google.com/maps?f=q&source=s_q&hl=en&geocode=&q=12151+W+44th+Ave,+Wheat+Ridge,+CO&aq=0&oq=12151+W+44th+Ave,+Wheat+Ridge,+CO&sll=39.778802,-105.133356&sspn=0.015287,0.033023&ie=UTF8&hq=&hnear=12151+W+44th+Ave,+Wheat+Ridge,+Colorado+80033&ll=39.779749,-105.134266&spn=0.030574,0.066047&t=m&z=14&output=embed&w=725&h=575]