This is an archived article and the information in the article may be outdated. Please look at the time stamp on the story to see when it was last updated.
AURORA, Colo. — Police are asking volunteers to help search an Aurora landfill for a 7-month-old boy who has not been seen since March.
Investigators believe the boy's mother, 22-year-old Sharrieckia Page, put him in a dumpster at her Commerce City apartment complex.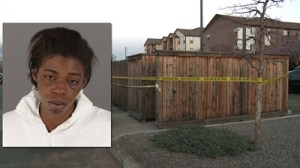 According to the Denver Post, investigators are asking volunteers to form a community emergency response team to help search a landfill for the missing baby and any evidence.
The landfill is located at 3500 South Gun Club Road, just east of E-470.
Investigators say the boy is "presumed to be deceased."
Page is being held on charges of child abuse resulting in death.