This is an archived article and the information in the article may be outdated. Please look at the time stamp on the story to see when it was last updated.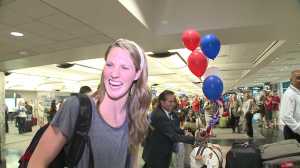 DENVER — In honor of Denver International Airport's 20th Anniversary, voices of Olympic Gold Medalist Missy Franklin and Colorado Rapids Head Coach Pablo Mastroeni will welcome travelers on to the train.
These famous voices will be part of the "Train Call" that greets travelers.
Train Call is art and voices of local celebrities that feature Colorado events, according to the airport's spokeswoman Laura Coale.
NEW train messages by @missyfranklin & @ColoradoRapids Head Coach Pablo Mastroeni! LISTEN: http://t.co/2tZwF3DryG #DENart

— Denver Int'l Airport (@DENAirport) June 15, 2015
The audio recording of the welcomes are able to play above.
Transcripts of these welcome recordings are below.
Missy Franklin:
Welcome to Denver. This is Missy Franklin, your hometown Olympic champion. My travels take me to airports around the world, but I'm always thrilled to come home to Denver International Airport. Congrats on 20 years of outstanding service.
Pablo Mastroeni:
Welcome to Denver! This is Pablo Mastroeni, head coach of your Colorado Rapids. Since both Major League Soccer and Denver International Airport are celebrating our 20th Anniversaries this year, I can't think of a better way to kick off the summer than with the MLS All Stars Game coming to Colorado in late July. Hope to see you there!