This is an archived article and the information in the article may be outdated. Please look at the time stamp on the story to see when it was last updated.
BASALT, Colo. — Firefighters on the Lake Christine Fire received a special surprise Friday night from music superstar Neil Diamond.
Diamond and his wife, Katie McNeil, visited the Incident command post at the fire near Basalt to meet and thank firefighters.
He sat down in front of the large group with a guitar and the firefighters were treated to a sing along of "Sweet Caroline."
Rocky Mountain Team Black shared video of the sing-along with FOX31, "…an incredible event for the team and crews," they wrote on Facebook.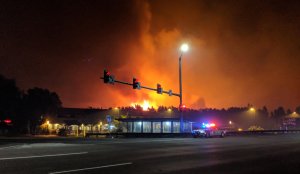 The Lake Christine Fire had burned 12, 287 acres and was 45 percent contained as of Saturday morning. There were 447 firefighters on the scene.
It started July 3 at a shooting range one mile northwest of Basalt. Three homes were destroyed.
Two people face arson charges for starting the fire. Investigators say they were using tracer rounds during extremely dry conditions.
Fire managers hope to have the fire fully contained by Thursday, August 2.