This is an archived article and the information in the article may be outdated. Please look at the time stamp on the story to see when it was last updated.
PUEBLO COUNTY, Colo. — A van carrying rescue dogs to shelters in Colorado crashed early Friday morning south of Pueblo, the Colorado State Patrol said.
The driver was killed and a passenger was injured in the crash just before 3 a.m., the Colorado State Patrol said.
Four of the 26 dogs in the van were missing after the crash and a search was underway.
Investigators said the 2013 Freightliner Sprinter van was in the left lane of northbound Interstate 25 when the vehicle drifted onto the left shoulder and hit a guardrail.
The driver over-corrected, and it caused the van to roll over and crash into a rock embankment.
Troopers said 59-year-old Charles Roberts of Katy, Texas, was not wearing a seat belt and died at the scene. His son, 29-year-old Jared Roberts was a passenger and was hospitalized with moderate injuries.
Gretchen Pressley of Pueblo Animal Services said one of its officers responded to the scene and was able to round up 22 of the 26 dogs that were being transported. Two were injured and were receiving treatment.
She said an animal services officer spotted three of the four missing dogs Saturday morning, but they ran off. Officers set up a feeding station to try to lure the dogs so they can be captured.
The dogs came from Barc, an animal shelter in Houston. Dogs are brought to Colorado from that shelter each Friday.
Rescued Pets Movement of Houston established a Go Fund Me account to help Roberts' family.
An image of the four dogs that were missing was posted by Colorado Lost & Found Pets.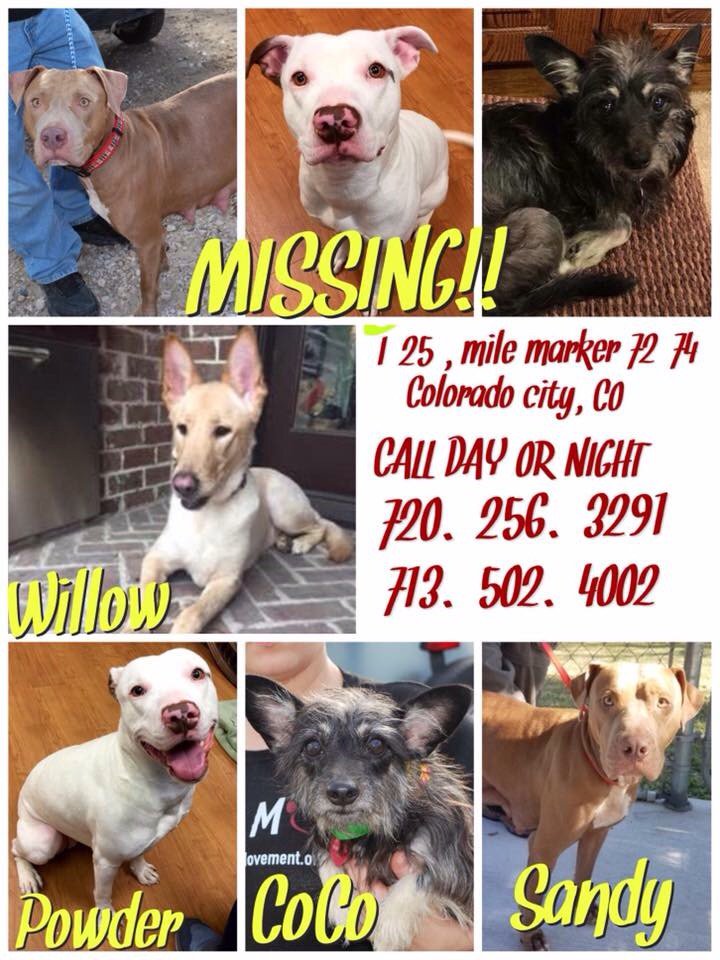 The Humane Society of the Pikes Peak Region was caring for the dogs. All but two had been picked up by the animal shelters where they were originally going.