This is an archived article and the information in the article may be outdated. Please look at the time stamp on the story to see when it was last updated.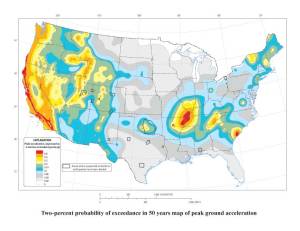 GRAND JUNCTION, Colo. — The United States Geological Survey released a new map of earthquake risk across the U.S. and it includes an increased risk for the Western Slope.
The USGS earthquak hazard map was last updated in 2008. According to their website, "The updated maps represent an assessment of the best available science in earthquake hazards and incorporate new findings on earthquake ground shaking, faults, seismicity, and geodesy."
Earthquake risk in the Western Slope was increased because of more seismic activity in the area and a change in the modeling techniques used to evaluate the earthquakes.
KKCO-TV reported the map doesn't account for the earthquakes that possibly stemmed from waste-water injections from oil and gas exploration, said Mark Petersen, of the USGS.
However, the USGS will study earthquakes caused by oil and gas exploration and include them in a new map next year showing the chances of earthquakes that don't stem from natural causes.