This is an archived article and the information in the article may be outdated. Please look at the time stamp on the story to see when it was last updated.
DENVER - 28 year old John Olson continues climbing his own personal mountain.  John has epilepsy but is setting an example to others that you shouldn't fear pursuing your dreams because of epilepsy.
John says, "They can learn to overcome their fears like hiking, climbing, riding their bike, enjoying life and that's a great attitude to do it."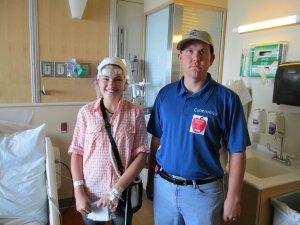 November is National Epilepsy Awareness Month.  Tom Olson is John's father, "John is hoping to visit Children's Hospital, the 6th floor where most of the Epilepsy patients are located.  John wants to pass his message on to them."
To keep John climbing at his best the professionals at LivaNova are providing John with an upgrade on his VNS (Vagus Nerve Stimulator) medical device.  Brad Lauffer works for LivaNova and says, " The new device will constantly monitor heart rate.  If the heart rate were to go up suddenly and significantly then it would send a stimulus to the brain and counteract the seizure.  John is getting that next month."
John and his father Tom have climbed mountains all over the United States from Mount Elbert, to Quandary Peak, to the Tetons.  John says, "I flew to Jackson Hole, met my guide Riley and climbed Buck Mountain, which included some class 3-4-5."  John's current nemesis is Longs Peak where he got turned around at the Keyhole, "I want to go back and finish Longs Peak."