This is an archived article and the information in the article may be outdated. Please look at the time stamp on the story to see when it was last updated.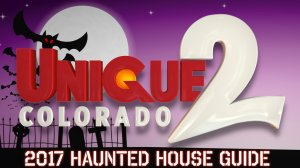 Another batch of haunted attractions opened this week in Colorado! It's the spookiest time of the year in our state and we're here to make sure your fall is full of fun! What better way to do that, than to get scared!?
Each week, we'll be adding new attractions to our Unique 2 Colorado: 2017 Haunted House Guide! Check out the ones we've already added and keep heading back for more! We'll be updating this guide weekly.
If you have a haunted house or spooky attraction you'd like us to check out, e-mail Unique 2 Colorado's Kevin Torres at kevin.torres@kwgn.com or by sending him a message on Facebook.
---

Reaper's Hollow & Dead End Motel
In Parker, Reaper's Hollow and its new haunted attraction Dead End Motel open for the season on Saturday, September 30.
According to its website, the two attractions are described as:
Reaper's Hollow:
As you approach an old, dilapidated shack in the cornfield, your heart rate starts to increase. There is a dim light on in an upper window and you catch a glimpse of a shadow. Someone or something is lurking up there. As you get closer it feels as if the corn is closing in around you and you are being forced towards the front door. Will you be brave enough to enter the shack and survive over a half mile trek through the ghoulish cornfield and terrifying woods?
Dead End Motel:
While visiting Reapers Hollow come stay at the recently renovated and modernized, family owned and operated Dead End Motel. Our unique staff can attend to any of your requests to make your stay dreadfully entertaining. Some of our amenities include but not limited to; spacious cabins, swimming/fishing pond and of course, peace and quiet. We hope you stay with us and your experience is a memorable one!
To learn more about both haunted attractions, visit their website by clicking here.
Location: Across the street from Target and WalMart in Parker at 11321 Dransfeldt Rd., Parker, CO 80134
---

Hellscream Haunted House
For some frills and chills in El Paso County, check out the Hellscream Haunted House in Colorado Springs!
This multi-story, multi-attraction haunted event has tons of scary surprises that evolve throughout the season.
According to Hellscream's website, it has received several big shoutouts:
HellScream Haunted House was named best & scariest Haunted House in Colorado by DenverHauntedHouses.com
Best Haunted House in Colorado Springs by the Gazette Scream Team numerous years.
Peoples choice award for Best Scare & Best Value in Colorado by "Our Town Live" on 740 KVOR
You can learn more about this haunted attraction by visiting its website. Just click here.
Hellscream is not recommended for children under 12.
Location: 3021 N Hancock Ave., Colorado Springs, Colorado 80907
---
Maize in the City
For some fall family fun, you should definitely check out 'Maize in the City'. Located in Thornton, 'Maize in the City' features tons of activities for kids and adults!
There's a giant corn kernel box for the little ones to play in, a pumpkin patch, a miniature maze, pony rides and so much more! (For a full list click here)
'Maize in the City' opens for the fall season on Saturday, September 30.
Location: 10451 McKay Rd Unit 1, Thornton, CO 80233
---
Elitch Gardens Fright Fest
2000 Elitch Circle Denver, CO 80204
This Denver staple bills itself as a scary fun time for both adults and children.
By day, little ghosts and goblins can enjoy free candy on the Trick or Treat Trail and partake in other Halloween activities.
By night, the Gardens says "Fright Fest comes alive and haunted creatures lurk around every thrilling corner."
2017's featured haunted attractions are updated versions of the three from 2016: No Vacancy, Big Top Freaks, and Séance. They brought them back due to their popularity last season. This year, however, they've added more monsters and characters - as well as updates to the haunted houses. Consider this year a 'spookier version 2.0'!
All theme park rides are also included in the ticket prices.
Fright Fest is open Friday nights, Saturdays and Sundays from September 29 through October 29, 2017.
---
City of the Dead -- 7007 E 88th Ave., Henderson, CO  80640
General Admission: $25 at the door; Hours vary, check website
This haunted hangout touts a slew of positive reviews from publications across the country. Praise hails from Buzzfeed, which ranked City of  the Dead within their list of "Top 19 most insane haunted houses in america."
The Huffington Post listed the attraction as "One of the Best Haunted Houses in Denver."
City of the Dead also claims the title of largest indoor haunted house in Denver. The 30,000 square feet house houses multiple haunted features at one location.
When you buy a ticket, you gain entry into the City of the Dead Haunted House, Curse of Darkness Haunted House and the Carnival of Carnage arcade and gaming zone.
Currently open.
---
13th Floor Haunted House -- 3400 E. 52nd Ave. Denver, CO 80216.
General Admission ticket prices vary by date
Billing itself as "Denver's Legendary Haunted House," the house has three new attractions - "Darkest Dreams," "Slaughter" and "Undead Restless Spirits" - all under one roof.
The multi-story scare fest landed at the top of Discovery Channel's list of the Top 13 Scariest Haunted Houses in the U.S. and a review by the Travel Channel says "The 13th Floor that will sufficiently creep you out."
Opens Sept. 22.
---
The Haunted Field of Screams -- 10451 McKay Road, Thornton, CO 80233
According to Channel 2 reporter Kevin Torres, most of the big haunted houses in Colorado have million-dollar budgets to create crazy scenes and dramatic costumes, but the Palombo family who owns 'Haunted Field of Screams' pretty much has a tractor and some creative minds.
"Working through corn at night is quite eery," said Joe Palombo. "We get to design it different and do it new year to year".
Features at this house include Haunted Field of Screams, Dead Man's Night Maze and Zombie Paintball Massacre.
Opens Sept. 29.