This is an archived article and the information in the article may be outdated. Please look at the time stamp on the story to see when it was last updated.
DENVER — FOX31 Denver has caught a Quest Diagnostics employee on hidden camera offering to falsify drug screening tests in exchange for cash. Now the multibillion-dollar company has launched its own investigation to determine how many times that kind of unethical, and possibly illegal, transaction has occurred.
"I'll give you a good specimen. I'll pee myself. Do it myself. I'm as clean as they come," the Quest drug-sample technician said during a recorded sting set up by the FOX31 Problem Solvers.
The station's investigative unit, with the help of human resources and its parent company, Tribune Media, coordinated sending several employees through a normal background check, which includes a typical five-panel drug screen (THC, opiates, PCP, cocaine and amphetamines).
Even though marijuana is legal in Colorado, companies including Tribune Media have the right not to hire or fire employees who test positive for drugs.
Our tester visited Quest Diagnostics at 3250 E. 104th Ave. in Thornton armed with a container of synthetic urine called Quick Fix Urine. It's commonly used in an attempt to fake an employment drug test.
Getting caught submitting such a sample usually means you flunk, but that was not the case for us. In fact, getting caught started a cascading series of events that allowed us to expose a new way to cheat the system.
What happened
While in the bathroom, a person working with the Problem Solvers poured warmed-up fake urine into the cup and submitted it as genuine. The tester was wearing a hidden camera and audio recorder.
Moments later, a Quest employee, who identified himself as "Travis," approached the tester saying he believed the urine sample was suspicious. But Travis made it clear there was a way for the client to hide the true results from any future employer.
Quest tech: "This is where the corrupt side of me comes into play, all right? … So because … if I send it in … it'll fail, all right? … Don't ever bring this in. Not to Quest."
Undercover tester: "OK."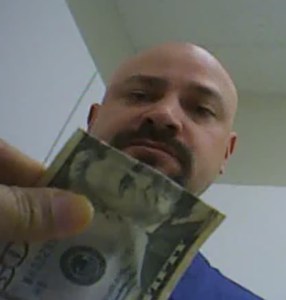 Quest tech: "I got military buddies that come in here and they eat edibles like they're going out of style. … They hand me 50 bucks. I turn my head, so it's no big deal. OK?" "(OK.)" … So, you relax. So, no stress."
Smirking at his potential target, Travis laid out a plan to the tester: Bring him $50 cash by the end of the day and he would dupe the employer who paid for the test and falsely submit a "clean" sample.
He handed the tester a Quest Diagnostics specimen card containing two items: A sticker that identified that specific specimen by number and bar code, plus a handwritten note that said "Travis 3)920-5850."
Quest tech: "So this is the phone number to this place." "(Uh-huh.)" … Consider this a, uh … Call it a lifeline if you want, eh?"
Undercover tester: "Lifetime coupon? OK. Yah."
Quest tech: "So, my fee is at the end. It is the number here (50), but that is my fee. … I'll give you a good specimen. I'll pee myself. Do it myself. I'm as clean as they come. I get tested every three months. I don't even eat a lemon poppy seed muffin because s*** will register."
The tester agreed to return with $50 later in the day. Upon arriving at Quest, the tester was instructed to go into a back room. Travis showed up to accept his money and reiterate his promise that the synthetic urine sample results would not be turned in.
Undercover tester: "This will make me pass?" (Handing Travis a $50 bill on camera.)
Quest tech: "Oh, yeah. It's already gone through."
Undercover tester: "It's already gone through?"
Quest tech: "It's gone." (OK.)" "Yeah. He came, he came through literally five minutes before (redacted time)."
Undercover tester: "Oh did he?"
Quest tech: "Yeah. So. Yeah. It's gone, so — it's done. So good luck ("Thank you.") with your new job."
Drug test was "clear"
Travis did as he promised. The undercover tester received notice several days later that the drug panel was "clear" even though no legitimate urine sample was ever provided to Quest.
Travis' confidence, extorting a complete stranger, comes with practice, according to another former Quest client. The client approached FOX31 Denver earlier this year after what she described as a "shakedown" happening at the Quest Diagnostics Thornton location.
Her story also involved her attempts to pass fake urine for a pre-employment test, a "Travis" approaching her and a $50 payment request to alter results. With our help, she recorded the encounter.
Her identity is being protected at her request because the $50 payment also resulted in "clear" test results. That landed her a new job, one she does not want to lose.
She admits she used recreational marijuana within a few weeks of a job offer. When that employer asked that she go to Quest for screening, she went to a local tobacco shop and bought synthetic urine.
During a silhouette interview, the client said she put the sample under her arm to keep it warm, then tried to pass it off as her own urine. Like in the undercover test, she said Travis called her into a back room and confronted her that she had been caught.
"He turned around and stated to me, 'This is where I scare the s*** out of you, but don't worry I have you covered,'" the client said. "I'm so scared to death at this point, thinking he's going to call the police on me. What am I going to do? I'm unemployed. I know I don't have the money and I'm a nervous wreck. He then said to me, 'Who do you bank with?'"
She said she told Travis that she didn't have the money but agreed to return later with the $50 he requested.
"I feel like I was in a Mafia shakedown movie. I'm not kidding you," the client said.
"At first, I cried all the way home. I kept thinking what is he going to do if I don't come back and pay him? I don't have this money. And when I say I cried, I mean I cried and it still hurts me to think about his. I need this job. I've been unemployed for two months and I needed this job and he took advantage of that."
Halsne: "And to be clear, you never took a drug test?"
Client No. 2: "Never. Ever. Never. Never."
Halsne: "But you passed because you gave him $50?"
Client No. 2: "Because I gave him $50."
Halsne: "He submitted a fake test for you?"
Client No. 2: "Yes he did."
Halsne: "You don't even know what it says, but it was clean because you got your job?"
Client No. 2: "Yes I did. My employer called me the next day and I was to report to work on that Monday."
The client is not in a sensitive employment position in which drug use might result in harm to another person. But Travis apparently has no problem giving a false pass to people on drugs who are in hazardous jobs.
Remember he told the undercover tester, "I got military buddies that come in here and they eat edibles like they're going out of style. They hand me 50 bucks. I turn my head, so it's no big deal. OK?"
After reviewing the final test results from both cases, the Problem Solvers identified the Quest Diagnostics drug-collection tech as Travis Kear. A background check shows he earned a certified nursing assistant degree from Central Arizona College in 2010 and was a licensed nurse in that state for a short time.
His online resume also touts his specialty as a phlebotomist.
Kear's social media profile also describes him as the lead singer in a Colorado rock band called Ghost of Ivy. One of his band mates is a FOX31 Denver employee, so as part of full disclosure, the investigative unit insulated this project from the rest of the news operation until near the time of publication.
This was done to protect the integrity of an independent process and to protect the sources who took risks inside the undercover operation.
The Problem Solvers gave Kear an opportunity to explain his side of the story before telling his employer Quest about the findings.
Kear's explanation
In a Quest parking lot interview, Kear repeatedly denied that he had falsified any drug-screening tests.
Halsne: "We have some proof that you've been falsifying drug test results for pre-employment screenings in exchange for cash. We're here to get your explanation."
Kear: "Uh. That would be false, so. I would love to see the proof on that."
Kear was shown a still-frame from the video sting of him snatching a $50 bill from the tester's hand.
Halsne: "Is that you?"
Kear: "Yeah, that's me."
Halsne: "Any reason there'd be $50 cash in a back room going to you. You guys deal in cash here?"
Kear: "I'd like to see a whole lot more proof than that. That looks like something that somebody would be like trying to catch me with something. That's not how we work here."
Halsne: "You're not going to admit this at all? You're going to look like a liar. Isn't that worse?"
Kear: "That is not. This is not how we run this business here and that's not how I do this business."
Quest Diagnostics is a New Jersey-based corporation that reported $7.5 billion in revenue last year. As soon as the company received a call from FOX31 Denver regarding the experience with Kear, Quest launched a full investigation into the allegations.
This week, a spokesperson followed up with an email statement.
"We learned of possible inappropriate activity on April 25th from a caller to our Patient Advocacy line as well as from FOX31. We immediately launched an investigation. Our investigation revealed that one of our employees solicited payment in return for allowing what he believed were fraudulent or tampered specimens to be processed.

The employee has been terminated and we have notified the relevant Federal and local authorities.

We are in the process of identifying drug testing customers who may have been affected to alert them of the situation and offer complimentary drug retesting as permitted by law or our customers' policies.

As the largest provider of workplace drug testing in the world, we take pride in strict adherence to quality processes and ethical behaviors. We sincerely apologize to our customers for the actions of this rogue employee, who does not represent our 44,000 employees who are dedicated to empowering better health every day."