This is an archived article and the information in the article may be outdated. Please look at the time stamp on the story to see when it was last updated.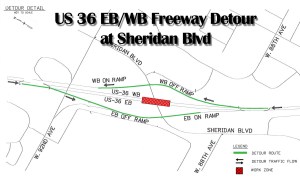 WESTMINSTER, Colo. — The planned closures of U.S. 36 for two nights as part of the U.S. 36 Express Lanes Project have been pushed back to Tuesday night and Wednesday night because of machinery mechanical issues, the Colorado Department of Transportation said.
The closure of U.S. 36 of about one-quarter of a mile on each side of the Sheridan Boulevard bridge that was scheduled for overnight Monday instead will happen overnight Tuesday from 10 p.m. to 5:30 a.m.
Traffic will be detoured at the off-ramps to Sheridan and routed back onto the eastbound and westbound lanes via the on-ramps.
The closure between Interlocken Loop and McCaslin Boulevard that was scheduled for overnight Tuesday instead will happen overnight Wednesday from 11 p.m. to 5:30 a.m.
There will be separate eastbound and westbound detour routes for the Wednesday night closure.
The closures are needed as concrete is poured for the bridge decks on the newly constructed Sheridan Boulevard bridge and the bikeway/utility bridge.