This is an archived article and the information in the article may be outdated. Please look at the time stamp on the story to see when it was last updated.
ARVADA, Colo. — Arvada police shared sad news Saturday, announcing the passing of a retired K9 that served with the force for six years.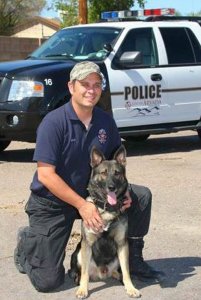 According to police, 12-year-old K-9 Matzo died on Wednesday.
Matzo retired in 2013 after six years on the street. During that time, he helped make hundreds of arrests and seize thousands of pounds in illegal drugs.
After he retired, he lived with his partner, Sergeant Avila, and his family, protecting them when Sergeant Avila was at work.
"Matzo was a gift to my life and my family," said Sgt. Avila. "All I keep saying to myself is, 'Man, that was a lot of fun.'" "Matzo will always be with me."
A K-9 with the Douglas County Sheriff also passed away on Wednesday.